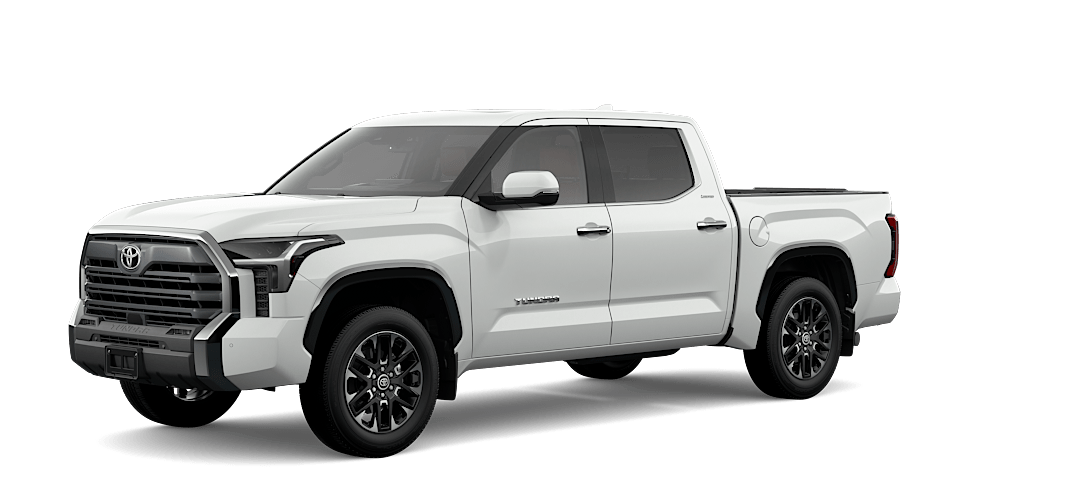 2023 Toyota Tundra Trim Levels Guide
The Tundra is the workhorse of Toyota's lineup. The 2023 model is a carryover year for the Tundra. The new design features a more aggressive exterior and interior, as well as all-new LED lighting that really shines!
There are over 10 different 2023 Toyota Tundra trim levels to choose from. – from affordable base models to the highest trim with leather seats or even a 14″ touch screen inbuilt navigation system (so you never get lost). In addition, a Tundra Hybrid is also available if you are interested!
The 2023 Toyota Tundra is a strong and reliable truck. It will surely have something that you need. With its inspired sharp exterior design as well as improved interior comfort features for drivers, this vehicle has all it takes to be an excellent choice in any circumstance!
Limited TRD Off Road (B-3)

Double Cab Pricing w/ Levies, Freight & PDI & Fees

$58,279 w/ Taxes, Levies, Freight & PDI & Fees

CrewMax Pricing w/ Levies, Freight & PDI & Fees

$69,615 w/ GST, PST 5.5ft Bed

$70,029 w/ GST, PST 6.5ft Long Bed

8-way Adjustable w/ 2-way Lumbar Support

8-way Adjustable w/ 2-way Lumbar Support

8-way Adjustable w/ 2-way Lumbar Support

8-way Adjustable w/ 2-way Lumbar Support

8-way Adjustable w/ 2-way Lumbar Support

10-way Adjustable w/ 4-way Lumbar Support

10-way Adjustable w/ 4-way Lumbar Support

Power Front Passenger Seat

8-way Adjustable w/ 2-way Lumbar Support

8-way Adjustable w/ 2-way Lumbar Support

8-way Adjustable w/ 2-way Lumbar Support

8-way Adjustable w/ 2-way Lumbar Support

8-way Adjustable w/ 2-way Lumbar Support

8-way Adjustable w/ 4-way Lumbar Support

8-way Adjustable w/ 4-way Lumbar Support

Driver Seat & Side Mirror Memory System

Limited TRD Off Road (B-3)

Colour LCD Multi Information Display

Full TFT LCD Gauge Cluster

Full TFT LCD Gauge Cluster

Leather w/ Heating & TRD Badge

Tilt & Telescopic Steering Wheel

Power Sliding Rear Window

Double Cab: Horizontal Sliding, CrewMax: Vertical Sliding

Double Cab: Horizontal Sliding, CrewMax: Vertical Sliding

Double Cab: Horizontal Sliding, CrewMax: Vertical Sliding

Double Cab: Horizontal Sliding, CrewMax: Vertical Sliding

Authentic Wood Trim w/ Chrome Accents

Limited TRD Off Road (B-3)

Automatic Climate Control w/ Cabin Air Filter

Oil Pressure Gauge & Voltmeter

12 Volt Accessory Power Outlet

Driver Side Window Auto Up / Down

Silver Inside Door Handle

Front Windshield Acoustic Glass

Leather Wrapped w/ TRD Badge

Leather Wrapped w/ TRD Badge

Limited TRD Off Road (B-3)

CrewMax: 9 Speakers, DoubleCab: 6 Speakers

CrewMax: 9 Speakers, DoubleCab: 6 Speakers

CrewMax: 9 Speakers, DoubleCab: 6 Speakers

CrewMax: 9 Speakers, DoubleCab: 6 Speakers

CrewMax: 9 Speakers, DoubleCab: 6 Speakers

CrewMax: 9 Speakers, DoubleCab: 6 Speakers

Remote Connect and Safety Connect

$9.95/mth after 3-Year Trial

$9.95/mth after 3-Year Trial

$9.95/mth after 3-Year Trial

$9.95/mth after 3-Year Trial

$9.95/mth after 3-Year Trial

$9.95/mth after 3-Year Trial

$9.95/mth after 3-Year Trial

$9.95/mth after 3-Year Trial

$9.95/mth after 3-Year Trial

SiriusXM with 3-month All-Access trial and HD Radio

$19.95/mth Subscription Required

$19.95/mth Subscription Required

$19.95/mth Subscription Required

$19.95/mth Subscription Required

$19.95/mth Subscription Required

$19.95/mth after 3-Year Trial

$19.95/mth after 3-Year Trial

$19.95/mth after 3-Year Trial

Service Connnect (5-year Trial)

Limited TRD Off Road (B-3)

Independent Front Suspension

Stop and Start Engine System

Electronic Parking Brake with Brake Hold

Drive Mode Select (Sport, Eco and Normal Modes)

Hill-start Assist Control

Locking Rear Differential

Multi Terrain Mode Select

TRD Off Road Shock Absorbers

TRD Off Road Shock Absorbers

TRD Sport Shock Absorbers

TRD Off Road Shock Absorbers

Limited TRD Off Road (B-3)

Tow Package - Heavy Duty Tow Hitch Receiver

Trailer Backup Guide w/ Straight Path Assist

Tailgate Release Bump Switch on Driver's-side Taillight

Side Rail with Four Adjustable Tie Down Cleats

400 Watt (120V) Cargo Bed Power Outlet

Extendable Towing Mirrors

Extendable Towing Mirrors

Limited TRD Off Road (B-3)

Backup Camera with Back Guide Monitor

Multi Terrain View Monitor

Tire Pressure Monitoring System with Auto Location

Engine Immobilizer w/ Anti-Theft Alarm System

Intuitive Parking Assist with Auto Braking

Limited TRD Off Road (B-3)

Limited TRD Off Road (B-3)

Leveling Headlight System

LED Daytime Running Lights

Limited TRD Off Road (B-3)

Power Adjustable Heated Side Mirrors

w/ Power Folding & Electrochromic on Driver's Side

w/ Power Folding & Electrochromic on Driver's Side

w/ Power Folding, Power Extendable & Electrochromic on Driver's Side

w/ Power Folding, Power Extendable & Electrochromic on Driver's Side

Limited TRD Off Road (B-3)

Black Interior (CrewMax Only)

Black Interior (CrewMax Only)

Celestial Silver Metallic
3.5 Litre Twin Turbo V6 Intercooled

3.5 Litre Twin Turbo V6 Intercooled

3.5 Litre Twin Turbo V6 Intercooled

10-speed Direct Shift Automatic Transmission

10-speed Direct Shift Automatic Transmission

10-speed Direct Shift Automatic Transmission

11,200 lbs | 5080 kg (Double Cab 6.5 Bed) 11,090 lbs | 5030 kg (Double Cab 8.1 Bed) 11,100 lbs | 5035 kg (Double Cab Limited, Limited Off Road) 11,155 lbs | 5060 kg (CrewMax 5.5 Bed) 11,001 lbs | 4990 kg (CrewMax 6.5 Bed) 11,122 lbs | 5045 kg (Limited 5.5 Bed) 10,968 lbs | 4975 kg (Limited 6.5 Bed) 11,045 lbs | 5010 kg (Platinum 5.5 Bed) 10,800 lbs | 4935 kg (Platinum 6.5 Bed)

11,200 lbs | 5080 kg (Double Cab 6.5 Bed) 11,155 lbs | 5060 kg (CrewMax 5.5 Bed)

Fuel Economy (city/hwy/combined)

13.5/10.6/12.2 L/100km 13.6/10.4/12.2 L/100km (CrewMax 5.5ft Bed SR, SR5, TRD Off Road, TRD Sport)

13.5/10.6/12.2 L/100km 13.6/10.4/12.2 L/100km (CrewMax 5.5ft Bed)

593.2 cm / 233.5 in (Double Cab 6.5 ft Box) 593,4 cm / 233.6 in (CrewMax 5.5 ft Box) 623.9 cm / 245.6 in (CrewMax 6.5 ft Long Box) 641.5 cm / 252.5 in (Double Cab 8.1 ft Long Box)

593.2 cm / 233.5 in (Double Cab 6.5 ft Box) 593,4 cm / 233.6 in (CrewMax 5.5 ft Box)

203.2 cm / 80.0 in (CrewMax) 203.1 cm / 79.9 in (Double Cab)

203.2 cm / 80.0 in (CrewMax) 203.1 cm / 79.9 in (Double Cab)

203.2 cm / 80.0 in (CrewMax) 203.1 cm / 79.9 in (Double Cab)

198.4 cm / 78.1 in (CrewMax) 198.2 cm / 78.0 in (Double Cab)

198.4 cm / 78.1 in (CrewMax) 198.2 cm / 78.0 in (Double Cab)

198.4 cm / 78.1 in (CrewMax) 198.2 cm / 78.0 in (Double Cab)

26.4 cm / 10.4 in 26.2 cm / 10.3 in (8.1 ft Long Box)

26.4 cm / 10.4 in 26.2 cm / 10.3 in (8.1 ft Long Box)