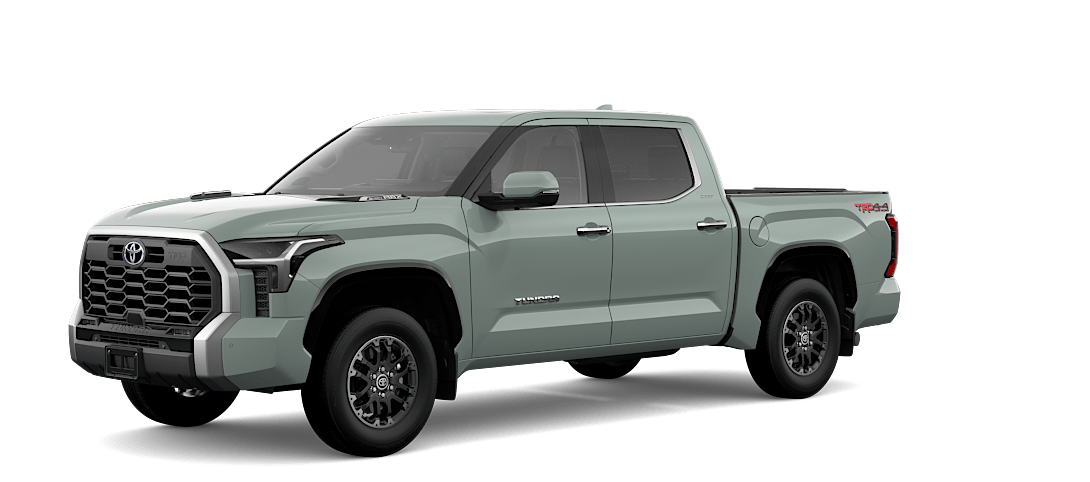 2023 Toyota Tundra Hybrid Trim Levels Guide
The new 2023 Toyota Tundra Hybrid is driven by a 437-horsepower, twin-turbocharged V6 engine with hybrid motors and a 10-speed Direct-Shift automated transmission. There is also a Gas Tundra version, which you will most likely find easier to order.
Toyota's next-gen Tundra comes with the company's revamped Multimedia system, which features a new touchscreen design, updated user interface, and support for wireless Apple CarPlay and Android Auto.
All models come with with advanced driver assistance technologies like adaptive cruise control, automatic high beams, lane departure warning, road sign recognition, blind spot monitoring with rear cross traffic alert, and parking sensors.
| | | | | | | |
| --- | --- | --- | --- | --- | --- | --- |
| | | | | | | |
| | | | | $88,297 - 5.5ft Bed Platinum Edition | $89,532 - 5.5ft Bed Platinum Edition | |
| | | | | | | |
| | | | | | | |
| | | | SofTex Leather w/ TRD Logo & Technical Camo Pattern Inserts on Front Seats | SofTex Leather (Base), Leather (Platinum Only) | | |
| | | | | | | |
| | 8-way Adjustable w/ 2-way Lumbar Support | 8-way Adjustable w/ 2-way Lumbar Support | 8-way Adjustable w/ 2-way Lumbar Support | 10-way Adjustable w/ 4-way Lumbar Support | 10-way Adjustable w/ 4-way Lumbar Support | 10-way Adjustable w/ 4-way Lumbar Support |
| Power Front Passenger Seat | 8-way Adjustable w/ 2-way Lumbar Support | 8-way Adjustable w/ 2-way Lumbar Support | 8-way Adjustable w/ 2-way Lumbar Support | 10-way Adjustable w/ 4-way Lumbar Support | 10-way Adjustable w/ 4-way Lumbar Support | 10-way Adjustable w/ 4-way Lumbar Support |
| | | | | | | |
| Driver Seat & Side Mirror Memory System | | | | | | |
| | | | | | | |
| | | | | | | |
| Full TFT LCD Gauge Cluster | | | | | | |
| | | | | | | |
| | Leather Wrapped w/ Heating | Leather Wrapped w/ Heating & TRD Badging | Leather Wrapped w/ Heating & TRD Badging | Leather Wrapped w/ Heating | Leather Wrapped w/ Heating | Leather Wrapped w/ Heating |
| Tilt & Telescopic Steering Wheel | | | | | | |
| Power Sliding Rear Window | | | | | | |
| | | | | | | |
| Authentic Wood Trim w/ Chrome Accents | | | | | | |
| | | | | | | |
| | | | | | | |
| Automatic Climate Control w/ Cabin Air Filter | | | | | | |
| | w/ Tailgate Detection | w/ Tailgate Detection | w/ Tailgate Detection | w/ Tailgate Detection | w/ Tailgate Detection | w/ Tailgate Detection |
| Oil Pressure Gauge & Voltmeter | | | | | | |
| | | | | | | |
| | | | | | | |
| Driver Side Window Auto Up / Down | | | | | | |
| Front Windshield Acoustic Glass | | | | | | w/ Front Side Laminated Glass |
| | | | | | | |
| | | | | | | |
| | | | | | | |
| | | | TOYOTA' Passenger-Side Dash Panel Badging | | | Backlit 'CAPSTONE' Passenger-Side Instrument Panel Badge |
| | | | | | | |
| | | | | | | |
| | | | | | | |
| | | | | | | |
| | | | | | | |
| | | | | | | |
| | | | | | | |
| | | | | | | |
| | 3-Year Trial then $9.95/mth | 3-Year Trial then $9.95/mth | 3-Year Trial then $9.95/mth | 3-Year Trial then $9.95/mth | 3-Year Trial then $9.95/mth | 3-Year Trial then $9.95/mth |
| SiriusXM with 3-month All-Access trial and HD Radio | | | | | | |
| | | | | | | |
| | 3-Year Trial then $19.95/mth | 3-Year Trial then $19.95/mth | 3-Year Trial then $19.95/mth | 3-Year Trial then $19.95/mth | 3-Year Trial then $19.95/mth | 3-Year Trial then $19.95/mth |
| Service Connnect and Safety Connect (5-year Trial) | | | | | | |
| | | | | | | |
| | | | | | | |
| | | | | | | |
| | Independent Front Suspension and 5 Link Rear Suspension | Independent Front Suspension and 5 Link Rear Suspension | Independent Front Suspension, 5 Link Rear Suspension, and TRD Pro Off-Road Suspension | Independent Front Suspension and 5 Link Rear Suspension (All Trims), Adaptive Variable Suspension (Platinum Only) | Independent Front Suspension and 5 Link Rear Suspension (All Trims), Adaptive Variable Suspension (Platinum Only) | Independent Front Suspension and 5 Link Rear Suspension |
| Electronic Parking Brake with Brake Hold | | | | | | |
| | | | | | | |
| | Sport, Eco and Normal Modes | Sport, Eco and Normal Modes | Sport, Eco and Normal Modes | Sport, Eco and Normal Modes (All Trims), w/ 2 additional modes on Platinum trim | Sport, Eco and Normal Modes (All Trims), w/ 2 additional modes on Platinum trim | Sport, Eco and Normal Modes |
| Hill-start Assist Control | | | | | | |
| | | | | | | |
| | | | | | | |
| Locking Rear Differential | | | | | | |
| Multi Terrain Mode Select | | | | | | |
| | | TRD Off Road Shock Absorbers | | | | |
| | | | | | | |
| TRD Pro Front Stablizer Bar | | | | | | |
| | | | | | | |
| | | | | | | |
| Tow Package - Heavy Duty Tow Hitch Receiver | | | | | | |
| | | | | | | |
| Trailer Backup Guide w/ Straight Path Assist | | | | | | |
| Tailgate Release Bump Switch on Driver's-side Taillight | | | | | | |
| | | | | | | |
| Side Rail with Four Adjustable Tie Down Cleats | | | | | | |
| 400 Watt (120V) Cargo Bed Power Outlet | | | | | | |
| Load-Leveling Rear Height Control Air Suspension | | | | Platinum Trim Only | Platinum Trim Only | |
| | | | | w/ Extendable Towing Mirrors | w/ Extendable Towing Mirrors | w/ Extendable Towing Mirrors |
| | | | | | | |
| | | | | | | |
| Backup Camera with Back Guide Monitor | | w/ Multi Terrain View Monitor | w/ Multi Terrain View Monitor | w/ | w/ | w/ |
| | | | | | | |
| Tire Pressure Monitoring System with Auto Location | | | | | | |
| | | | | | | |
| | | | | | | |
| | | | | | | |
| Intuitive Parking Assist with Auto Braking | | | | | | |
| | | | | | | |
| | | | | | | |
| | | | 18" TRD Pro Black Forged BBS Wheels | | | |
| | | | | | | |
| | | | | | | |
| 1.1-in. Front Lift (2.5-in. FOX Internal Bypass Coil-overs and Rear Remote-Reservoir Shocks) | | | | | | |
| Xply Armor High-Strength Engine, Fuel Tank and Transfer Case Undercovers | | | | | | |
| Power Running Boards and Bed Step | | | | Platinum Trim Only | Platinum Trim Only | |
| | | | TRD Pro Heritage 'TOYOTA' Grille | | | |
| Technical Camouflage' Exterior Accents | | | | | | |
| | | | w/ Rock Rail | | | |
| | | | | | | |
| | | | | | | |
| | | | Smoked Headlights w/ Bi-Beam LED | | | |
| Auto Leveling Headlight System | | | | | | |
| LED Daytime Running Lights | | | | | | |
| | | | Smoked LED Fog Lights | | | |
| | | | | | | |
| Front Grille w/ LED Light Bar | | | | | | |
| Exterior Amber Marker Lights | | | | | | |
| | | | | | | |
| | | | | | | |
| | | | | | | |
| Power Adjustable Heated Side Mirrors | w/ Power Folding & Electrochromic on Driver's Side | w/ Power Folding & Electrochromic on Driver's Side | w/ Power Folding & Electrochromic on Driver's Side | w/ Power Folding, Power Extendable & Electrochromic on Driver's Side | w/ Power Folding, Power Extendable & Electrochromic on Driver's Side | w/ Power Folding, Power Extendable & Electrochromic on Driver's Side |
| | | | | | | |
| | | Hood Badge, TRD Front Grille | TRD Pro Hood Badge, TRD Pro-Stamped Tailgate, Black Dual Exhaust w/ TRD Logo | | | |
| | | | | | | |
| | | | | | | |
| | | | | | | |
| | | | | | | |
| | | | | | | |
| Celestial Silver Metallic | | | | | | |
| | | | | | | |
| | | | | | | |
| | | | | | | |
| | | | | | | |
| | | | | | | |
| | | | | | | |
| | | | | | | |
| | |
| --- | --- |
| | |
| | 3.5 Litre Twin Turbo V6 Hybrid Intercooled |
| | 10-speed Direct Shift Automatic Transmission |
| | |
| | |
| | |
| | 11,171 lbs | 5,067 kg (Limited, Off Road, TRD Pro) 11,034 lbs | 5,005 kg (w/ 6.5ft Box) 11,012 lbs | 4,995 kg (Platinum, 1794) 10,340 lbs | 4,690 kg (Capstone) |
| | |
| Fuel Economy (city/hwy/combined) | 12.7/10.5/11.7 L/100km 12.9/11.6.12.3 L/100km (TRD Pro) |
| | |
| | |
| | 593.2 cm / 233.5 in 623.7 cm / 245.5 in (w/ 6.5 ft Long Box) |
| | |
| | |
| | |
| | 28.2 cm / 11.1 in (Limited, Off Road, TRD Pro) 27.9 cm / 11.0 in (Platinum, 1794, or w/ 6.5ft Box) 27.7 cm / 10.9 in (Capstone) |
| | |
| | |