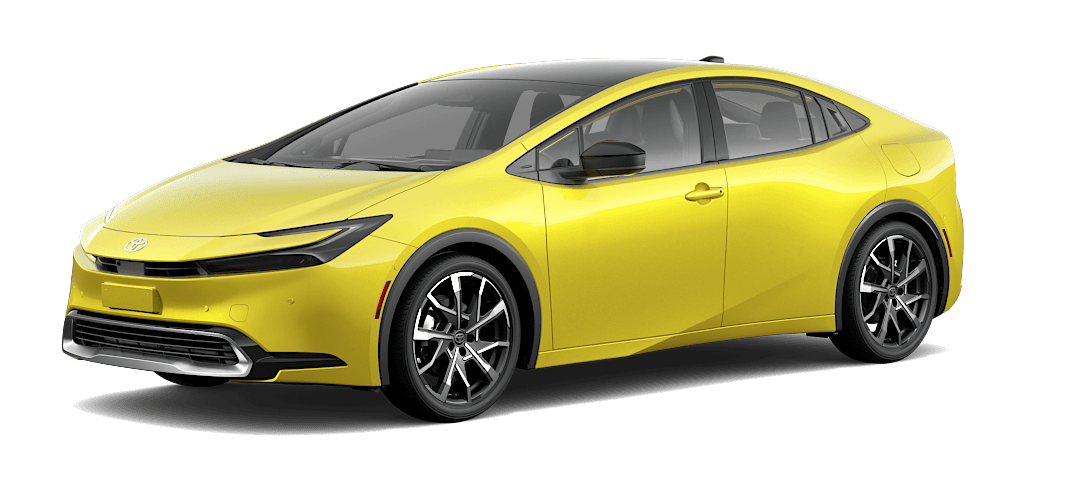 The 2023 Toyota Prius Prime has been overhauled from the ground up, with a new, more aesthetically pleasing appearance and enhanced driving dynamics.
The vehicle's high-resolution display is equipped with the newest generation of Toyota's multimedia system and wirelessly connects to Apple CarPlay and Android Auto.
In addition to convenient upgrades like Advanced Park & Digital Key that let you use your phone as the car's key, the new design also has a fixed glass sunroof on the upper trims. This brand-new version of the Prius Prime should enter mass production before the end of the year.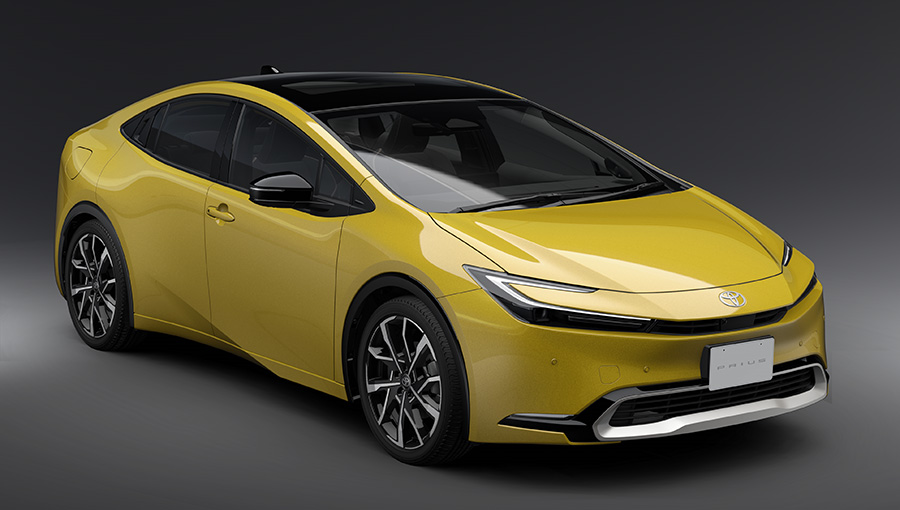 Credit: Automotive News Canada, Toyota
What are the standard features?
Every 2023 Prius Prime trim level come with standard amenities like heated front seats and a smart key with push engine start.
Each trim level now has a power-adjustable steering wheel and wireless connectivity for Apple CarPlay and Android Auto as well as the new Safe Exit Alert feature in 2023.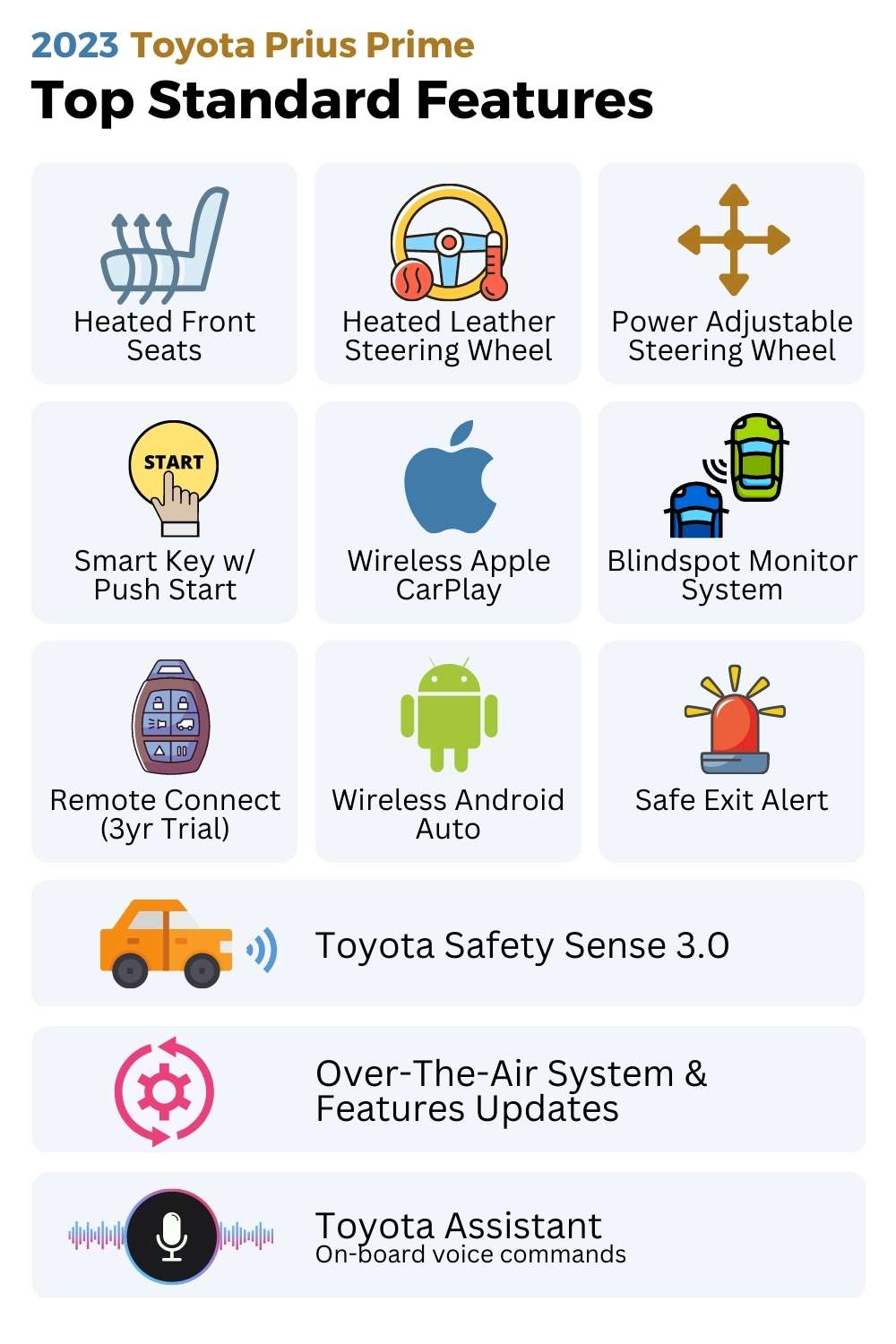 Key features summary
The new fifth-generation Prius Prime has undergone numerous updates. Many aspects of the new design have been improved upon, most notably the addition of a more refined aesthetic. These are the highlights of each 2023 Prius Prime trim level.
The XSE trim level is where you'll find most of Prime Prime's new features, including the Digital Key, Power Rear Door, and Panoramic View Monitor.
As disappointing as it may be, Toyota has decided not to provide power-adjustable seats in the SE trim. 
How Much Is The 2023 Toyota Prius Prime?
The prices for each 2023 Toyota Prius Prime are listed below. The list of pricing below does not include any applicable taxes. These prices, according to their website, include dealer fees up to $990, $100 in air conditioning charges, $25 in tire levies, and $1,930 in freight and PDI. This information is based on prices posted on Toyota.ca in April 2023.
Because there are wait times involved and Toyota changes the prices on their website every few months, check toyota.ca before you pick up your car to ensure you have the most up-to-date pricing.
SE
$ 41,125
$46,060 w/ GST, PST
XSE
$ 46,220
$51,766 w/ GST, PST
XSE Premium
$ 49,965
$55,960 w/ GST, PST
What Colour Options Are Available?
No matter what trim level—SE, XSE, or XSE Premium—you go for, the all-new Prius prime will turn heads with its stunning redesign.
The new model is offered in three different colours: Wind Chill Pearl, Black Supersonic Red, and a sophisticated silver or grey that is unique to the Prius Prime.
Exterior Features
The new Prius Prime shares the same design concept as the current Prius hybrid model. 
The second-generation TNGA-C platform on which the 2023 Prius Prime is based provides the vehicle with a lower centre of gravity, less weight, and higher stiffness than its predecessor. It feels sporty but comfortable because of its wider stance and lower driving position.
With the Prius Prime, unquestionably additional details will eventually become available. will update this post as we have more information to provide.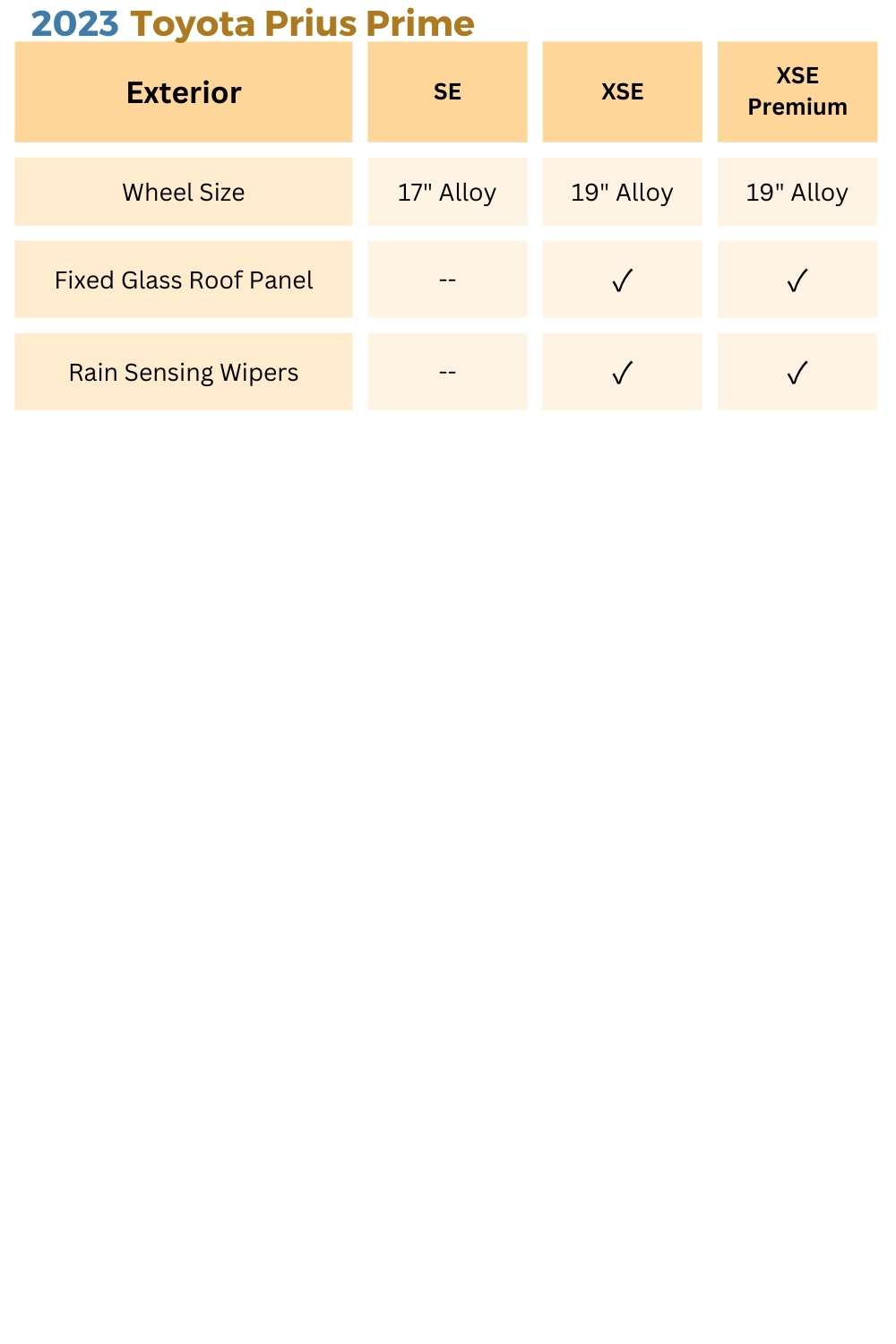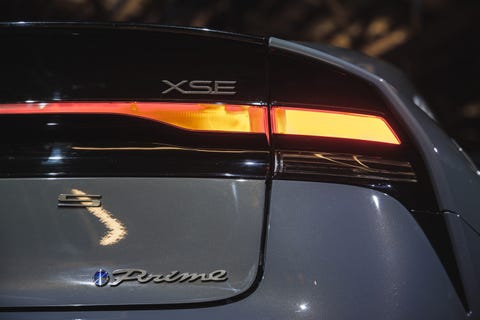 Credit: Cnet, Edmunds, Cars and Driver
Seat Comfort & Performance
This year's model has a larger 2.0-litre engine in place of last year's 1.8-litre four-cylinder. Performance-wise, the new Prius Prime is meant to improve upon its predecessor in several key respects, most notably in fuel economy and driving dynamics.
The combination of the new, larger engine and the new lithium-ion battery results in 99 more horsepower than the previous model. More improvements have been made to the vehicle's acceleration feel and speed controllability, making for a driving experience and accelerator response that is unique to electric vehicles.
Finally, more Toyota vehicles, including the Prius Prime, will have passenger seats with power adjustments. The highest trim level also comes with a driver seat memory system, ventilated front seats, and heated back seats.
Seating in the 2023 Prius Prime is lower. Those inside may feel more confined due to its height. Inside, you'll find just a little extra space than in the previous year's model. Traction batteries are placed optimally, under the rear seat, contributing to a low centre of gravity and increased cargo space.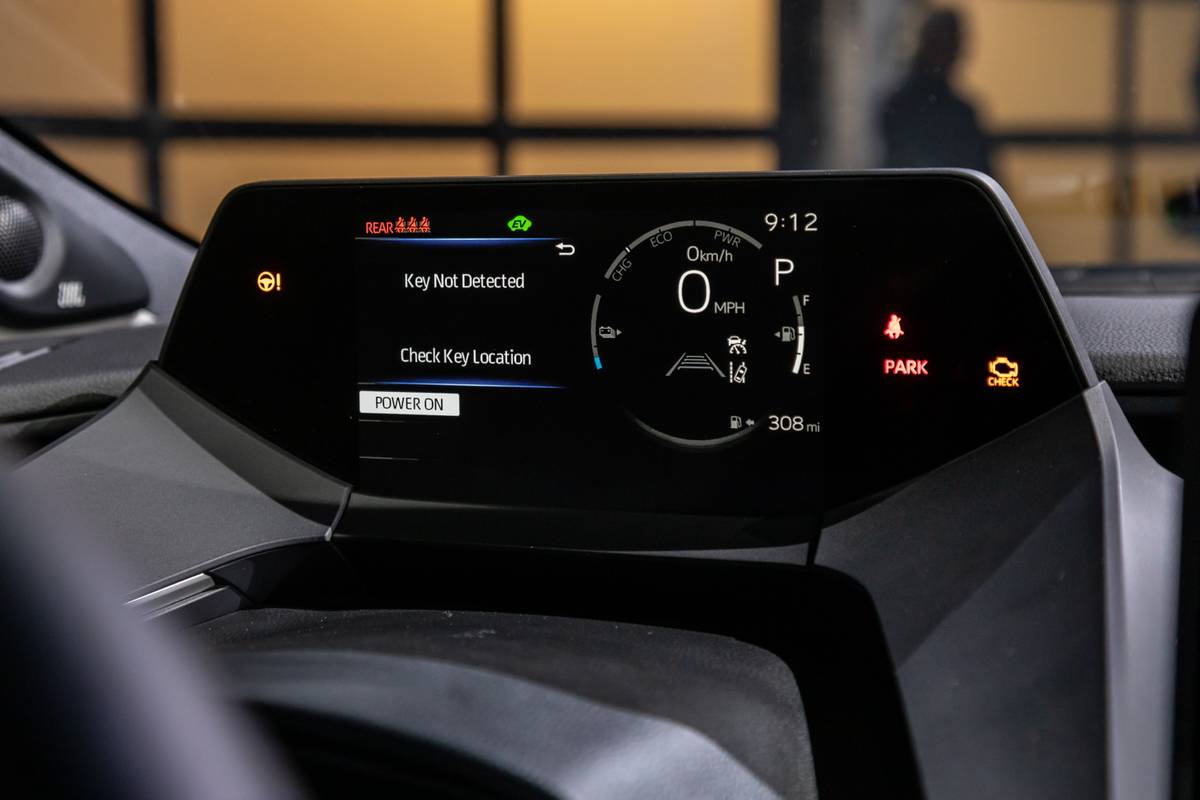 Credit: cars.com, REC Anything
Comfort Features
The new Prius Prime's cabin is just as stylish as the rest of the car's exterior. The redesigned Prime has a shifter that is now located in the console rather than the dashboard.
The instrument panel of the 2023 Prius Prime is also changed to forward-mounted, rather than being placed in the centre of the dashboard as was the case with its predecessor.
Inside, the Prius Prime has a stylish dashboard that recalls that of the bZ4X electric SUV. The new model's XSE Premium trim level now comes standard with a power rear door and digital key access via the Toyota app.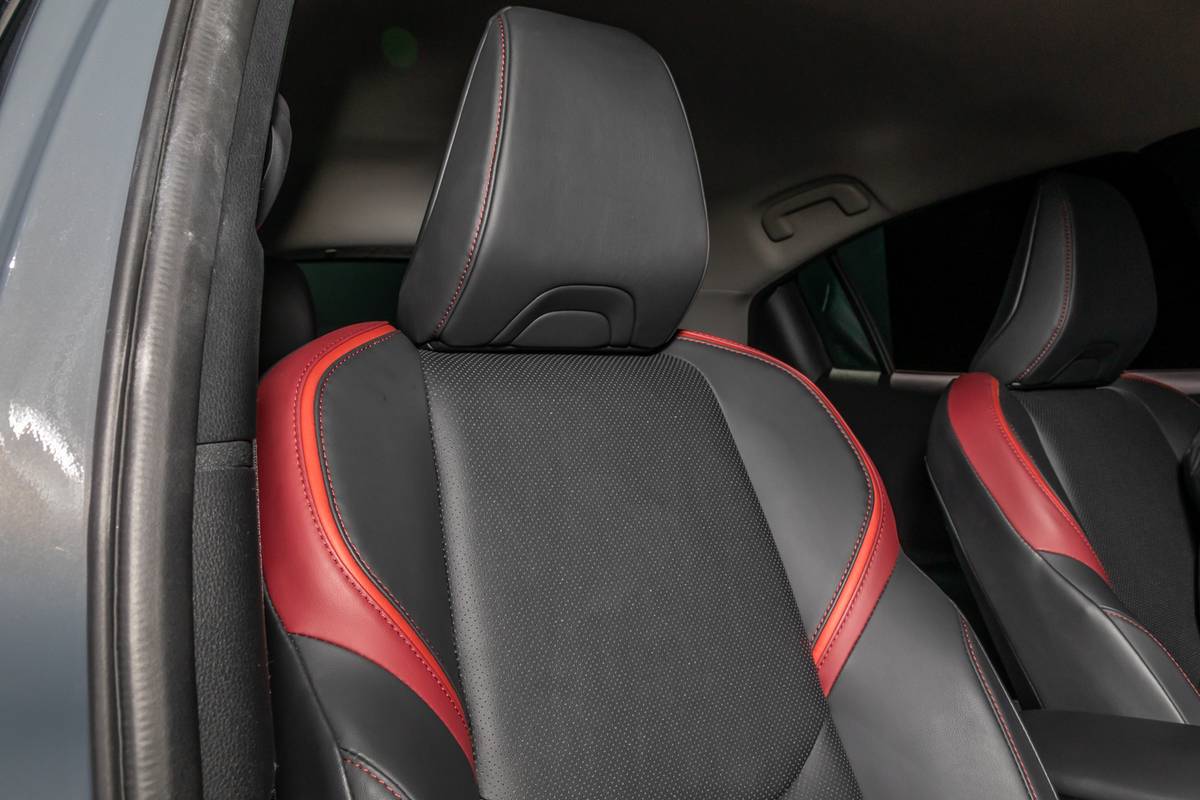 Credit: CarBuzz, cars.com, REC Anything
Infotainment Features
2023 Prius Prime SE and XSE come standard with an 8.0-inch touchscreen infotainment system; the big-screen system and a premium JBL audio system are both included in the price of the XSE Premium, the Prius Prime's highest trim level.
All models of the Prius Prime come standard with 6 USB-C outlets and wireless support for Apple CarPlay and Android Auto.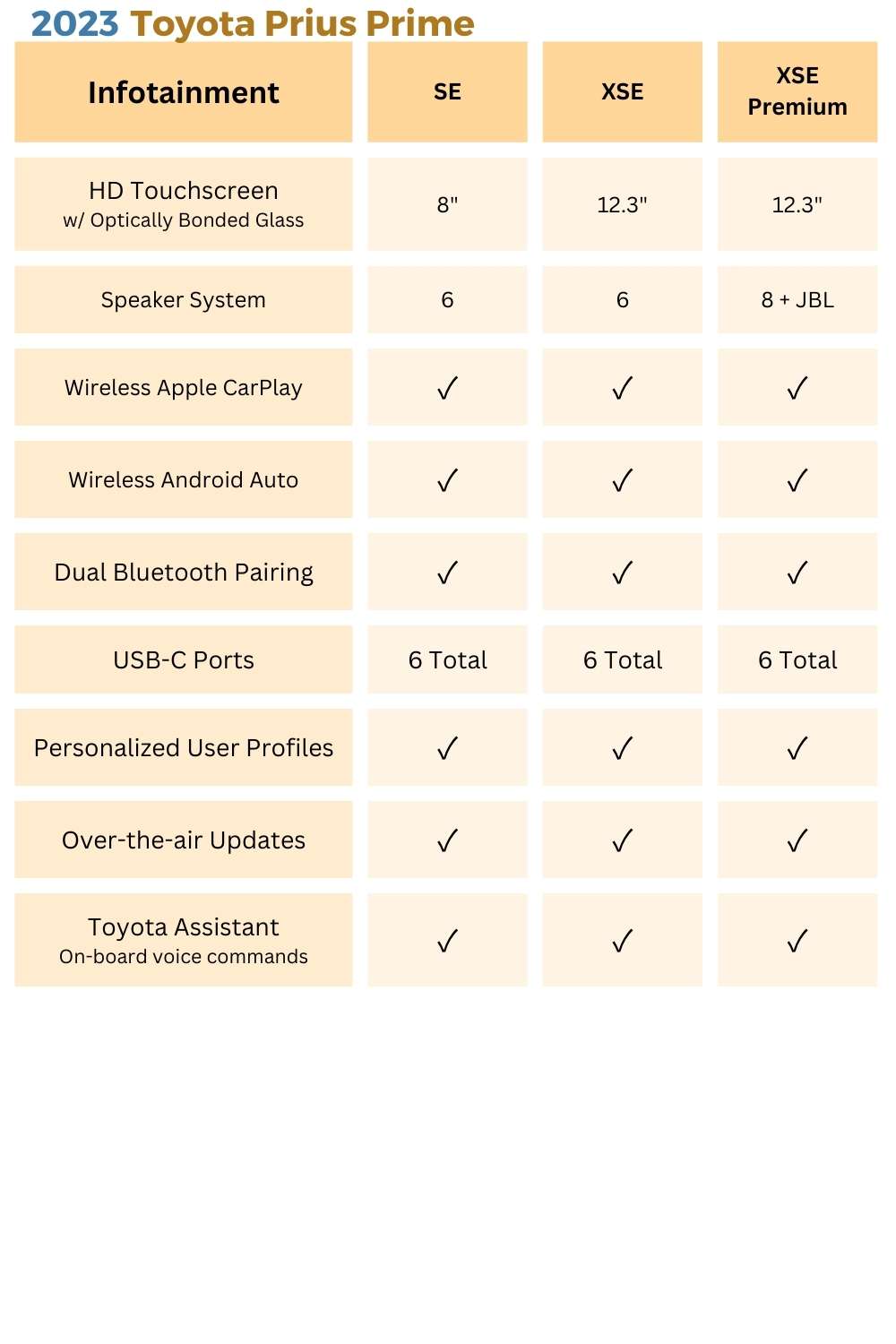 Trials and Subscriptions
All 2023 Toyota Prius Prime configurations offer several premium services, some of which are free for a limited period and others of which need a subscription fee.
Learn more about each service here:
Remote Connect

Via the Toyota app on compatible smartphones and smartwatches, you can use Toyota Remote Connect and take command of your vehicle from afar. With the help of this feature, you can lock/unlock the doors and start/stop the engine from a distance.
Drive Connect

The most recent navigation system from Toyota updates traffic using cloud technology. Even with a weak signal, traffic and navigation information can be accessed. Get directions at any moment from a live person. Request information from the AI assistant in the car, such as directions or nearby businesses.
Service Connect

Receive vehicle health and maintenance reports. Service Link offers Vehicle Health Reports, Maintenance Alerts, and Maintenance Reminders. Get confidence in knowing the current state of your vehicle's maintenance and performance.
Safety Connect

Stolen Vehicle Finder uses GPS to assist police locate your stolen vehicle. Toyota's 24-hour response centre can dispatch emergency medical services and roadside assistance, as well as notify you of airbag deployment and rear-end crashes.
Learn more about the Toyota Safety Sense System:
Compare Features of TSS 2.5, 2.5+, 3.0
Compare Features of TSS-C and TSS-P
Specifications
ENGINE
2.0 Litre 4-cylinder w/ Lithium-Ion (Li) Battery
TRANSMISSION
CVT automatic
DRIVETRAIN
FWD
HORSEPOWER
212 (SE)
220 (XSE, Premium)
TORQUE
139 lb-ft
TOWING CAPACITY
n/a
EV RANGE
Up To 64km (SE)
Up To 53km (XSE, Premium)
FUEL ECONOMY (CITY-HWY-COMBINED)
Not yet announced
FUEL CAPACITY
40 Litres
FUEL TYPE
Regular
LENGTH
459.9 cm / 181 in
WIDTH
178.2 cm / 70.1 in
HEIGHT
142 cm / 55.9 in (SE)
143 cm / 56.3 in (XSE, Premium)
CARGO CAPACITY
575 cu.ft
GROUND CLEARANCE
14.3 cm / 5.6 in (SE)
15.3 cm / 6 in (XSE, Premium)
NUMBER OF SEATS
5
NUMBER OF AIRBAGS
Not Yet Announced
MANUFACTURING COUNTRY
Japan
LAST REDESIGN
2023