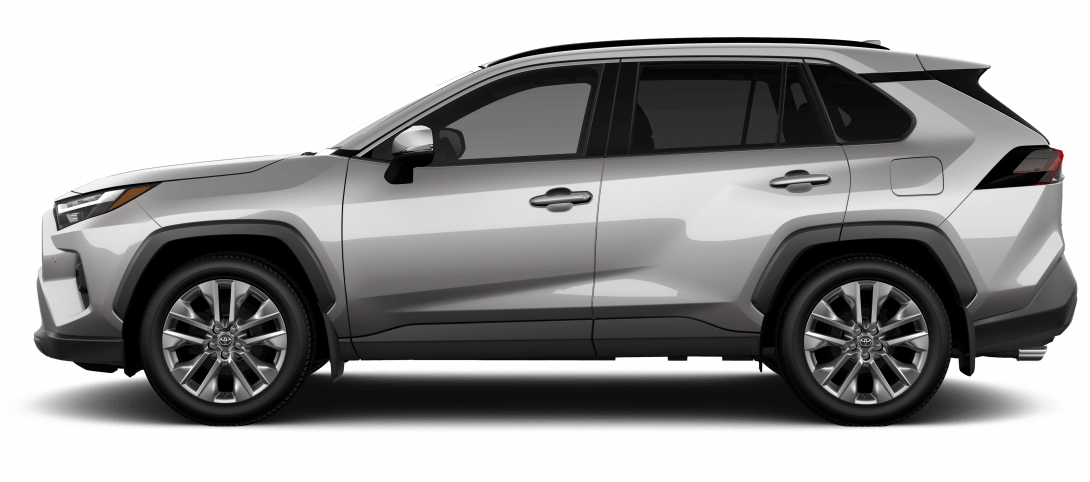 Many enhancements have been made to the 2023 gas model RAV4. There are five 2023 Toyota RAV4 configurations available. TRD Off Road Edition is no longer in production.
All models now include the all-new, updated Toyota Infotainment System, as well as wireless Apple CarPlay and Android Auto compatibility. Toyota Safety Sense v2.5 now includes Night Time Pedestrian Detection, Left Turn Oncoming Vehicle Detection/Braking, and Right/Left Turn Oncoming Pedestrian Detection/Braking.
The screen on the Limited model is larger, measuring 10.5′′ Touch Screen and 12.3′′ Multi. Info. Dashboard Display.
What are the standard features?
All 2023 Toyota RAV4 configurations come with a variety of standard features.
Heated front seats, a blind-spot monitoring system, wireless Apple CarPlay, wireless Android Auto, and a spare tire are standard equipment on all models.
While Multi-Terrain Select is absent from the hybrid version, it is present in the gas version.
Key features summary
The five different versions of the 2023 Toyota RAV4 each provide a variety of impressive new features. The following are the features of each 2023 RAV4 configuration.
Although there are 5 distinct 2023 Toyota RAV4 options available, the XLE is most likely the most popular due to its price-to-features ratio.
The XLE Premium, on the other hand, is a good choice if you want leather seats and larger 19-inch wheels.  At the highest trim level, the 2023 RAV4 Limited, you'll find the largest 10.5-inch touchscreen and power passenger seat for the first time in the RAV4's history.
How Much Is The 2023 Toyota RAV4?
The prices for the five 2023 Toyota RAV4 configurations are listed below. The list of pricing below does not include any applicable taxes. These prices, according to their website, include dealer fees up to $990, $100 in air conditioning charges, $25 in tire levies, and $1,930 in freight and PDI. This information is based on prices posted on Toyota.ca in March 2023.
Because there are wait times involved and Toyota changes the prices on their website every few months, check toyota.ca before you pick up your car to ensure you have the most up-to-date pricing.
LE
$ 35,635
$39,911 w/ GST, PST
XLE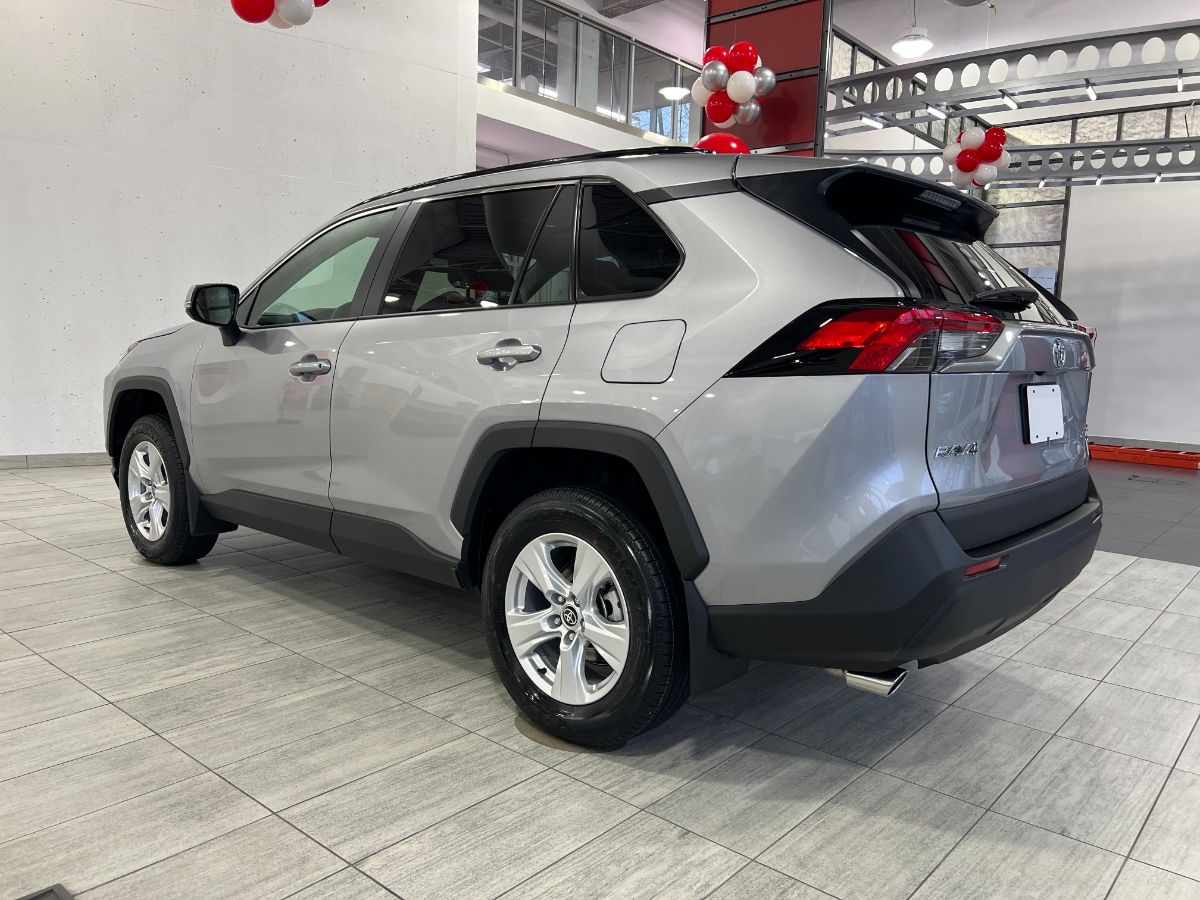 $ 39,395
$44,122 w/ GST, PST
XLE Premium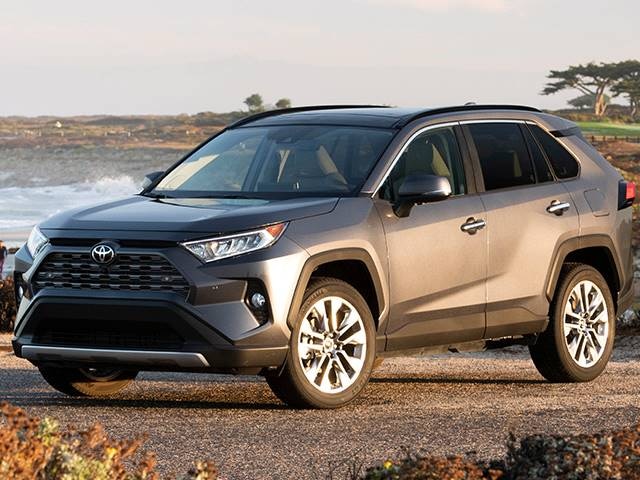 $ 41,435
$46,407 w/ GST, PST
Limited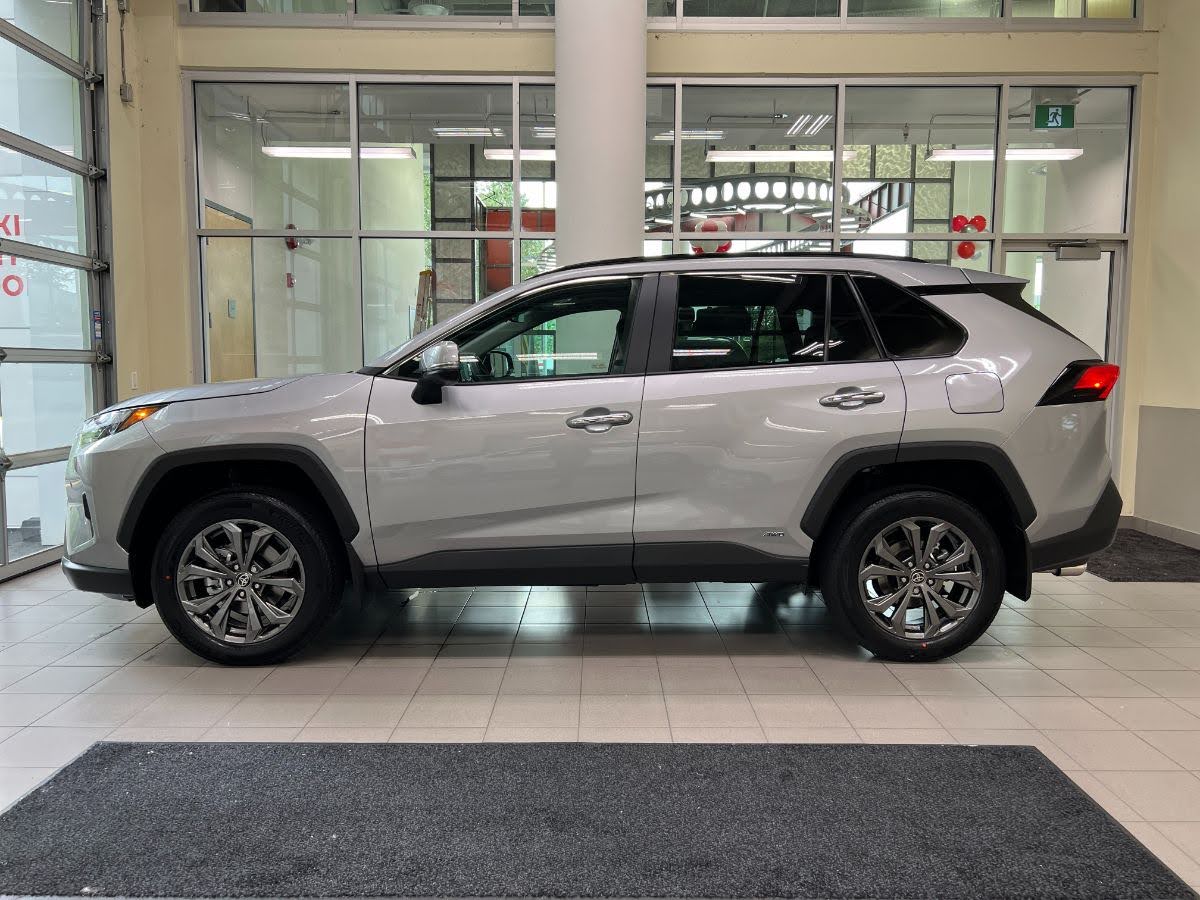 $ 47,295
$52,970 w/ GST, PST
Trail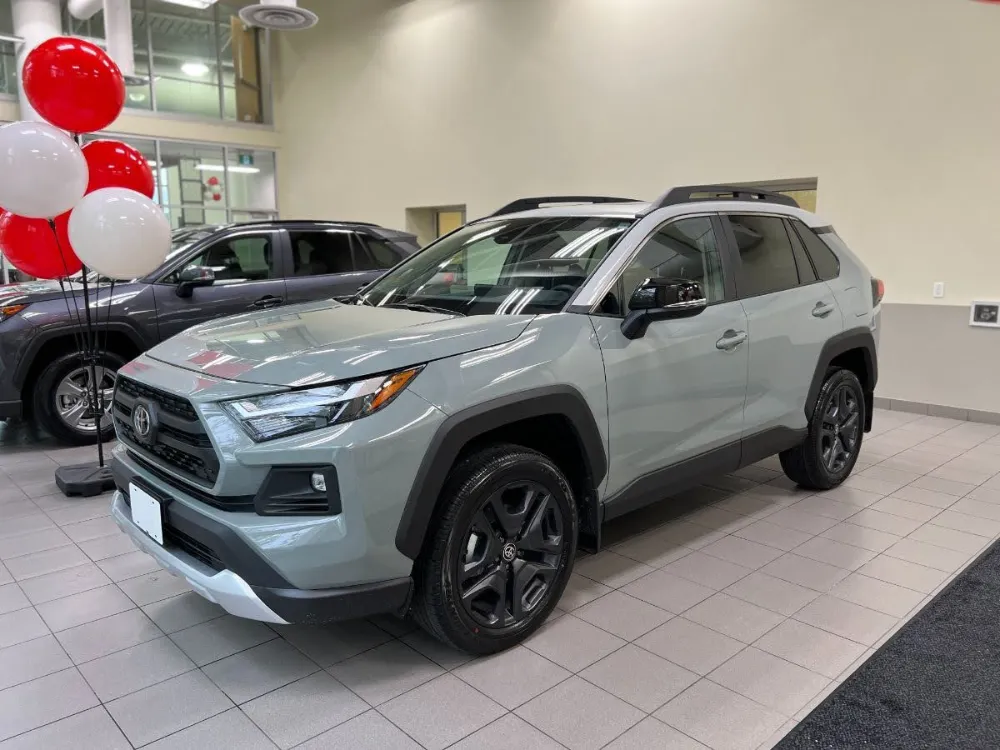 $ 43,095
$48,266 w/ GST, PST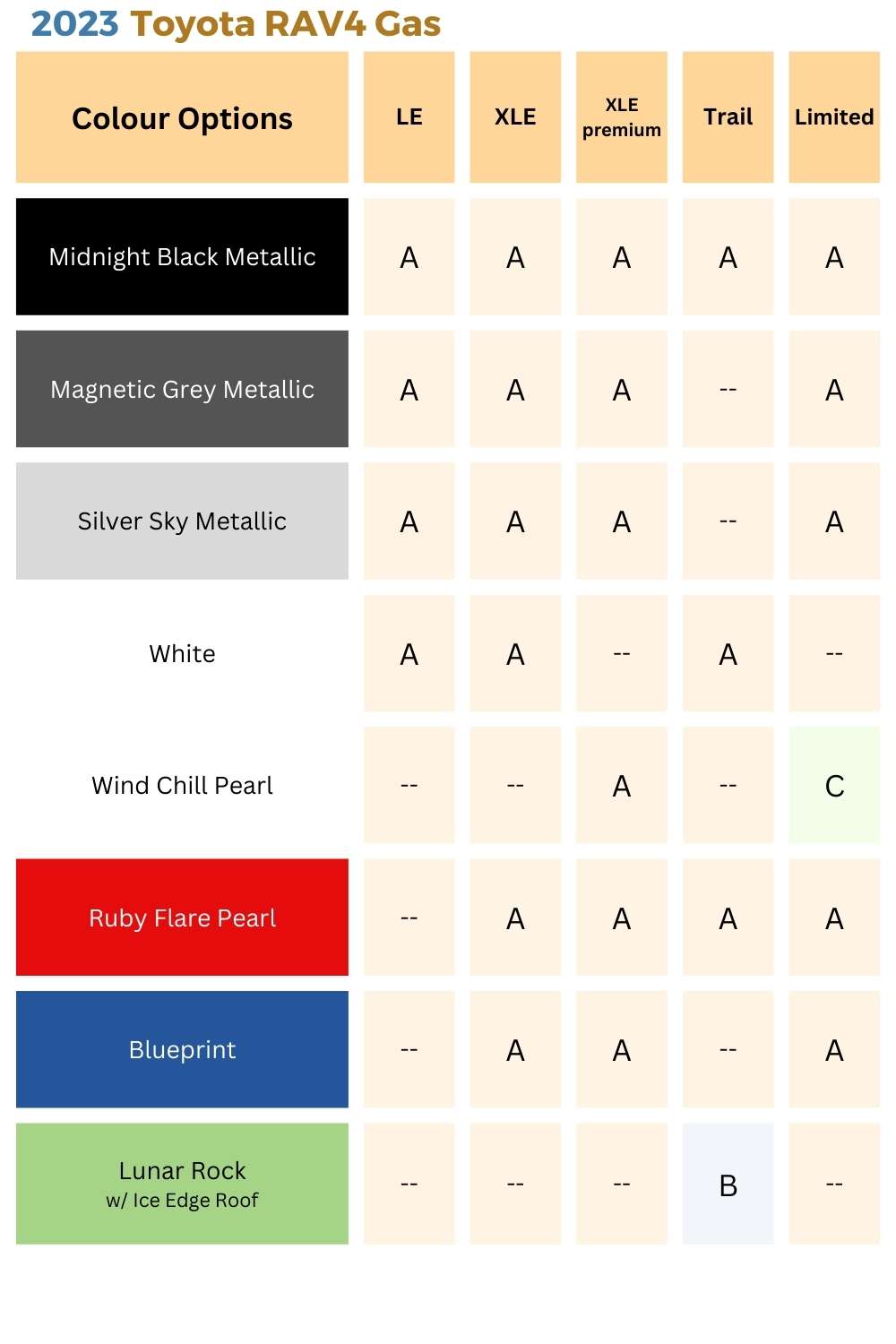 What Colour Options Are Available?
The RAV4 can be had in a wide variety of exterior colours. Only black interior seating is available in all configurations with the exception of the Trail and Limited.
View the graph below to see which interior colours are available with which configuration and colour combination.
A. Black Interior
B. Black or Mocha Interior
C. Black, Beige or Light Grey interior option
Seat Styles on each Trim
The seats in this vehicle come in a few different styles. Take a look at this gallery to see how they compare visually.
LE, XLE
Black Fabric
XLE Premium, Limited
Black SofTex Leather
Limited
Light Grey SofTex Leather
Limited
Beige SofTex Leather
Trail
Black SofTex Leather
Trail
Mocha SofTex Leather
LE
Black Dashboard With 8″ Touchscreen
XLE, XLE Premium
Black Dashboard + 8″ Touchscreen, Silver Door Handle & Silver Steering Wheel Accent
Limited
Black Dashboard + 10.5″ Touchscreen, Silver Door Handle, Silver Steering Wheel Accent, Silver Air Vent Knob
Trail
Dash With Orange Accent + 8″ Touchscreen, Silver Door Handle & Silver Steering Wheel Accent
Exterior Features
No changes have been made to the RAV4's exterior styling for the new model year. It's worth noting that the LE trim level is the only one to feature manual rear door operation and steel wheels.
Puddle lights, which illuminate the area just outside the front doors, and a kick-sensing back door are two of the additional features available on the Limited grade.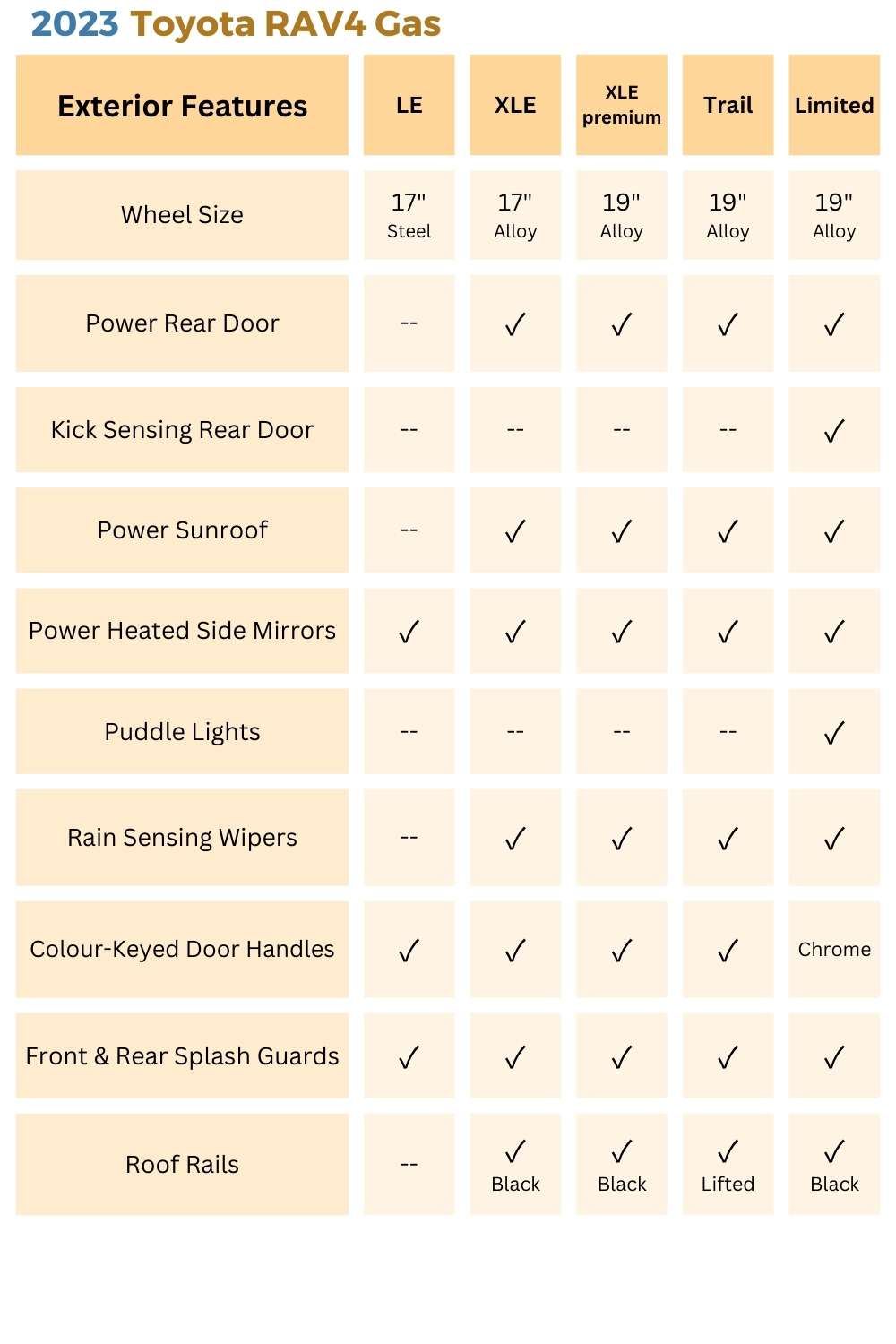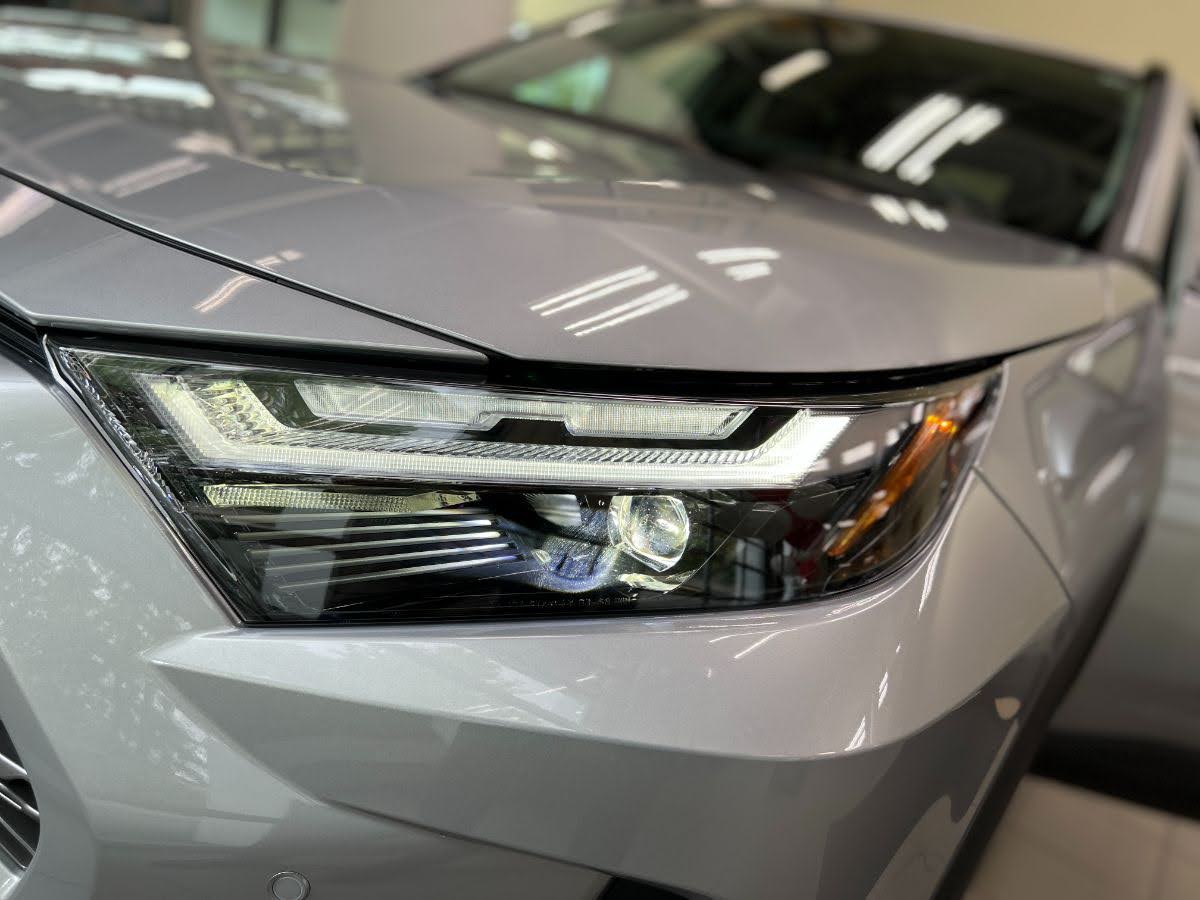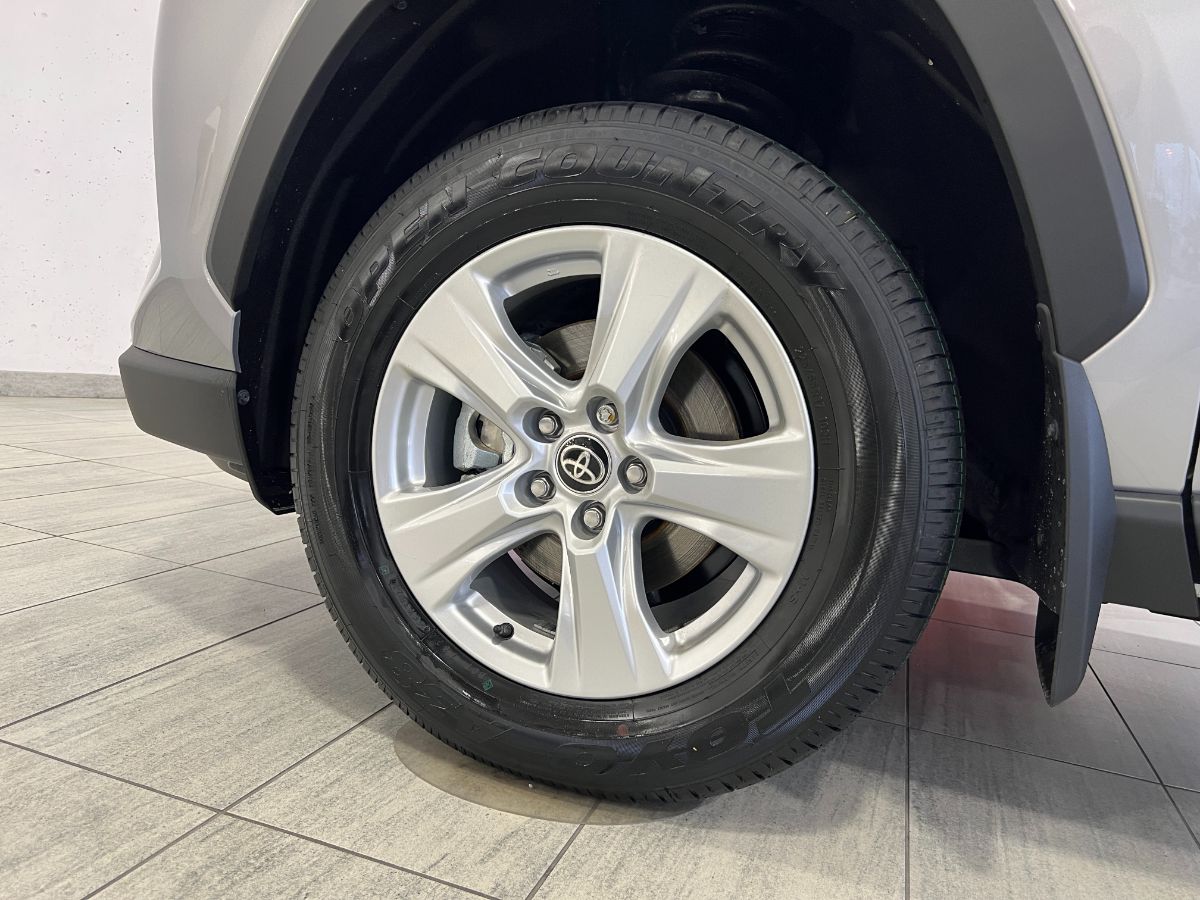 Performance
The gas-powered RAV4 is designed to save money at the pump over anything else. The 2023 RAV4 retains the same 2.5-litre inline-four engine with natural aspiration and eight-speed direct-shift auto. When accelerating on the interstate or tackling a steep incline, the engine can be noisier than in the Hybrid model.
Though the TRD Off Road package is no longer offered, Toyota's Trail model is still on sale. Only the Trail can pull up to 3,500 pounds; the other trims can only handle up to 1,500 pounds. The Trial has the same 8.6-inch ground clearance as the Limited model, which is somewhat higher than the LE and XLE.
The RAV4 can seat up to five people in luxurious comfort. Front seats are heated in every configuration as standard. Starting with the XLE trim level, drivers can enjoy power adjustments for the driver seat. SofTex leather upholstery and a memory system for the driver's seat come standard in the XLE Premium. For the first time on the RAV, the Limited trim level comes standard with a power passenger seat.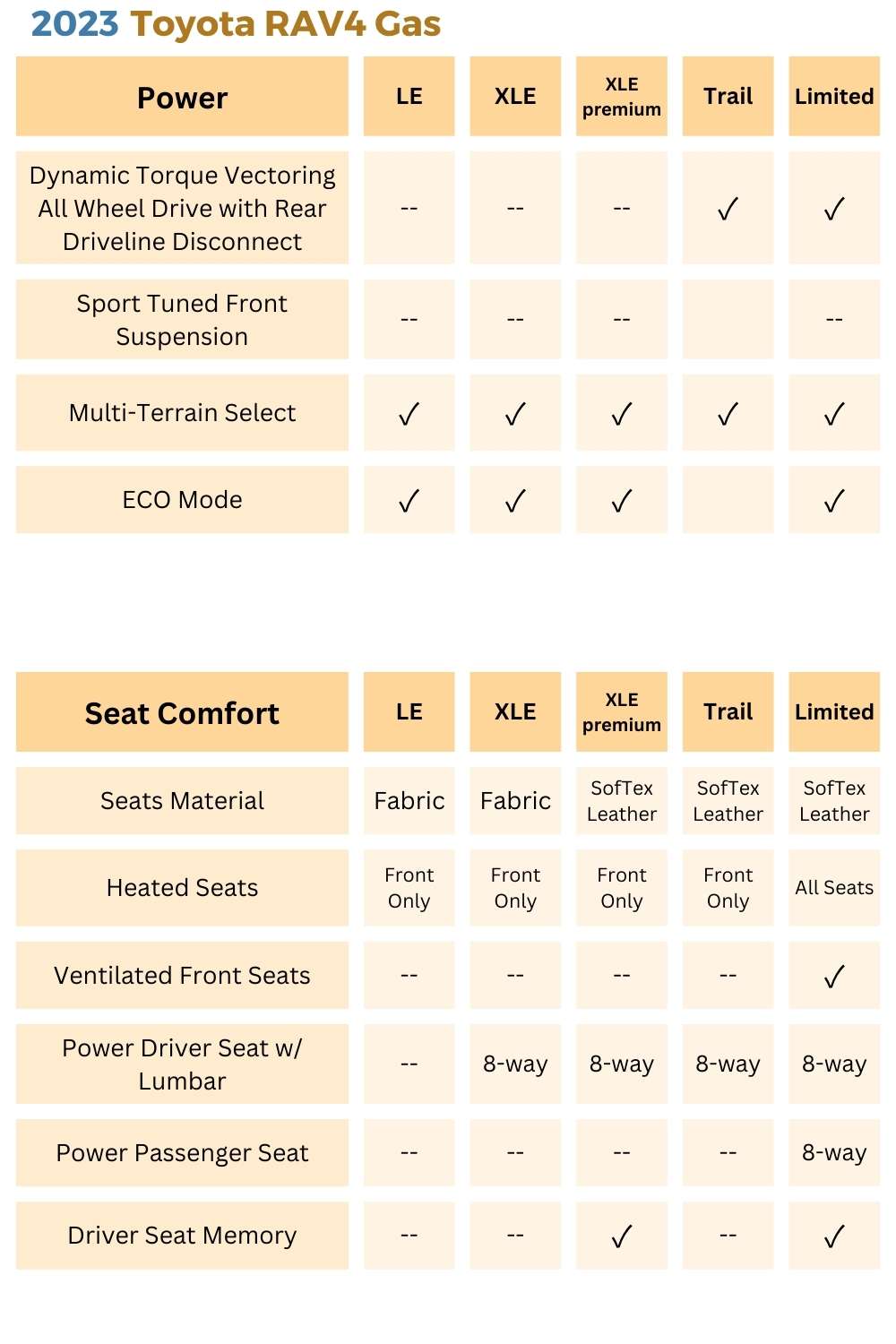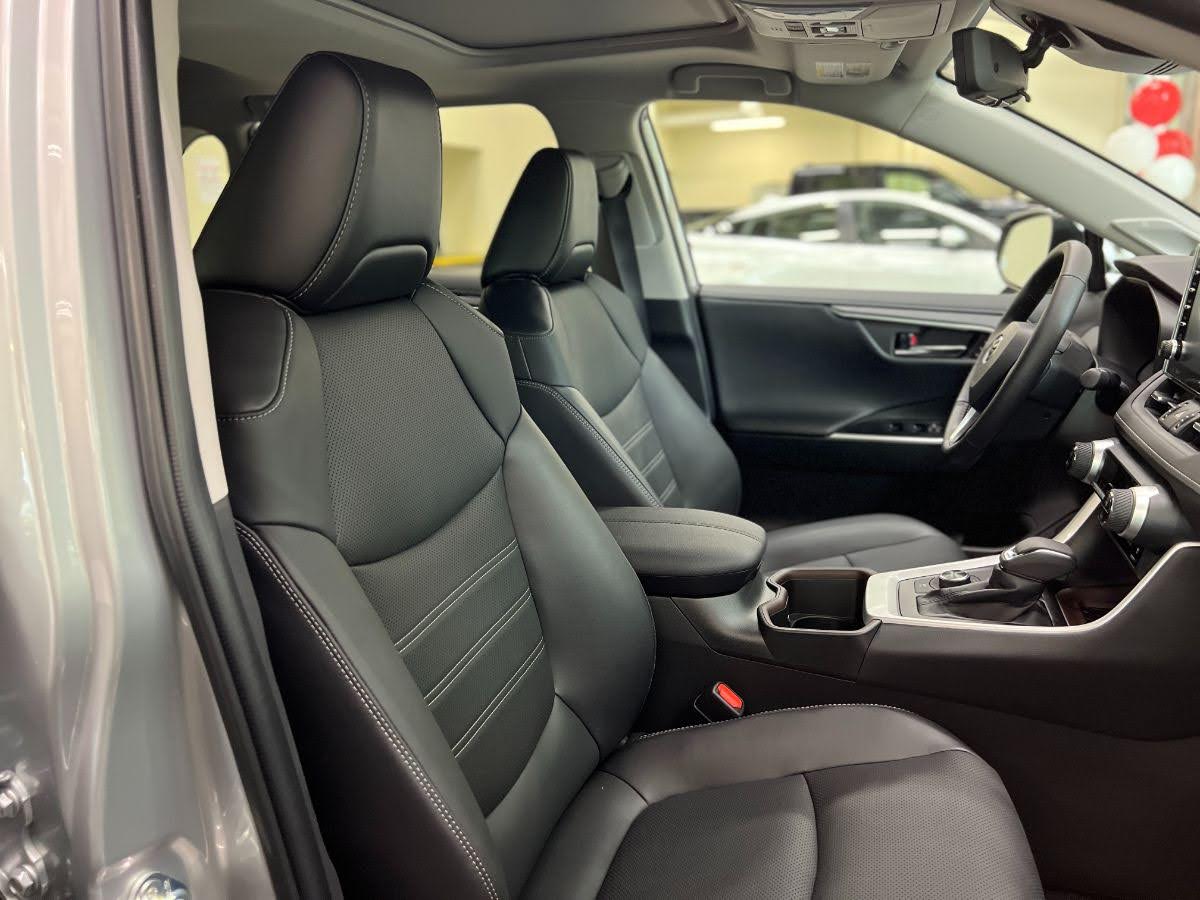 Credit: CarsAdvice, driving.com
Comfort Features
The previous year's RAV4 came with a 4.2″ standard instrument cluster display, thankfully, it has been upgraded to a screen of 7.0 inches this year.
Even more impressive is the brand-new all-digital gauge display that measures 12.3 inches and comes standard on higher-end models.
Unfortunately, the LE lacks a lot of items that are considered to be standard, such as a heated leather steering wheel, dual-zone climate control, and smart key with push-start, to name just a few of these features.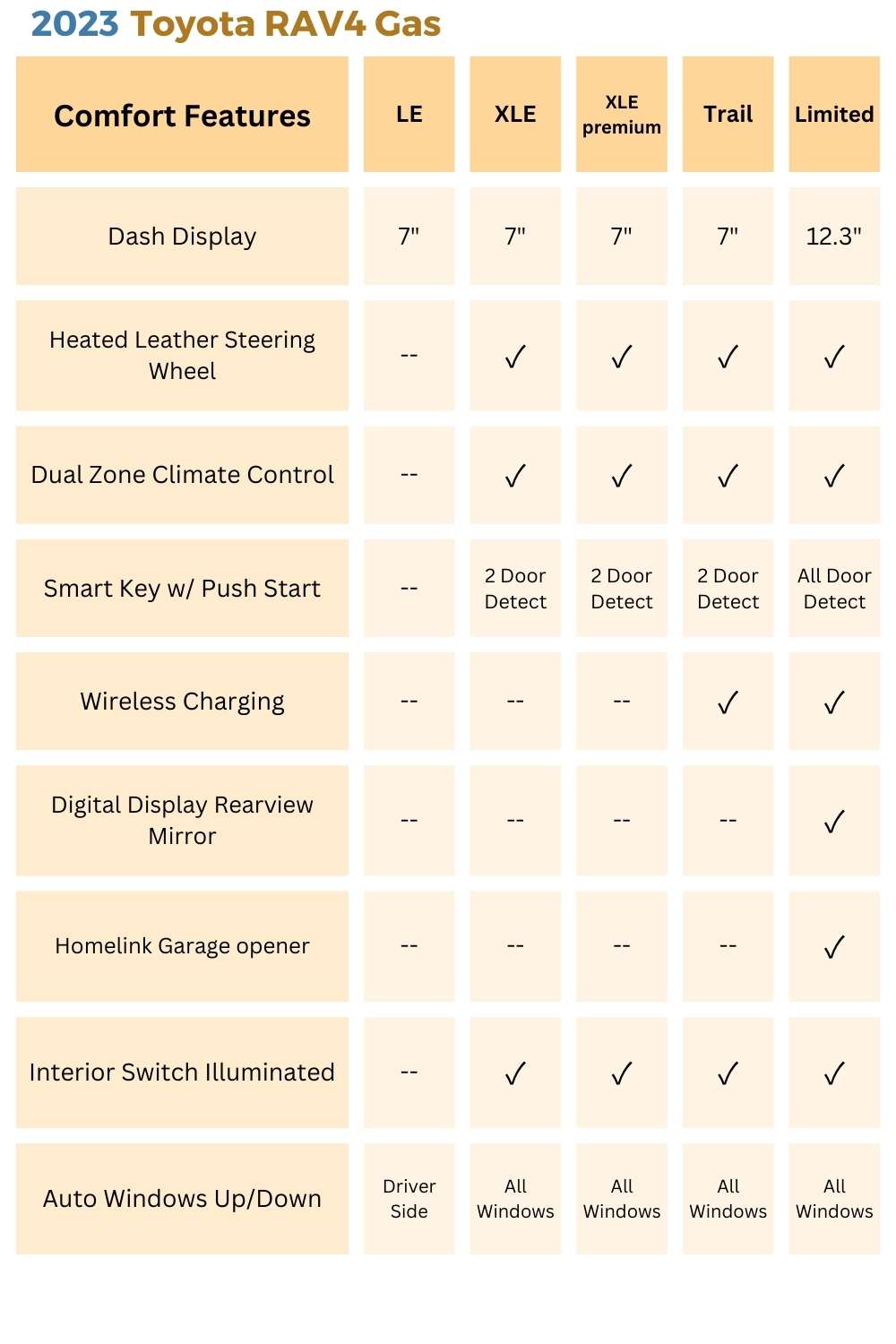 Credit: toyota, US News, Carbuzz
Infotainment Features
Compared to last year, when 7.0 inches was the norm for touchscreen devices, this year we've seen a leap to 8.0 inches as the new standard. The largest premium models now have 10.5-inch touchscreens, up from 9.0 inches last year.
Because of the larger touchscreen, the car's already excellent user-friendliness has been taken to a whole new level of intuitiveness. Saying "Hello, Toyota" activates the integrated voice command system.
All aspects of the RAV4's conventional touchscreen interface have been enhanced. The RAV4 2023 is the first generation of vehicles to support software updates remotely.
Dual Bluetooth connectivity and wireless support for Apple CarPlay and Android Auto are also brand-new features. In terms of high-end gadgetry, you may take use of things like an 11-speaker JBL sound system.
Trials and Subscriptions
All 2023 Toyota RAV4 configurations offer several premium services, some of which are free for a limited period and others of which need a subscription fee.
Learn more about each service here:
Remote Connect

Via the Toyota app on compatible smartphones and smartwatches, you can use Toyota Remote Connect and take command of your vehicle from afar. With the help of this feature, you can lock/unlock the doors and start/stop the engine from a distance.
Drive Connect

The most recent navigation system from Toyota updates traffic using cloud technology. Even with a weak signal, traffic and navigation information can be accessed. Get directions at any moment from a live person. Request information from the AI assistant in the car, such as directions or nearby businesses.
Service Connect

Receive vehicle health and maintenance reports. Service Link offers Vehicle Health Reports, Maintenance Alerts, and Maintenance Reminders. Get confidence in knowing the current state of your vehicle's maintenance and performance.
Safety Connect

Stolen Vehicle Finder uses GPS to assist police locate your stolen vehicle. Toyota's 24-hour response centre can dispatch emergency medical services and roadside assistance, as well as notify you of airbag deployment and rear-end crashes.
Learn more about the Toyota Safety Sense System:
Compare Features of TSS 2.5, 2.5+, 3.0
Compare Features of TSS-C and TSS-P
Included Accessories
A variety of Toyota extras come standard on the more expensive trim levels.
Rubber mats are included with all trim levels, but a tonneau cover is only included at no cost with the XLE and higher.
Don't worry about shelling out extra cash to line your trunk, because both the Trail and the Limited come standard with a cargo liner.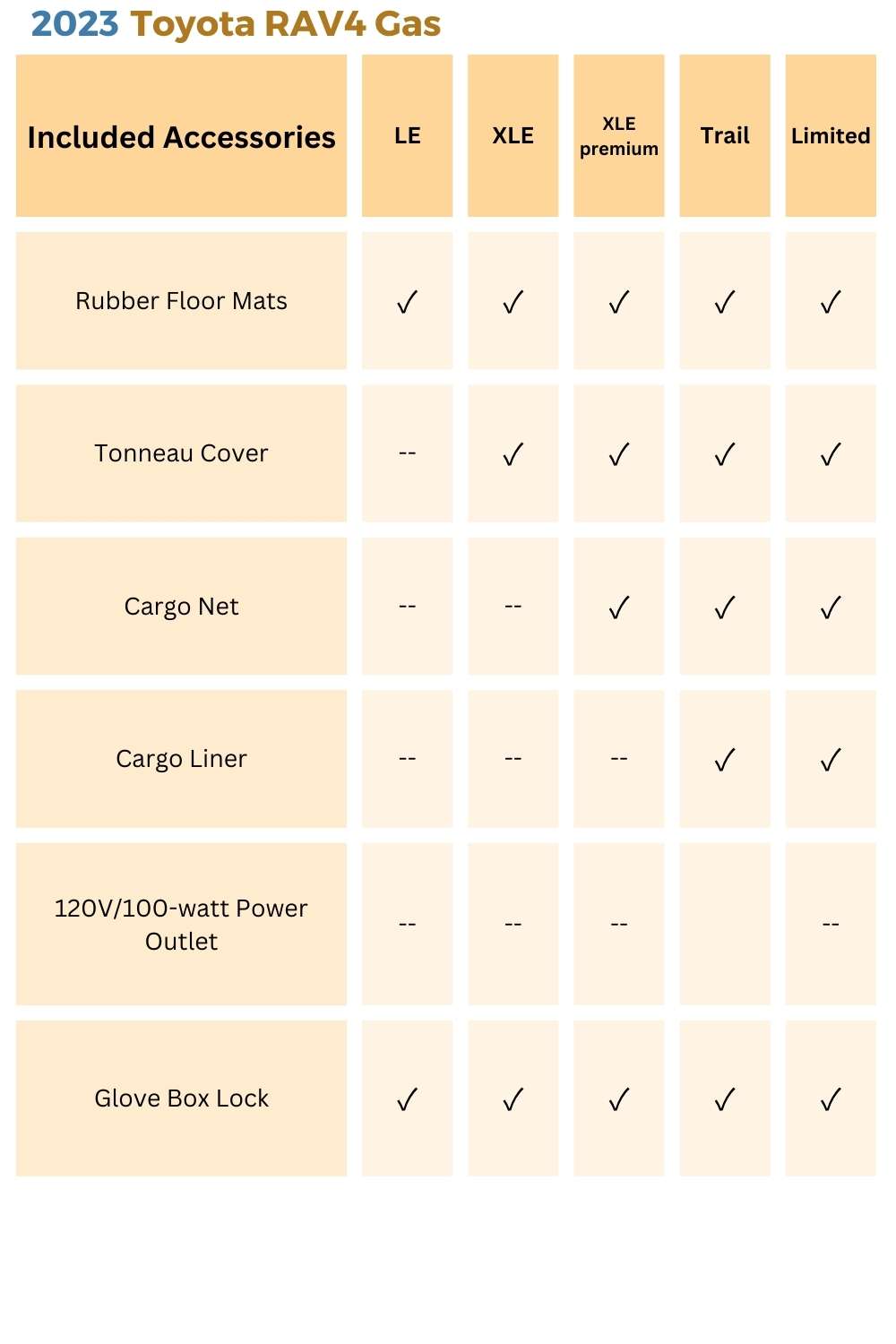 Specifications
ENGINE
2.5 Litre, 4-Cylinder
TRANSMISSION
Direct Shift 8-speed Automatic
DRIVETRAIN
AWD
HORSEPOWER
203
TORQUE
184 lb-ft
TOWING CAPACITY
680 kg/ 1,499 lb
1,588 kg/ 3,501 lb (Trail Only)
FUEL ECONOMY (CITY-HWY-COMBINED)
8.7/6.7/7.9 L/100km (LE)
8.8/7.1/8.0 L/100km (XLE)
9.5/7.1/8.4 L/100km (Trail, Limited)
FUEL CAPACITY
57 Litres
FUEL TYPE
Regular
LENGTH
459.6 cm/ 180.9 in
460.1 cm/ 181.1 in (Trail)
WIDTH
185.4 cm/ 73 in
HEIGHT
170.2 cm / 67 in
170.7 cm / 67.2 in (XLE Premium, Limited)
174.3 cm/ 68.6 in (Trail)
CARGO CAPACITY
37.4 cu.ft (w/ Back Seats Up)
69.8 cu.ft (w/ Back Seats Down)
GROUND CLEARANCE
21.1 cm/ 8.3 in
21.6 cm/ 8.5 in (Limited, Trail)
NUMBER OF SEATS
5
NUMBER OF AIRBAGS
8
MANUFACTURING COUNTRY
Woodstock, Ontario, Canada
LAST REDESIGN
2019