| | |
| --- | --- |
| | |
| | |
| | |
| | |
| | |
| | |
| | |
| | |
| Fuel Economy (City-Hwy-Combined) | |
| | |
| | |
| | 495.1 cm / 194.9 in 501.5 cm / 197.4 in (XSE) |
| | |
| | |
| | |
| | |
| | |
| | |
Notable Features
Each 2023 Toyota Highlander Configuration has a different set of features. Here are a few highlights:
Updated Infotainment System
TRIMS: All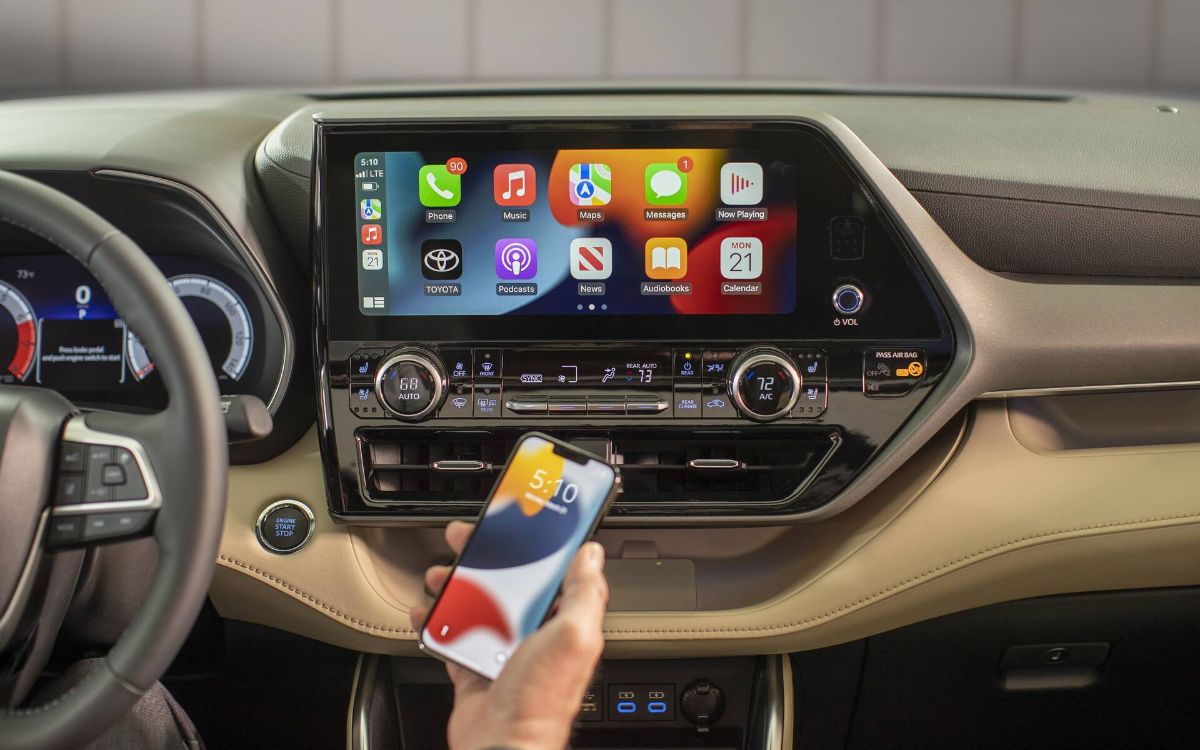 Wireless Apple Carplay/ Android Auto
TRIMS: Limited, Platinum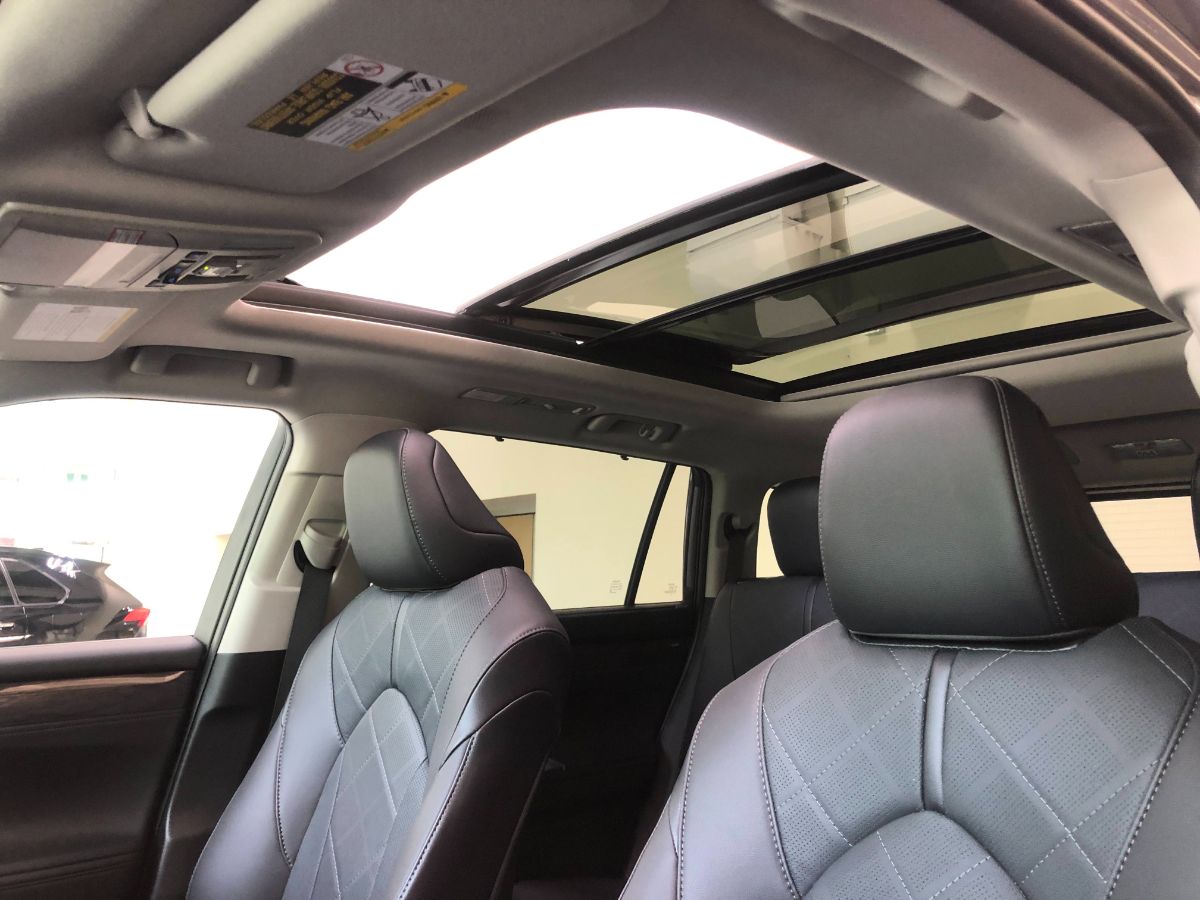 Panoramic Sunroof
TRIMS: Limited, Platinum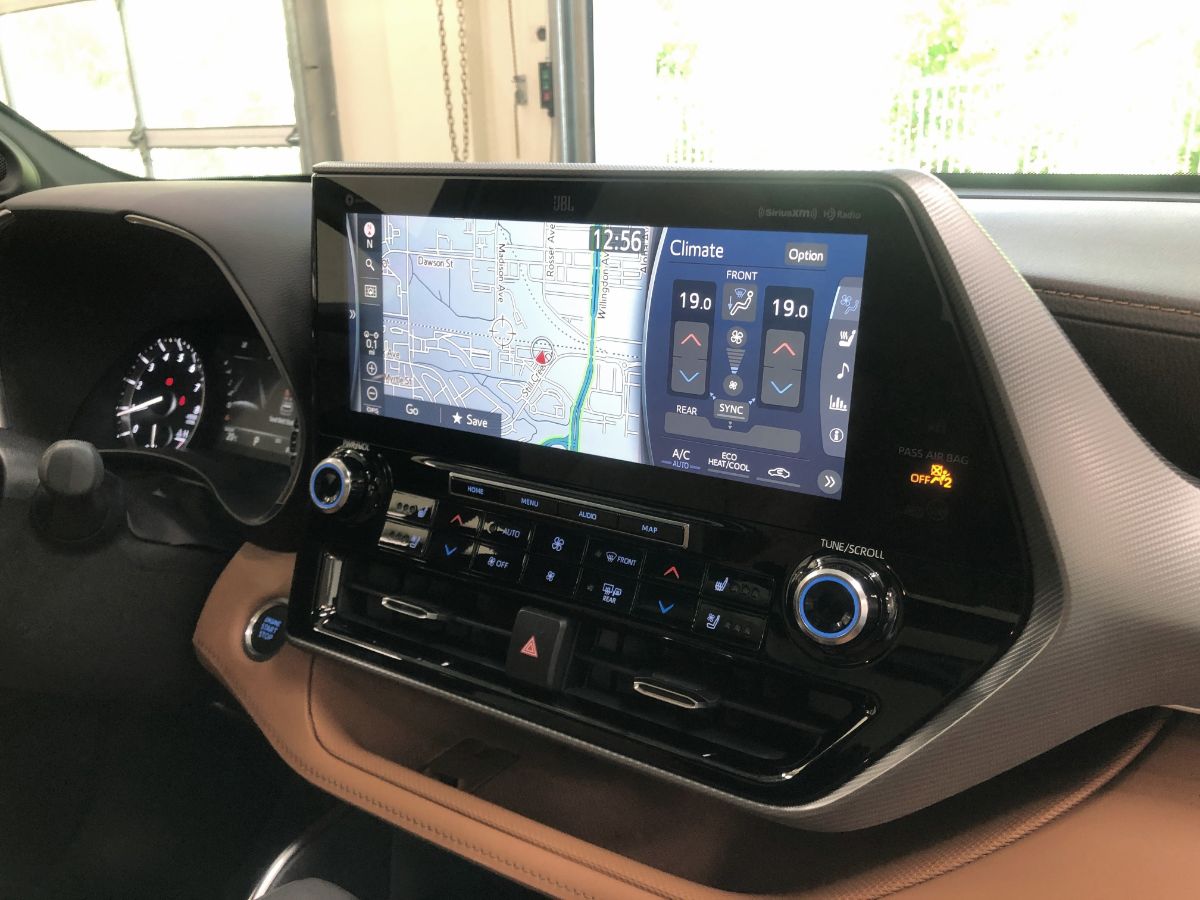 12.3″ Touch Screen w/ Swipe Gesture
TRIMS: Limited, Platinum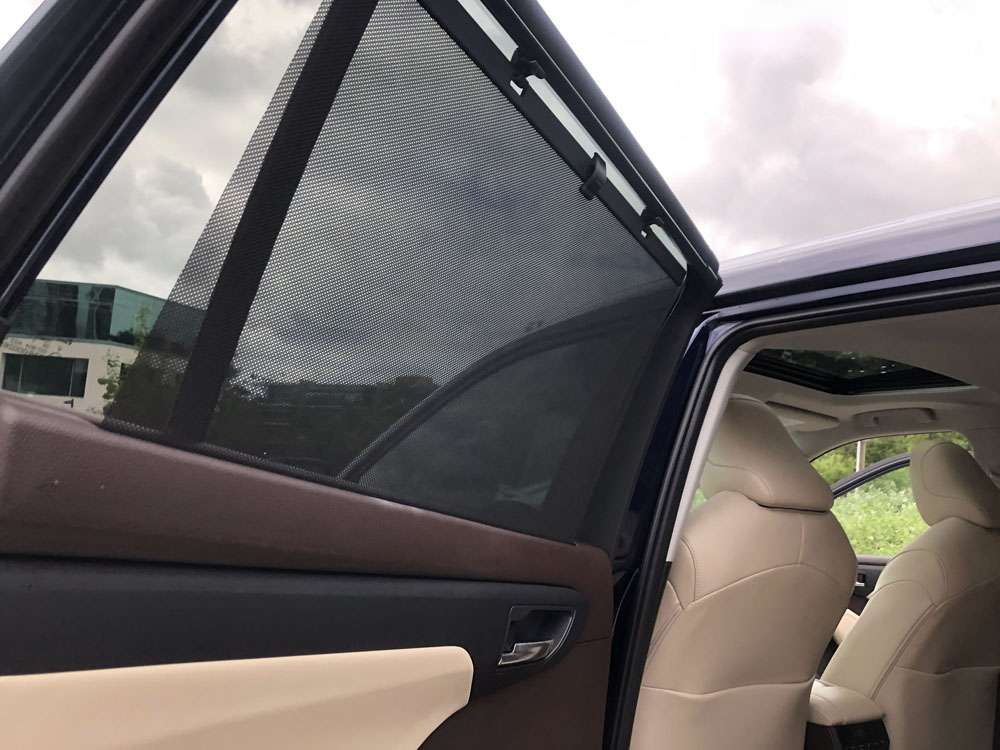 Built-in Sunshades
TRIMS: XLE, XSE, Limited, Platinum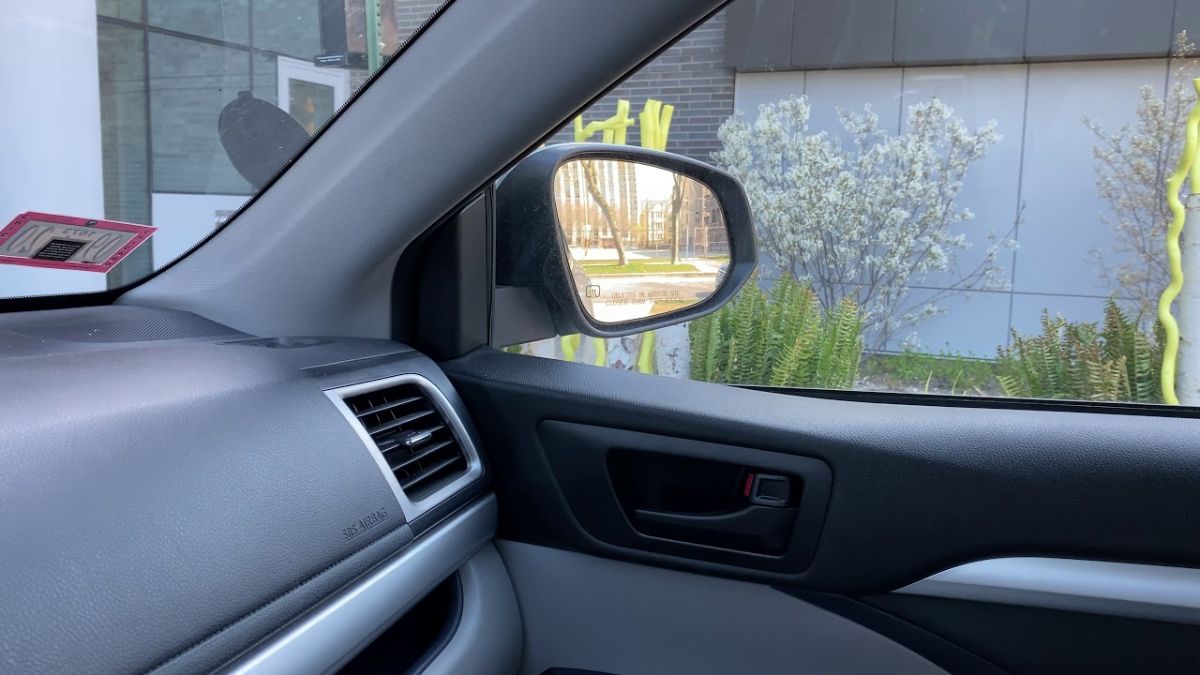 Auto Retractable Side Mirrors
TRIMS: XLE, XSE, Limited, Platinum
Power and Body Design
Visually, the 2023 Toyota Highlander is appealing. Depending on the Highlander trim level selected, the vehicle's overall appearance can alter slightly.
The 2023 Toyota Highlander does away with its V6 engine in favour of a 265-horsepower 2.4-litre four-cylinder mated to an eight-speed automated and driving either the front or all four wheels.
There is a drop in horsepower compared to the previous larger engine model. When compared to the old engine's 263 lb-ft of torque, the new engine's 313 lb-ft of torque plus the turbocharger should improve throttle response and general vivacity when driving at lower speeds in town.
The city/highway/combined fuel economy for the 2023 Toyota Highlander is 11.8/8.6/10.3 L/100km.
Interior Design
The 2023 Highlander should have the same amount of passenger and cargo space as the model from the previous year because the Highlander hasn't changed in size. In the first two rows, passengers of average height and build will have plenty of space to stretch out.
Bench seating in the second and third rows allows for eight passengers in the base L and LE versions, while captain's chairs in the second row allow for seven in higher trims.
Larger adults may appreciate the extra legroom in the third row compared to the Mazda CX-9. However, only children should sit on the third row of The Highlander because it isn't actually big enough for adults. The third-row seat and cargo room are both significantly smaller compared to rivals like the Kia Telluride, Hyundai Palisade, and Volkswagen Atlas.
The cabin's materials are all upgraded from the previous generation's Highlander. The Palisade and the Telluride have more standard features, and while the higher-end Platinum and Limited models do offer more luxury amenities, they still fall short.
Technology
The 2023 Toyota Highlander will get updates to more than just the engine. For 2023, Toyota redesigned the Highlander's infotainment system with a sleek new look.
Apple CarPlay and Android Auto wireless smartphone integration, Bluetooth, and SiriusXM Satellite Radio are now standard across all trim levels. Power-folding mirrors are now standard equipment on the Limited and Platinum grades for 2023 models. Hands-free power liftgate is standard on XLE, XSE, Limited, and Platinum trim levels.
In addition, Toyota's new cloud-based navigation subscription is available for all trims at $19.95 per month; however, only the top two trims receive a free 3-year trial.
Both the infotainment screen (8.0 inches) and the instrument cluster display (7.0 inches) are standard equipment in the Highlander L, LE, and XSE. Limited and Platinum models get a 12.3-inch infotainment display and a second 12.3-inch screen that acts as the gauge cluster. It has four different modes: casual, smart, tough, and sporty.
Storage Space
As far as storage goes, the 2023 Toyota Highlander isn't the worst option out there, but there are other vehicles that provide more. caranddriver.com has conducted an extensive storage test on a variety of vehicles. In this test, they strive to pack as much carry-on luggage as possible into the rear of this truck. See below for a comparison between what can be stowed behind the third row vs what can be stowed with both the second and third rows collapsed.
There are 265 hp and 309 lb-ft of torque available from the new turbocharged 2.4-litre engine. The turbo-four produces less power but greater torque than the original V6 engine's 295 hp and 263 lb-ft.
Toyota claims that the four-cylinder engine's NOx and CO2 emissions are lower than those of the previous V6 engine, yet the new powertrain gives the same combined fuel economy (10.3 L/100km) as the V6-powered 2022 model.
While the updated configuration may be slightly noisier, power delivery is remarkably smooth at all speeds thanks to more torque, putting the Highlander just above average in its class. The engine and eight-speed automatic transmission work together to respond rapidly to throttle inputs and accelerate the SUV quickly.
The Highlander handles well on the road. As a result of having a lighter centre of gravity, the steering is sharper. The transmission has a tendency to keep the rpm at a slightly higher level on downhill grades so that the driver does not have to press harder on the brake pedal.
The 2023 Toyota Highlander's new 2.4-litre turbocharged engine produces 264 horsepower. If you're comparing this to the hybrid version, you'll notice a boost of 21 HP here.
Torque Power Comparison
A vehicle's productivity increases in direct proportion to its engine's torque. In terms of torque, the 2023 Toyota Highlander has 310 lb-ft. The 4Runner and the Tacoma are both lower than this one.
Towing Capacity Comparison
The vehicle's towing capacity is the heaviest load it can pull safely, and it varies based on factors including the vehicle's configuration, the weight it's already hauling, and how the load is distributed and controlled.
The 2023 Toyota Highlander can tow up to 5,000 pounds, as stated by the manufacturer. It's the same as what's suggested for a 4Runner and 1,500 pounds more than what a Highlander Hybrid can tow.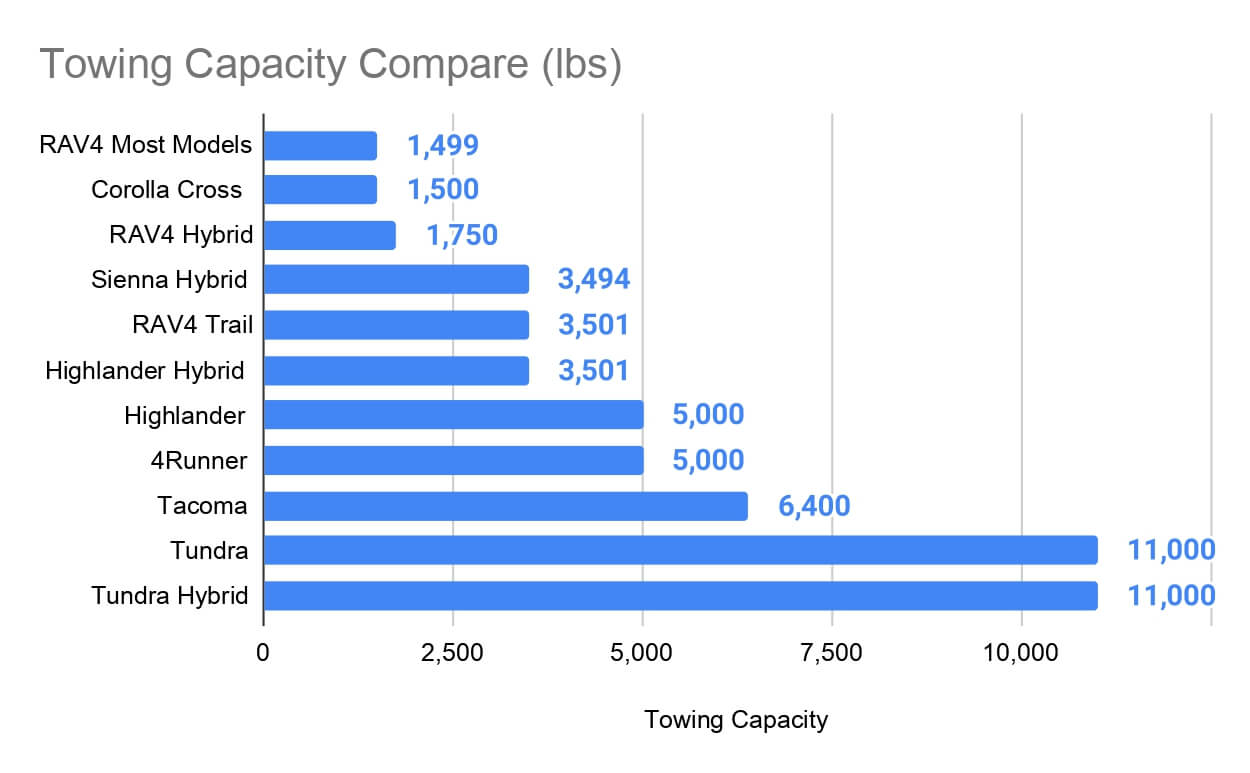 | | |
| --- | --- |
| | |
| | |
| | |
| | |
| | |
| | |
| | |
| | |
| Fuel Economy (City-Hwy-Combined) | |
| | |
| | |
| | 495.1 cm / 194.9 in 501.5 cm / 197.4 in (XSE) |
| | |
| | |
| | |
| | |
| | |
| | |
The following is a comparison of this vehicle's base and top trim from each recent year. Although each 2023 Toyota Highlander Configuration's value may be different, this may still be useful for a quick reference.
We use an annual average distance of 13,100 kilometres as the benchmark for comparison. This range is an estimate based on a number of variables, including the current state of the market, the kilometres driven, the age and condition of the vehicle, and any added accessories.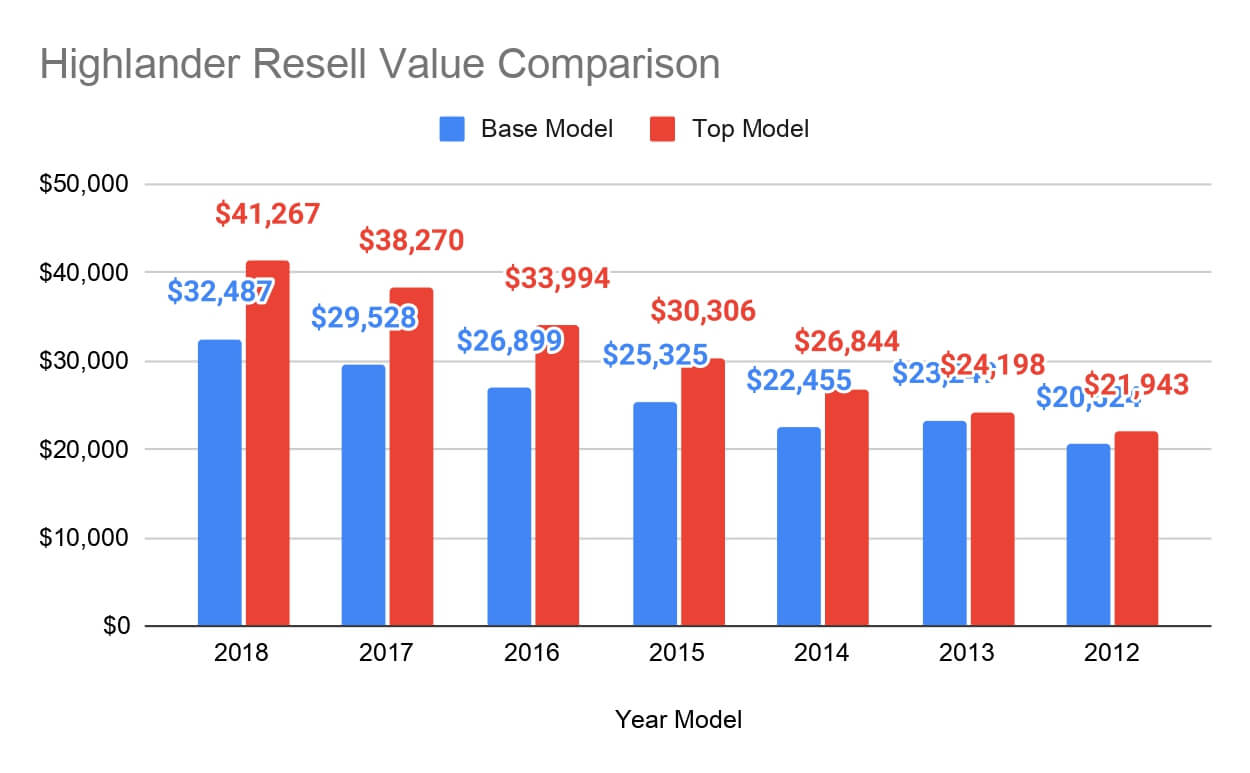 The gas consumption rating for each 2023 Toyota Highlander Configuration is measured by Natural Resources Canada. Before putting a car through its paces at the lab, it logs around 6,000 kilometres in real-world conditions. The chassis dynamometer, which resembles a treadmill, is then used to put the car through its paces.
The test is conducted in a facility designed to account for the vehicle's mass and the effects of wind on its speed. In order to simulate city and highway driving, a series of pre-planned driving cycles are used to put the vehicle through its paces.
City Driving Comparison
A vehicle's fuel efficiency is the ratio of its distance travelled to its fuel use per unit of time. The quantity of gasoline needed to travel a certain distance, or the distance covered per litre of fuel used, are both useful measures of consumption.
City fuel economy for the 2023 Toyota Highlander is estimated at 11.8 L/100 km. The Highlander Hybrid's electric engine helps it achieve a higher ranking, making it a better choice if you're shopping for an 8-seat SUV for use around town.
Highway Driving Comparison
Some cars are easier on the gas tank, especially when driven mostly on the highway. Longer journeys tend to have a combination of highway and rural road driving, which is reflected in the highway gas consumption rating.
The 2023 Toyota Highlander has a highway fuel economy of 8.6 L/100km. When compared to smaller vehicles like the RAV4 or the Corolla Cross, the Highlander's highway fuel economy is just 1.5–1.8 L/100km more which is impressive.
Combined Comparison
The Combined Gas Consumption Rating represents 55% city driving and 45% highway driving. Both city and highway ratings are used to determine this rating, which is then rounded off.
The 2023 Toyota Highlander has a combined fuel economy of 10.3 L/100km. In any case, it performs adequately for a vehicle of its size and power.
Drive Range Comparison
To calculate how far each car can generally travel on a single tank of gas, we did some math with the City/Highway combined gas consumption rating and the tank capacity. Actual results may be different depending on factors such as driver style, road conditions, and the weather.
The 2023 Toyota Highlander's estimated drive range per tank is 660km.
Cost Per Fill-up Comparison
Since gas prices fluctuate frequently, the total cost of each fill-up may vary widely. We have an approximate cost per fill-up based on current market prices.
Based on our estimate, the 2023 Toyota Highlander has an average fill-up cost of $133.
Annual Fuel Cost Comparison
The cost of fuel on an annual basis can give you a good estimate of what you could expect to spend. This figure is derived using the average annual kilometres driven by British Columbians in This Study and the average price per gallon of gasoline in the province. While it may not be an exact reflection of your actual driving habits, it can nonetheless help you estimate costs.
The annual fuel cost that we came to with our estimated usage and gas cost for the 2023 Toyota Highlander is $2,630/year.
Lease or Finance Payment Estimate
We have created the estimated monthly payment at varying rate levels so you can evaluate the impact of an increase or decrease in the lease and finance rate each month. You can expect each 2023 Toyota Highlander configuration to offer a monthly payment number between the range shown below.
The data was compiled using the payment calculator on Toyota Canada's website. The 'includes Taxes, Levies, Freight & PDI' was selected and an $800 document fee was added to ensure accuracy. Document fees can be different at each dealership, you should verify the exact amount at your nearest dealership.
5-Year Lease at varying rates
2-Year Lease at varying rates
7-Year Finance at varying rates
3-Year Finance at varying rates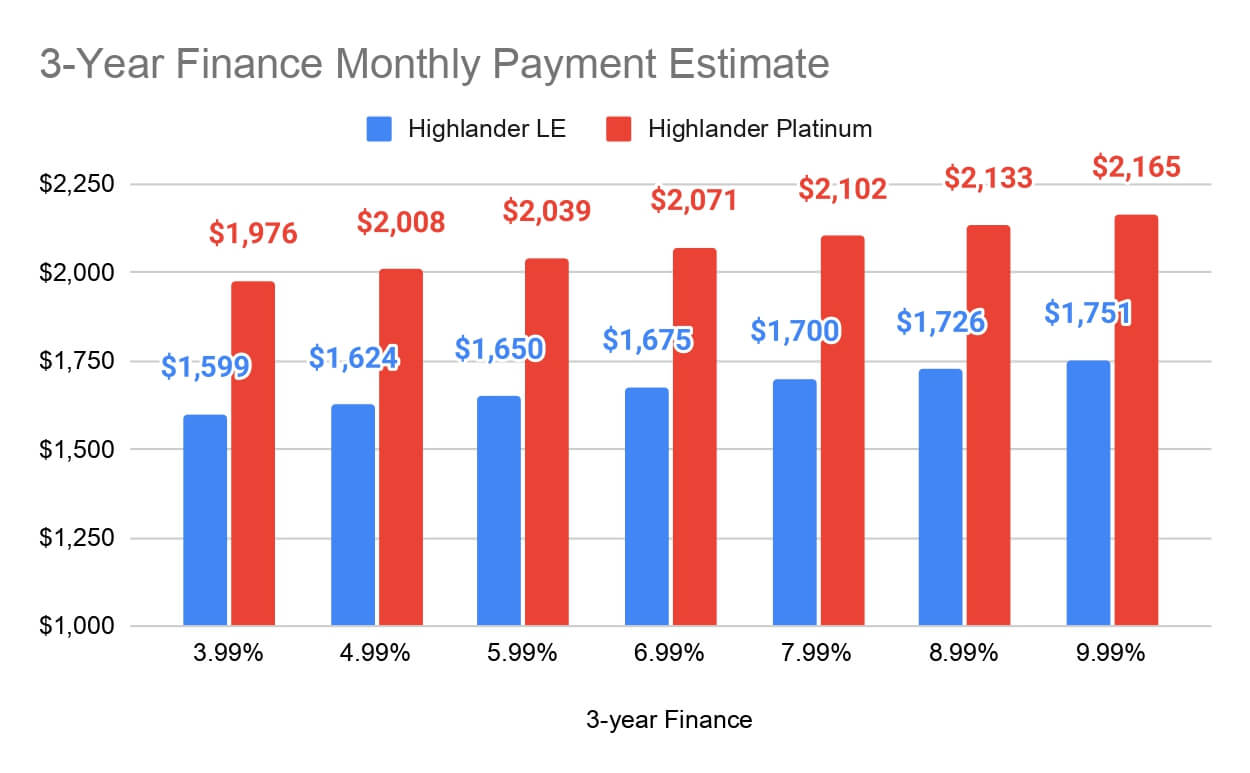 All 2023 Toyota Highlander configurations come with Toyota Safety Sense 2.5+. Check out its features and the differences between the different versions below.
Learn more about the Toyota Safety Sense System:
Compare Features of TSS 2.5, 2.5+, 3.0
Compare Features of TSS-C and TSS-P
The 2023 Toyota Highlander comes with a 36 months or 60,000 kilometres standard warranty, and a 60 months or 100,000 kilometres powertrain warranty.
It also comes with Toyota's Roadside Assistance, which covers you for 36 months or 60,000 kilometres and ensures that you can get fast, reliable service from one of our designated service providers whenever you need it, day or night, all year long.
Other benefits include:
Roadside assistance within 50 km of a Toyota dealership or to the nearest dealership within 300 km
If the vehicle does not start after being boosted, the battery may need to be charged or towed.
Lockout Assistance – for those times when you've misplaced your keys or locked them in the car
Up to 5 litres of fuel can be delivered to you.
Flat Tire Service – Changing and Mounting Your Spare
Your vehicle can be winched out of a ditch, mud, or snow with a winch if you become stuck.