Toyota's industry-leading safety technology package is already in its second generation. Toyota Safety Sense 2.0 (TSS 2.0) adds new technologies and capabilities that enhance protection for drivers passengers and others who share the road. 
The 2nd generation of Toyota Safety Sense (TSS 2.0) is offered on nearly every new Toyota vehicle starting in 2020. The upgraded system is designed to support driver awareness decision-making and vehicle operation over a wider range of speeds. The system specifically aims to address three key areas of accident protection: preventing or mitigating frontal collisions, keeping your vehicle in its lanes, and enhancing road safety during nighttime driving.
WHAT'S NEW IN TSS 2.0:
The pre-collision system now adds enhanced deceleration capabilities and the ability to detect a collision with a pedestrian in front of the vehicle during the day and in low light situations and bicyclists during the day. 
Learn more about Pre-Collision System.
Lane tracing assist is a new feature that provides steering support to help the driver keep the vehicle centred in its lane and helps to reduce driving fatigue and support safe driving, especially in traffic congestion or long highway trips. It is capable of detecting lines on the road as well as road edges.
This feature can only be activated when full-speed dynamic radar cruise control is in operation and is not available on manual transmission vehicles. 
Learn More About Lane Tracing Assist.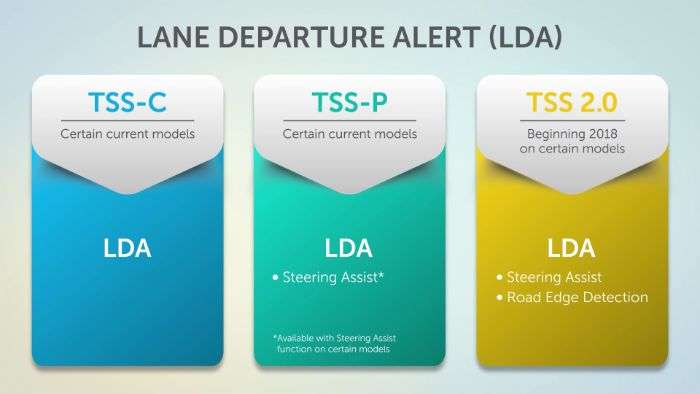 The lane departure alert with steering assist comes with an audible alert and a visual alert with automatic steering assistance to help mitigate lane departure. Under the new TSS 2.0 system, lane departure alert is enhanced with an additional capability that enables steering assist to detect uncurbed road edges without visible Lane markers available.
Learn more about Lane Departure Alert.
Dynamic radar cruise control is updated to include full-speed capability with enhanced forward recognition and acceleration/deceleration performance across a wide range of speeds. Full-speed dynamic radar cruise control is not available on vehicles with manual transmissions or conventional parking brakes. 
Learn more about Dynamic Radar Cruise Control.