The benefit of Lane Tracing Assist is to help reduce driver fatigue and support safe driving, especially in traffic congestion or long highway trips.
It operates by making use of both the camera that is centred at the top of the windshield and the millimetre-wave radar located at the front of the vehicle. these two pieces of equipment recognized white and yellow lane markings or the path of a preceding vehicle. 
If lane markers are temporarily not available, it would instead monitor the vehicle that is ahead of your car, which ensures that this system will work even on uncurbed roads. By doing so, the vehicle can identify and actively track the center of the lane and provide steering assistance to the driver. 
The lane tracing assist feature can be identified inside the dash's multi-information display, with two new blue lines that are located outside of the pre-existing white lane markers. 
If lane markers are not clearly visible, the system will also operate by tracking the path of the preceding vehicle ahead. This operation can be identified by 3 white dots appearing in the middle instead of blue lines in the multi-information display. 
Both the lane centering and steering assist functions must be set to 'ON' in the LTA menu in the vehicle's settings for the lane tracing assist feature to be activated. It can also be activated by the Lane Tracing Assist button on the steering wheel. 
The lane departure symbol located in the Multi-Information Display indicates which feature is activated by these colours: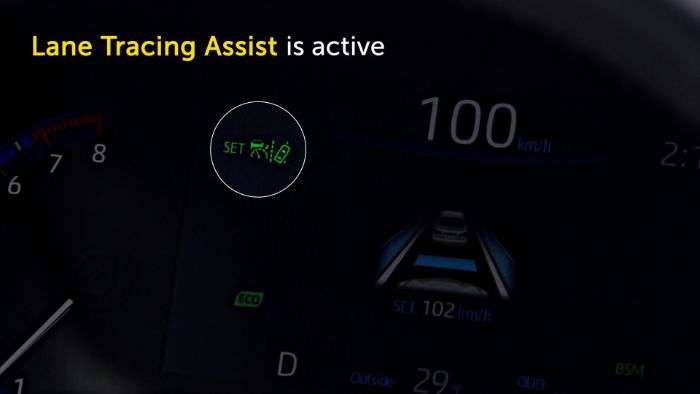 Green – Lane Tracing Assist is active
White – Lane Departure Alert is active
No Colour – both systems are disabled
Do note that: 
This safety feature is meant to assist only and not for full replacement of safe driving practice. 
The system will automatically deactivate if both hands are removed from the steering wheel.
The lane tracing assist feature can only be activated when full-speed dynamic radar cruise control is in operation and is not available on models equipped with a manual transmission.