The CX-90 is built on an all-new chassis. Mazda has created a new hybrid vehicle at a time when most automakers are focusing on electric vehicles. One that further deviates from the norm by prioritizing driving the rear wheels.
When it comes to driving pleasure, the Mazda CX-90 Hybrid is among the best of any eight-seater SUV. Its handling is perfect for the family member who isn't quite ready to upgrade from a sedan.
This new Mazda model is steadier on the road and less difficult to manoeuvre. It's ideal for the motorist who doesn't enjoy the experience of driving.
The 2024 Mazda CX-90 is priced to compete with the Kia Telluride and Hyundai Palisade, while also being more expensive than the base model of the Acura MDX and Infiniti QX60.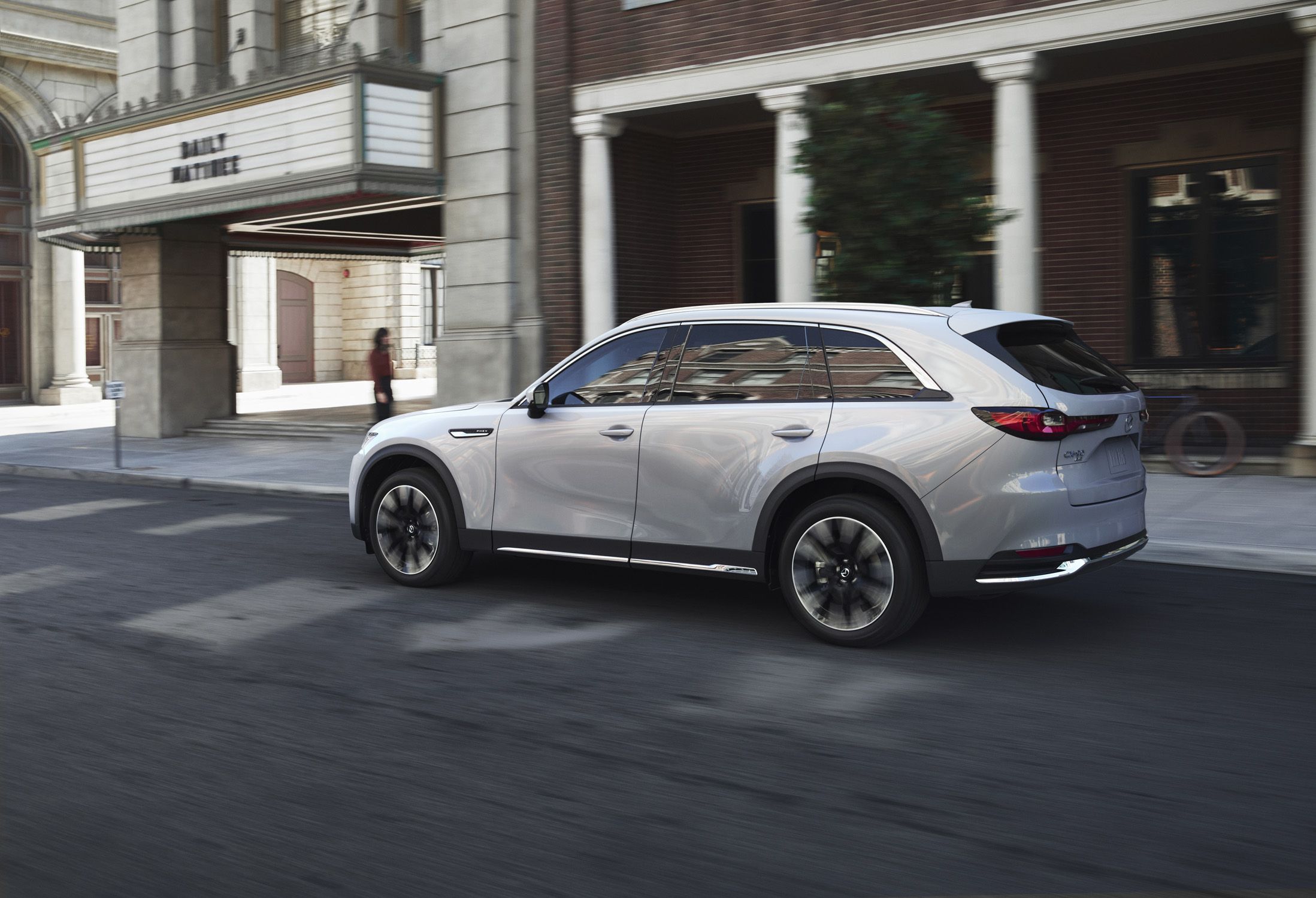 Credit: Mazda, Car and driver, AutoTrader
Key features summary
Two different 2.5-litre four-cylinder engines, each producing 289 horsepower, are available for the CX-90 Hybrid.
The GT-P and Signature models offer 340 hp for those who desire more power. as well as use Premium fuel.
All-wheel drive and an 8-speed automatic are standard on all trims.
How Much Is The 2024 Mazda CX-90 Hybrid?
The price listed here is for the vehicle as of May 2023. If you want to know the most up-to-date price, head over to the maker's website.
GS
$ 45,900
Not including taxes, license & registration
GS-L
$ 49,300
Not including taxes, license & registration
GT
$ 55,350
Not including taxes, license & registration
GT-P
$ 59,300
Not including taxes, license & registration
Signature
$ 63,300
Not including taxes, license & registration
Performance Features
The Mazda CX-90 enjoys tight turns and challenges you to take it further. The kinematic posture control system applies more pressure to the brakes on the inside rear tire while cornering.
Mazda's anti-dive suspension geometry prevents the CX-90's rear end from lifting up and keeps it firmly planted behind you.
The CX-90 operates on an RWD platform. The CX-90 can tow up to 5,000 pounds, and this system's bias toward the rear wheels improves both its handling and its towing capabilities.
Comfort Features
The Mazda CX-90 is a spacious, pleasurable-to-drive three-row SUV. It's a good car with adequate performance and manoeuvrability.
The CX-90 has Mazda's best interior to date. The company has done an excellent job in terms of build quality and refinement.
All of the components are well-coordinated, and it outperforms its peers. Contrast stitching, for instance, is provided free of charge on anything above GS-L.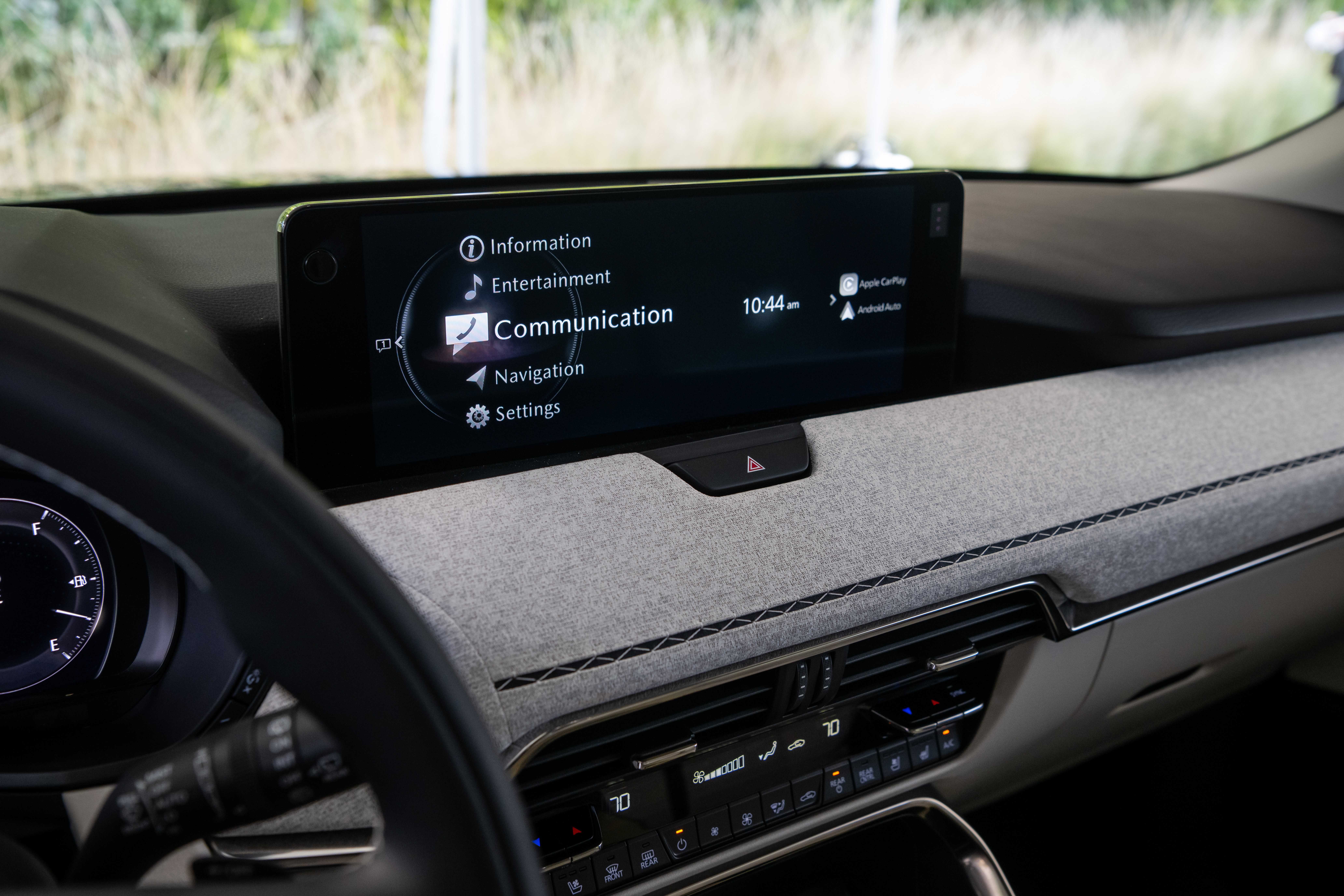 Credit: J.D. Power, Car and Driver, The Autopian
Seat Features
The CX-90 can be had with a number of different leather options. It includes the Japanese-inspired Kumihimo leather on the Signature trim. It's stunning when you factor in the white quilted leather.
If you need 8 seats, the highest trim level you can get is GS, while higher trims only offer 7.
Signature's top trim, the Platinum, only has 6 seats because each of its three rows can only fit two people. It also has front and second-row seats with heating and air conditioning.
Infotainment Features
Mazda's infotainment system does not have a touchscreen, but the knob on the centre console is sufficient for most uses.
However, it can be frustrating to use Apple CarPlay and Android Auto. Even if you don't use presets, switching radio stations requires a lot of work.
But a welcome feature of the new Mazda CX-90 is that the climate control system still makes use of physical buttons and knobs.
Safety Features
Front smart brake support, rear cross-traffic alert, blind spot monitoring, adaptive cruise control that stops and starts, lane-keeping assist, and road departure protection are all standard on the Mazda CX-90.
Some examples of this support are adaptive cruise control and lane-keeping assistance. Some of the more expensive models include extras like a 360-degree camera system and Smart City Brake Support.