2023 Mazda CX-50 Levels Guide
The Mazda CX-50 2023 is a completely redesigned compact sport utility vehicle. The CX-50 will be the first vehicle produced at Mazda's new joint venture plant with Toyota in Huntsville, Alabama.
You can pick between a standard four-cylinder engine with 187 horsepower and a stronger turbocharged four-cylinder engine with 256 horsepower on 93 octane petrol. The CX-50 has the same engines as the CX-5, but the turbocharged version can draw up to 3,500 pounds. This is impressive for such a little SUV and more than adequate for a modest trailer or boat.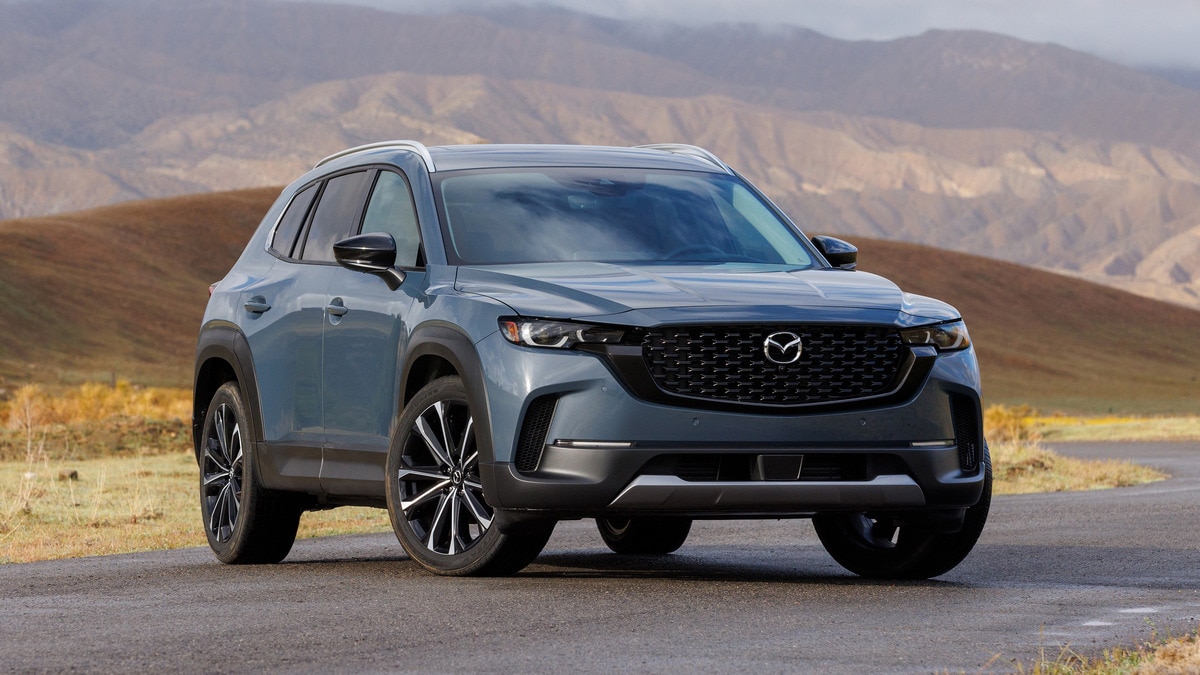 Credit: Kelly Blue Book, CarBuzz, Cnet
The CX-50's enhanced off-road and towing capabilities compared to the CX-5 and many competing SUVs are largely attributable to the off-road drive mode that effectively blends the steering and traction control systems. The CX-50 appears tougher on the outside thanks to its smaller grille and broader fenders.
Other popular compact crossovers that compete with the CX-50 are the updated Honda CR-V, Kia Sportage, Hyundai Tucson, Subaru Forester, and Toyota RAV4. The CX-50 stands out as a great option among these vehicles for individuals in search of a lively and exciting driving experience.
How is the 2023 Mazda CX-50 On the Road?
Given that the 2023 Mazda CX-50 is built on a larger version of the same chassis as the CX-30, it is not unexpected that the driving experience is similar. The suspension does a good job of absorbing road shock at high speeds. However, the CX-50 isn't nearly as well-balanced as the CX-5 or the Forester.
The CX-50 performed admirably when tested on a highly rutted gravel road that still had patches of thick ice and snow due to its basic all-wheel drive and an off-road driving mode that enhances its ability to shuffle torque side to side
Compare the Trims & Specs
| | | | |
| --- | --- | --- | --- |
| | | | |
| | | | |
| | | | |
| | | | |
| | Black leatherette-trimmed | Black leather-trimmed upholstery | Black leather-trimmed upholstery |
| | | | |
| | | | |
| | 10-way power driver's seat w/ power lumbar | 10-way power driver's seat w/ power lumbar | 10-way power driver's seat w/ power lumbar |
| | | 6-way power passenger's seat | 6-way power passenger's seat |
| | | | |
| Driver Seat Memory System | | | |
| | Remote folding rear seats | Remote folding rear seats | Remote folding rear seats |
| | | | |
| | | | |
| | | | |
| | | | |
| | | | |
| Rear View Mirror Features | Auto-dimming rearview mirror | Auto-dimming rearview mirror | Frameless auto-dimming rearview mirror |
| Automatic Climate Control | Dual-zone climate controls | Dual-zone climate controls | Dual-zone climate controls |
| Smart Key System w/ Push-to-Start | | | |
| Integrated Garage Door Opener | | HomeLink wireless control system | HomeLink wireless control system |
| | | | |
| | | | |
| | | | |
| | 10.25-inch full-colour display | 10.25-inch full-colour display | 10.25-inch full-colour display |
| | | 12-speaker premium Bose sound system | 12-speaker premium Bose sound system |
| | | | |
| | | | |
| | | | |
| Integrated Remote Engine Start | | | |
| Embedded Navigation System | | | |
| | | | |
| | | | |
| | | | |
| | | | |
| | Skyactiv-G 2.5 4-cylinder/in-line engine with Cylinder Deactivation | Skyactiv-G 2.5 4-cylinder/in-line engine with Cylinder Deactivation | Skyactiv-G 2.5 T 4-cylinder/in-line engine with Twin Scroll Turbocharger, i-stop |
| | Skyactiv-Drive 6-speed automatic transmission with manual-shift mode | Skyactiv-Drive 6-speed automatic transmission with manual-shift mode | Skyactiv-Drive 6-speed automatic transmission with manual-shift mode |
| | | | |
| | | | 256 @ 5,000 rpm (with 93 octane fuel) 227 @ 5,000 rpm (with 87 octane fuel) |
| | | | |
| Fuel Economy (city/hwy/combined) | 8.9 L/00km Regular, 60L Tank | 8.9 L/00km Regular, 60L Tank | 9.4 L/00km Regular, 60L Tank |
| | | | |
| | | | |
| | | | |
| | | | |
| | Rearview camera (wide angle) | Rearview camera (wide angle) | Rearview camera (wide angle) w/ 360º View Monitor |
| Anti-Collision System w/ Auto-Braking Capability | w/ Pedestrian Detection (forward sensing) | w/ Pedestrian Detection (forward sensing) | w/ Pedestrian Detection (forward sensing) |
| | | | |
| Dynamic Radar Cruise Control | | | |
| | | w/ Adaptive Front-lighting System | w/ Adaptive Front-lighting System |
| Tire Pressure Monitoring System | | | |
| Blind Spot Monitor System w/ Rear Cross Traffic Alert | | w/ Smart Brake Support Rear Crossing | w/ Smart Brake Support Rear Crossing |
| Parking Clearance System w/ Sonar Detection | | | |
| | | | |
| | | | |
| | | | |
| | 17-inch black metallic alloy wheels | 20-inch alloy wheels (machined spokes with polished finish and dark painted pockets) | 20-inch alloy wheels (machined spokes with polished finish and dark painted pockets) |
| | | | |
| Power Backdoor Open/Close | | | |
| | | | |
| | Rain-sensing intermittent windshield wipers | Rain-sensing intermittent windshield wipers | Rain-sensing intermittent windshield wipers |
| | | | |
| | | | |
| | | | |
| | | | |
| | | | |
| | | | |
| | LED daytime running lights | LED daytime running lights | LED daytime running lights |
| | High-mount stop lamp, Automatic headlight levelling | High-mount stop lamp, Automatic headlight levelling | High-mount stop lamp, Automatic headlight levelling |
| | | | |
| | | | |
| | | | |
| | 1920 mm 2053 mm (w/ mirror) | 1920 mm 2053 mm (w/ mirror) | 1920 mm 2053 mm (w/ mirror) |
| | | | |
| | | | |