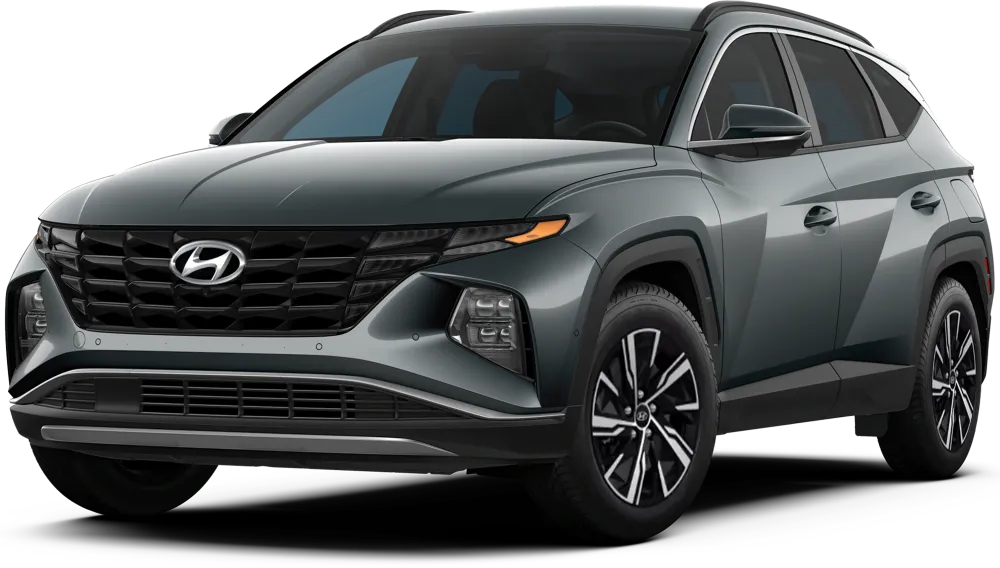 2023 Hyundai Tucson Levels Guide
The 2023 Hyundai Tucson is the second year of the fourth generation of the car, which has been redesigned from the ground up. The Tucson is available with either a Smartstream 2.5L four-cylinder or a turbo 1.6L hybrid or plug-in hybrid drivetrain. The 2.5L produces 190 horsepower and 182 pound-feet of torque. The aggregate output of the powertrain is 227 hp, with the 1.6L hybrid system contributing 180 hp. The combined hybrid powertrain also generates 258 lb-ft of torque.
The 2023 Hyundai Tucson is equipped with Hyundai's SmartSense safety suite, which includes highway driving assist, forward collision avoidance assist with pedestrian detection, lane keeping assist, and lane following assist, among others.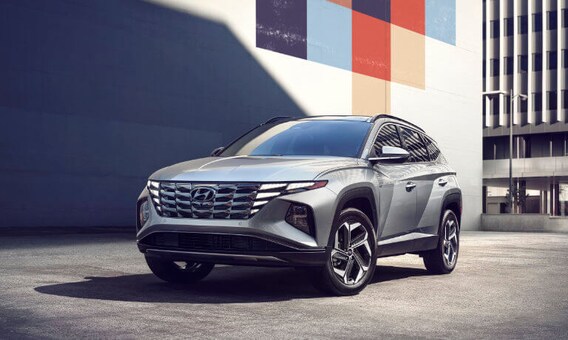 Credit: Hyundai, Alex on Autos, Hyundai
Hyundai's HTRAC all-wheel-drive technology provides many drive modes for traction control, including Eco, Comfort, Smart, Mud, Sand, and Snow drive modes.
The 2023 Hyundai Tucson is also available as a hybrid and a plug-in hybrid, both of which significantly reduce fuel use. This compact crossover SUV competes with the likes of the Honda CR-V, Mazda CX-5, and Nissan Rogue. It is larger than Hyundai's Kona but smaller than the Santa Fe. Some of its most notable features are its exceptionally high levels of comfort, extensive guarantee, and unbeatable pricing.
Is the 2023 Hyundai Tucson a Comfortable Ride??
When it comes to ride quality and interior elegance, the 2023 Hyundai Tucson is almost as good as the best. The suspension is highly forgiving, and it rides smoothly over bumps and fissures in the road. It's a top-tier amusement ride. Those who opt for a more expensive trim level will be treated to front seats that are both comfortable and supportive.
The Tucson is quite quiet and insulated when in motion. The wind won't bother you as much while inside the cabin, and neither will your ability to carry on a conversation or listen to the radio, making it one of the best in its class.
Compare the Trims & Specs
| | | | | | | | |
| --- | --- | --- | --- | --- | --- | --- | --- |
| | | | Preferred w/ Trend Package | | | | |
| | | | | | | | |
| | | | | | | | |
| | | | Preferred w/ Trend Package | | | | |
| | | | | | Cloth Surface w/ Red interior accents and stitching | Cloth Surface w/ Red interior accents and stitching | Cloth & leather combination surface |
| | | | | | | | |
| | | | | | | | |
| | | | 8-way power adjustable driver's seat w/ Power Lumbar Support 2 Way | 8-way power adjustable driver's seat w/ Power Lumbar Support 2 Way | | | 8-way power adjustable driver's seat w/ Power Lumbar Support 2 Way |
| | | | | | | | |
| | | | | | | | |
| Driver Seat Memory System | | | | | | | |
| | | | | | | | |
| | | | | | | | |
| | | | Preferred w/ Trend Package | | | | |
| | 4.2" colour multi-information display | 4.2" colour multi-information display | 4.2" colour multi-information display | 4.2" colour multi-information display | 4.2" colour multi-information display | 4.2" colour multi-information display | 10.25" full digital display instrument cluster |
| | | | | | | | Heated, Leather-wrapped, w/ Paddle Shifters |
| | | | | | | | |
| Rear View Mirror Features | | | | | | | |
| Automatic Climate Control | Single-zone manual air conditioning | Single-zone manual air conditioning | Dual-zone automatic climate control w/ Multi-Air Mode | Dual-zone automatic climate control w/ Multi-Air Mode | Single-zone manual air conditioning | Single-zone manual air conditioning | Dual-zone automatic climate control w/ Multi-Air Mode |
| Smart Key System w/ Push-to-Start | | | | | | | |
| Integrated Garage Door Opener | | | | | | | |
| | | | | | | | |
| | | | | | | | |
| | | | Preferred w/ Trend Package | | | | |
| | 8.0" Display Audio touchscreen | 8.0" Display Audio touchscreen | 10.25" high-resolution touch-screen navigation system | 10.25" high-resolution touch-screen navigation system | 8.0" Display Audio touchscreen | 8.0" Display Audio touchscreen | 10.25" high-resolution touch-screen navigation system |
| | | | | | | | Bose premium audio system with 8 speakers |
| | | | | | | | |
| | | | | | | | |
| | | | | | | | |
| Integrated Remote Engine Start | | | BlueLink Connected Vehicle System | BlueLink Connected Vehicle System | BlueLink Connected Vehicle System | BlueLink Connected Vehicle System | BlueLink Connected Vehicle System |
| Embedded Navigation System | | | | | | | |
| | | | | | | | |
| | | | | | | | |
| | | | | | | | |
| | | | Preferred w/ Trend Package | | | | |
| | Smartstream 2.5L GDI + MPI DOHC 16-valve Inline 4-cylinder engine | Smartstream 2.5L GDI + MPI DOHC 16-valve Inline 4-cylinder engine | Smartstream 2.5L GDI + MPI DOHC 16-valve Inline 4-cylinder engine | Smartstream 2.5L GDI + MPI DOHC 16-valve Inline 4-cylinder engine | Smartstream 2.5L GDI + MPI DOHC 16-valve Inline 4-cylinder engine | Smartstream 2.5L GDI + MPI DOHC 16-valve Inline 4-cylinder engine | Smartstream 2.5L GDI + MPI DOHC 16-valve Inline 4-cylinder engine |
| | 8-speed Automatic with SHIFTRONIC Manual Mode | 8-speed Automatic with SHIFTRONIC Manual Mode | 8-speed Automatic with SHIFTRONIC Manual Mode | 8-speed Automatic with SHIFTRONIC Manual Mode | 8-speed Automatic with SHIFTRONIC Manual Mode | 8-speed Automatic with SHIFTRONIC Manual Mode | 8-speed Automatic with SHIFTRONIC Manual Mode, Button-type Shift-by-Wire w/ paddle shifters |
| | | | | | | | |
| | | | | | | | |
| | 3,500 lbs (with trailer brakes) 750 lbs (without trailer brakes) | 3,500 lbs (with trailer brakes) 750 lbs (without trailer brakes) | 3,500 lbs (with trailer brakes) 750 lbs (without trailer brakes) | 3,500 lbs (with trailer brakes) 750 lbs (without trailer brakes) | 3,500 lbs (with trailer brakes) 750 lbs (without trailer brakes) | 3,500 lbs (with trailer brakes) 750 lbs (without trailer brakes) | 3,500 lbs (with trailer brakes) 750 lbs (without trailer brakes) |
| Fuel Economy (city/hwy/combined) | 9.1 / 7.1 / 8.2 L/100km Regular, 54L tank | 9.9 / 8.0 / 9.0 L/100km Regular, 54L tank | 9.9 / 8.0 / 9.0 L/100km Regular, 54L tank | 9.9 / 8.0 / 9.0 L/100km Regular, 54L tank | 9.1 / 7.1 / 8.2 L/100km Regular, 54L tank | 9.9 / 8.0 / 9.0 L/100km Regular, 54L tank | 9.9 / 8.0 / 9.0 L/100km Regular, 54L tank |
| | | | | | | | |
| | | | | | | | |
| | | | | | | | |
| | | | Preferred w/ Trend Package | | | | |
| | | | | | | | |
| Anti-Collision System w/ Auto-Braking Capability | Forward Collision-Avoidance Assist (FCA) with Pedestrian and Cyclist Detection (camera type) | Forward Collision-Avoidance Assist (FCA) with Pedestrian and Cyclist Detection (camera type) | Forward Collision-Avoidance Assist (FCA) with Pedestrian, Cyclist, and Junction-Turning Detection (camera and radar type) | Forward Collision-Avoidance Assist (FCA) with Pedestrian, Cyclist, and Junction-Turning Detection (camera and radar type) | Forward Collision-Avoidance Assist (FCA) with Pedestrian, Cyclist, and Junction-Turning Detection (camera and radar type) | Forward Collision-Avoidance Assist (FCA) with Pedestrian, Cyclist, and Junction-Turning Detection (camera and radar type) | Forward Collision-Avoidance Assist (FCA) with Pedestrian, Cyclist, and Junction-Turning Detection (camera and radar type) |
| | Lane Following Assist and Lane Keeping Assist | Lane Following Assist and Lane Keeping Assist | Lane Following Assist and Lane Keeping Assist | Lane Following Assist and Lane Keeping Assist | Lane Following Assist and Lane Keeping Assist | Lane Following Assist and Lane Keeping Assist | Lane Following Assist and Lane Keeping Assist |
| Dynamic Radar Cruise Control | | | Adaptive Cruise Control w/ traffic stop & go | Adaptive Cruise Control w/ traffic stop & go | Adaptive Cruise Control w/ traffic stop & go | Adaptive Cruise Control w/ traffic stop & go | Adaptive Cruise Control w/ traffic stop & go |
| | | | | | | | |
| Tire Pressure Monitoring System | | | | | | | |
| Blind Spot Monitor System w/ Rear Cross Traffic Alert | | | | | | | |
| Parking Clearance System w/ Sonar Detection | | | | | | | |
| | | | | | | | |
| | | | | | | | |
| | | | Preferred w/ Trend Package | | | | |
| | 17 x 7.0J aluminum wheels | 17 x 7.0J aluminum wheels | 17 x 7.0J aluminum wheels | 19 x 7.5J matte black aluminum wheels | 17 x 7.0J aluminum wheels | 17 x 7.0J aluminum wheels | 17 x 7.0J aluminum wheels |
| | | | | | | | |
| Power Backdoor Open/Close | | | | | | | |
| | | | | | | | |
| | | | | | | | |
| | | | | | | | |
| | | | | | | | |
| | | | | | | | |
| | | | | | | | |
| | | | Preferred w/ Trend Package | | | | |
| | LED headlights (MFR type) | LED headlights (MFR type) | LED headlights (MFR type) | LED headlights (MFR type) | LED headlights (MFR type) | LED headlights (MFR type) | LED headlights (MFR type) |
| | LED daytime running lights | LED daytime running lights | LED daytime running lights, LED taillights | LED daytime running lights, LED taillights | LED daytime running lights | LED daytime running lights | LED daytime running lights, LED taillights |
| | Roof-mounted Center High-Mount Stop Lamp | Roof-mounted Center High-Mount Stop Lamp | Roof-mounted Center High-Mount Stop Lamp | Roof-mounted Center High-Mount Stop Lamp | Roof-mounted Center High-Mount Stop Lamp | Roof-mounted Center High-Mount Stop Lamp | Roof-mounted Center High-Mount Stop Lamp, Rear lower lamp design with LED reverse lights |
| | | | | | | | |
| | | | Preferred w/ Trend Package | | | | |
| | | | | | | | |
| | | | | | | | |
| | | | | | | | |
| | | | | | | | |