2023 Hyundai Kona Levels Guide
After 2022's revisions introduced a fresh look and additional powertrain choices, 2023 Hyundai Kona will come with no changes. It's a good option all around, and there's a wide variety of trims and colours to choose from, so it should appeal to just about anyone in the market for a compact SUV.
The SE and SEL trims are powered by a 2.0-litre inline-4 rated at 147 horsepower and coupled to a continuously variable transmission (CVT), which provides unremarkable acceleration, especially when starting out. Power takes its time to build up in city driving, and passing on the highway is mediocre at best.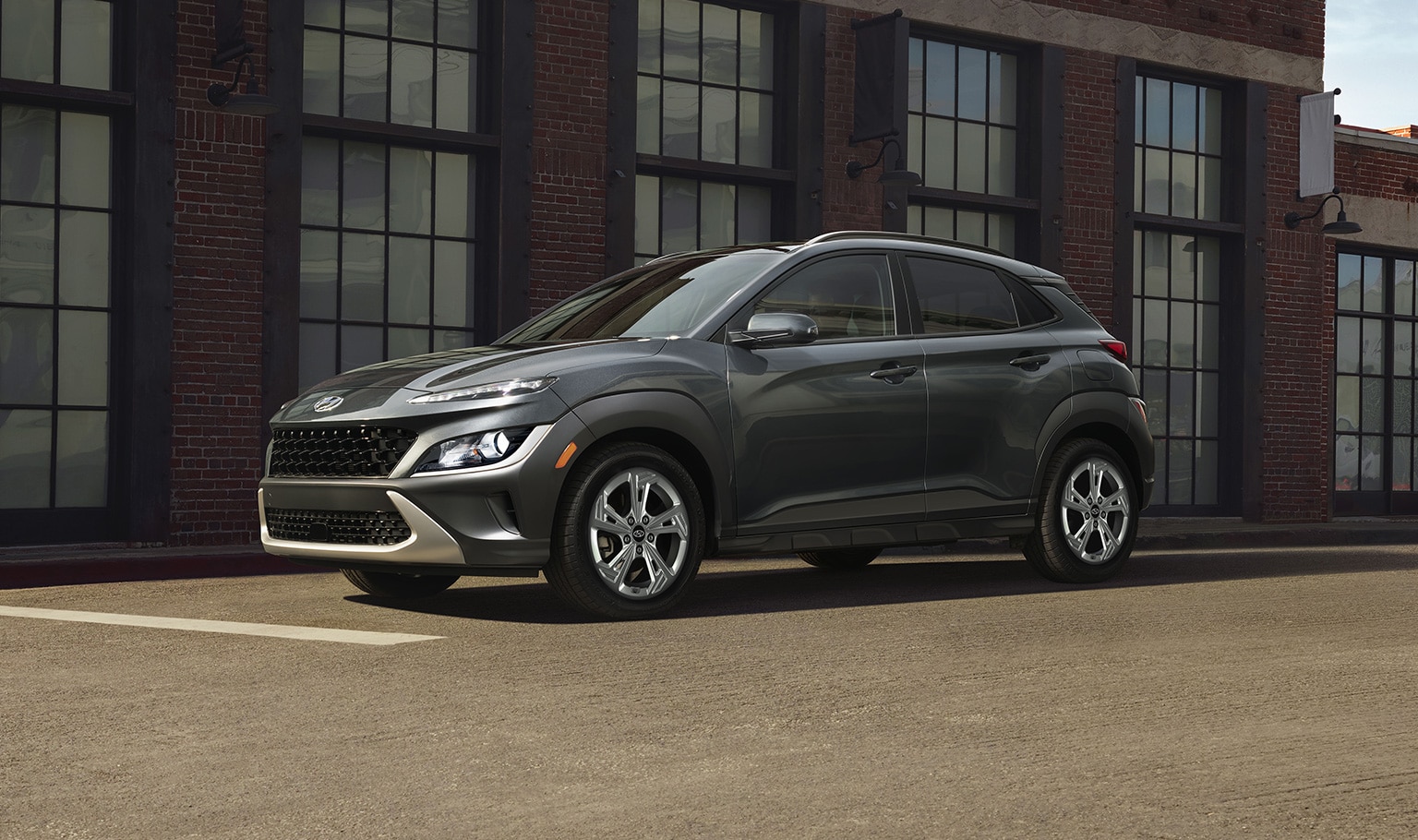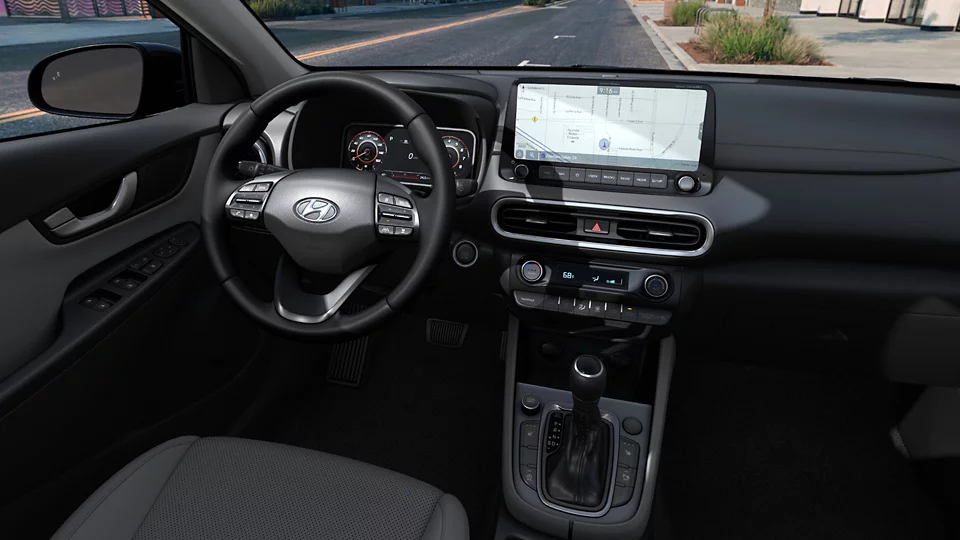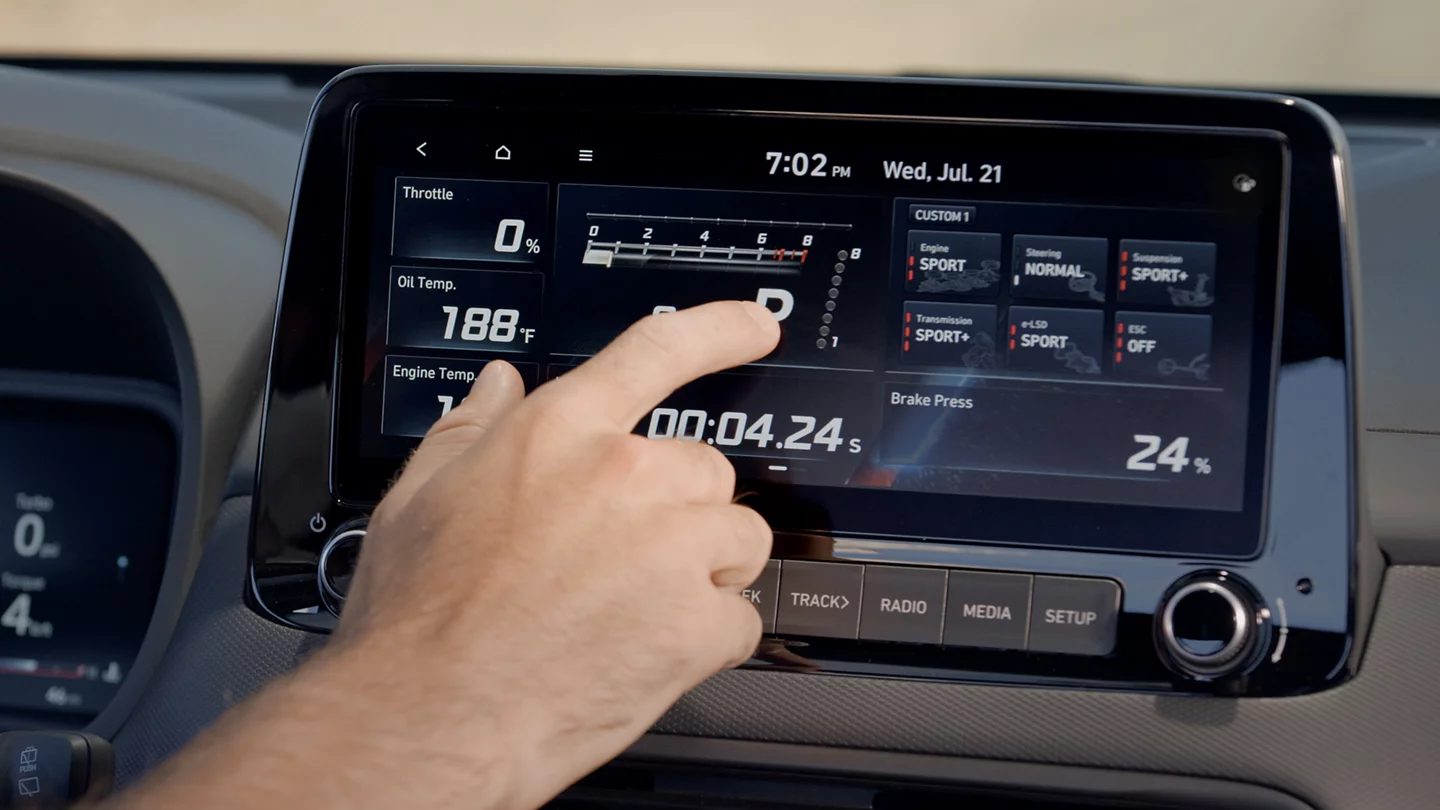 Credit: Hyundai
Inside, the 2023 Hyundai Kona base model has an 8.0-inch screen mounted high on the dashboard, with a 10.3-inch screen available on more expensive models.
What is the 2023 Hyundai Kona N-Line?
The Kona N is an entirely different car; it has a 2.0-litre turbo-4 engine producing 275 horsepower, and it is paired solely with an 8-speed wet dual-clutch automatic transmission featuring paddle shifters. 
The Kona N is incredibly quick, but its automated transmission makes it difficult to control at low speeds. Even without those magnificent wheels that behave like magnets for curbs, parallel parking can be a difficult process.
Compare the Trims & Specs
| | | | | | | | |
| --- | --- | --- | --- | --- | --- | --- | --- |
| | | | | | 2.0L Preferred w/ Sun & Leather | | N Line w/ Ultimate Package |
| | | | | | | | |
| | | | | | | | |
| | | | | | 2.0L Preferred w/ Sun & Leather | | N Line w/ Ultimate Package |
| | | | | | | | |
| | | | | | | | |
| | | | | | | | |
| | 6-way adjustable driver's seat | 6-way adjustable driver's seat | 6-way adjustable driver's seat | 6-way adjustable driver's seat | 6-way adjustable driver's seat | 6-way adjustable driver's seat | 8-way power adjustable driver's seat w/ power lumbar support (2-way) |
| | | | | | | | |
| | | | | | | | |
| Driver Seat Memory System | | | | | | | |
| | | | | | | | |
| | | | | | | | |
| | | | | | 2.0L Preferred w/ Sun & Leather | | N Line w/ Ultimate Package |
| | 4.2" Colour TFT Supervision cluster display | 4.2" Colour TFT Supervision cluster display | 4.2" Colour TFT Supervision cluster display | 4.2" Colour TFT Supervision cluster display | 4.2" Colour TFT Supervision cluster display | 4.2" Colour TFT Supervision cluster display | 10.25" full digital display instrument cluster |
| | | | | | | | |
| | | | | | | | |
| Rear View Mirror Features | | | | | | | |
| Automatic Climate Control | | | | | | | Automatic temperature control |
| Smart Key System w/ Push-to-Start | | | Proximity Keyless entry w push-button ignition | Proximity Keyless entry w push-button ignition | Proximity Keyless entry w push-button ignition | Proximity Keyless entry w push-button ignition | Proximity Keyless entry w push-button ignition |
| Integrated Garage Door Opener | | | | | | | |
| | | | | | | | |
| | | | | | | | |
| | | | | | 2.0L Preferred w/ Sun & Leather | | N Line w/ Ultimate Package |
| | 8.0 " touch screen display | 8.0 " touch screen display | 8.0 " touch screen display | 8.0 " touch screen display | 10.25" colour touchscreen | 10.25" colour touchscreen | 10.25" colour touchscreen |
| | | | | | | | Harmon Kardon Audio System |
| | | | | | | | |
| | | | | | | | |
| | | | | | | | |
| Integrated Remote Engine Start | | | | | | | |
| Embedded Navigation System | | | | | | | |
| | | | | | | | |
| | | | | | | | |
| | | | | | | | |
| | | | | | 2.0L Preferred w/ Sun & Leather | | N Line w/ Ultimate Package |
| | 2.0L MPI Atkinson 4-cylinder | 2.0L MPI Atkinson 4-cylinder | 2.0L MPI Atkinson 4-cylinder | 2.0L MPI Atkinson 4-cylinder | 2.0L MPI Atkinson 4-cylinder | 1.6L Turbo-GDI 4-cylinder engine | 1.6L Turbo-GDI 4-cylinder engine |
| | Intelligent Variable Transmission | Intelligent Variable Transmission | Intelligent Variable Transmission | Intelligent Variable Transmission | Intelligent Variable Transmission | Intelligent Variable Transmission | Intelligent Variable Transmission |
| | | | | | AWD with Active Cornering Control | AWD with Active Cornering Control | AWD with Active Cornering Control |
| | | | | | | | |
| | | | | | | | |
| Fuel Economy (city/hwy/combined) | 8.0/6.6/7.4 L/100km 50L Tank | 8.5/7.2/7.9 L/100km 50L Tank | 8.0/6.6/7.4 L/100km 50L Tank | 8.5/7.2/7.9 L/100km 50L Tank | 8.5/7.2/7.9 L/100km 50L Tank | 8.8/7.4/8.2 L/100km 50L Tank | 8.8/7.4/8.2 L/100km 50L Tank |
| | | | | | | | |
| | | | | | | | |
| | | | | | | | |
| | | | | | 2.0L Preferred w/ Sun & Leather | | N Line w/ Ultimate Package |
| | | | | | | | |
| Anti-Collision System w/ Auto-Braking Capability | | | | | Forward Collision-Avoidance Assist with Pedestrian & Cyclist Detection | | Forward Collision-Avoidance Assist with Pedestrian & Cyclist Detection |
| | | | | | | | |
| Dynamic Radar Cruise Control | | | | | Adaptive Cruise Control w/ Stop & Go | | Adaptive Cruise Control w/ Stop & Go & Highway Driving Assist |
| | | | | | | | |
| Tire Pressure Monitoring System | | | | | | | |
| Blind Spot Monitor System w/ Rear Cross Traffic Alert | | | | | | | |
| Parking Clearance System w/ Sonar Detection | | | | | | | Parking Distance Warning – Reverse |
| | | | | | | | |
| | | | | | | | |
| | | | | | 2.0L Preferred w/ Sun & Leather | | N Line w/ Ultimate Package |
| | 16 x 6.5J aluminum wheels | 16 x 6.5J aluminum wheels | 17 x 7.0J aluminum wheels | 17 x 7.0J aluminum wheels | 17 x 7.0J aluminum wheels | 18 x 7.5J aluminum wheels | 18 x 7.5J aluminum wheels |
| | | | | | | | |
| Power Backdoor Open/Close | | | | | | | |
| | | | | | | | |
| | 2-speed with variable intermittent | 2-speed with variable intermittent | 2-speed with variable intermittent | 2-speed with variable intermittent | 2-speed with variable intermittent | 2-speed with variable intermittent | Rain-sensing windshield wipers |
| | | | | | | | |
| | | | | | | | |
| | | | | | | | |
| | | | | | | | |
| | | | | | 2.0L Preferred w/ Sun & Leather | | N Line w/ Ultimate Package |
| | | | | | | | |
| | LED daytime running lights | LED daytime running lights | LED daytime running lights | LED daytime running lights | LED daytime running lights | LED daytime running lights | LED daytime running lights, LED tail lights |
| | Roof-mounted Center LED High-Mount Stop Lamp | Roof-mounted Center LED High-Mount Stop Lamp | Roof-mounted Center LED High-Mount Stop Lamp | Roof-mounted Center LED High-Mount Stop Lamp | Roof-mounted Center LED High-Mount Stop Lamp | Roof-mounted Center LED High-Mount Stop Lamp | Roof-mounted Center LED High-Mount Stop Lamp |
| | | | | | | | |
| | | | | | 2.0L Preferred w/ Sun & Leather | | N Line w/ Ultimate Package |
| | | | | | | | |
| | | | | | | | |
| | | | | | | | |
| | | | | | | | |