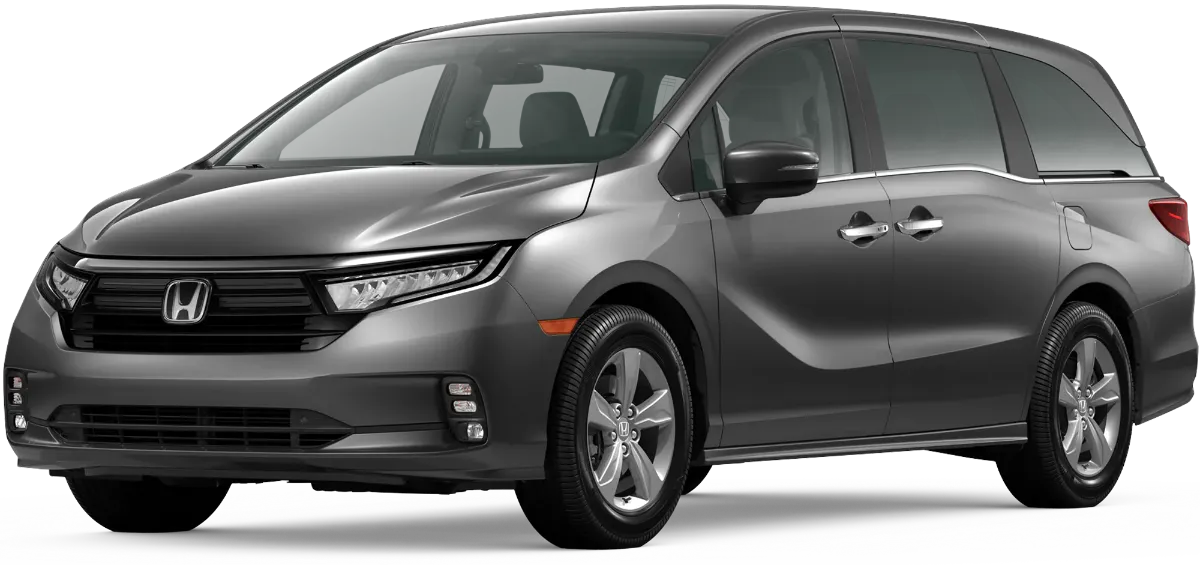 2023 Honda Odyssey Levels Guide
The 2023 Honda Odyssey's smooth ride, stable handling, and swift V-6 engine will make you forget everything you ever knew about minivans. The Odyssey's remarkable ability to make sharp turns makes it feel nothing like a three-row van. Although the steering is direct and requires little effort, some additional feedback from the road would be appreciated.
A 3.5-litre V6 producing 280 horsepower and 262 pound-feet of torque is standard across all Odyssey models and is mated to a 10-speed automatic transmission. Wheels made of aluminum alloy measure 18 inches on the base trim and 19 inches on the top Touring model.
Credit: Honda, MotorBiscuit, AutoTrader
The Odyssey is a practical vehicle for today's families. The Magic Seat system is a new feature that lets the second-row seats be arranged in various ways, including one that will help keep fighting children apart. To free up more space for baggage, the third seat may be stowed away in a hidden compartment under the floor.
The 2023 Honda Odyssey's cockpit isn't as connected or tech-focused as competitors like the Chrysler Pacifica or Kia Carnival's. However, it still has plenty to keep the kids occupied, such as an available rear-seat entertainment system.
How is the 2023 Honda Odyssey for Daily Use?
Taking a trip in a Honda Odyssey will make you feel at home on the road. It's ideal for accommodating a large group of people, whether you often host parties or just have a huge family. Kids or adults can travel in comfort in the Odyssey's spacious seats.
To keep passengers engaged on long trips, every trim level offers a 10.2-inch high-definition backseat entertainment system (with wireless charging included in the top trim).
Space is not an issue in any direction with this minivan. With the third row of seats up, there is still 929 litres of storage capacity. If the third row is collapsed, the volume increases to 2,452 litres (L); if the second row is collapsed, it expands to a whopping 3,984 L.
Compare the Trims & Specs
| | | | | |
| --- | --- | --- | --- | --- |
| | | | | |
| | | | | |
| | | | | |
| | | | | |
| | | Leather-trimmed seating surfaces | Leather-trimmed seating surfaces w/ piping | Leather-trimmed seating surfaces w/ black edition piping |
| | | | | |
| | | | | |
| | Driver's seat with 12-way power adjustment w/ 4-way power lumbar support | Driver's seat with 12-way power adjustment w/ 4-way power lumbar support | Driver's seat with 12-way power adjustment w/ 4-way power lumbar support | Driver's seat with 12-way power adjustment w/ 4-way power lumbar support |
| | Front passenger's seat with 4-way power adjustment | Front passenger's seat with 8-way power adjustment w/ 4-way power lumbar support | Front passenger's seat with 8-way power adjustment w/ 4-way power lumbar support | Front passenger's seat with 8-way power adjustment w/ 4-way power lumbar support |
| | | | | |
| Driver Seat Memory System | | | | |
| | Magic Slide 2nd-Row Seats | Magic Slide 2nd-Row Seats | Magic Slide 2nd-Row Seats | Magic Slide 2nd-Row Seats |
| | | | | |
| | | | | |
| | | | | |
| | | | | |
| | | | | |
| Rear View Mirror Features | Auto-dimming rearview mirror | Auto-dimming rearview mirror | Auto-dimming rearview mirror | Auto-dimming rearview mirror |
| Automatic Climate Control | Tri-zone automatic climate control | Tri-zone automatic climate control | Tri-zone automatic climate control | Tri-zone automatic climate control |
| Smart Key System w/ Push-to-Start | | | | |
| Integrated Garage Door Opener | | | | |
| | | | | |
| | | | | |
| | | | | |
| | | | | |
| | 7 speakers including subwoofer | 7 speakers including subwoofer | 11 speakers including subwoofer | 11 speakers including subwoofer |
| | | | | |
| | | | | |
| | | | w/ 2 in 2nd row and 1 in 3rd row | w/ 2 in 2nd row and 1 in 3rd row |
| Integrated Remote Engine Start | | | | |
| Embedded Navigation System | | | | |
| | | | | |
| | Rear Entertainment System with 10.2-inch, high-resolution (1024x600) screen, and Blu-ray player, Wi-Fi tethering | Rear Entertainment System with 10.2-inch, high-resolution (1024x600) screen, and Blu-ray player, Wi-Fi tethering | Rear Entertainment System with 10.2-inch, high-resolution (1024x600) screen, and Blu-ray player, Wi-Fi tethering | Rear Entertainment System with 10.2-inch, high-resolution (1024x600) screen, and Blu-ray player, Wi-Fi tethering |
| | | | | |
| | | | | |
| | 3.5-litre, 24-valve, Direct Injection, V6 | 3.5-litre, 24-valve, Direct Injection, V6 | 3.5-litre, 24-valve, Direct Injection, V6 | 3.5-litre, 24-valve, Direct Injection, V6 |
| | 10-speed automatic transmission with Grade Logic Control | 10-speed automatic transmission with Grade Logic Control | 10-speed automatic transmission with Grade Logic Control | 10-speed automatic transmission with Grade Logic Control |
| | | | | |
| | | | | |
| | | | | |
| Fuel Economy (city/hwy/combined) | 12.2/8.5/10.6 L/100km Regular, 73.8L tank | 12.2/8.5/10.6 L/100km Regular, 73.8L tank | 12.2/8.5/10.6 L/100km Regular, 73.8L tank | 12.2/8.5/10.6 L/100km Regular, 73.8L tank |
| | | | | |
| | | | | |
| | | | | |
| | | | | |
| | Multi-angle rearview camera with dynamic guidelines | Multi-angle rearview camera with dynamic guidelines | Multi-angle rearview camera with dynamic guidelines | Multi-angle rearview camera with dynamic guidelines |
| Anti-Collision System w/ Auto-Braking Capability | Collision Mitigation Braking System w/ Road Departure Mitigation | Collision Mitigation Braking System w/ Road Departure Mitigation | Collision Mitigation Braking System w/ Road Departure Mitigation | Collision Mitigation Braking System w/ Road Departure Mitigation |
| | Lane Departure Warning and Lane Keeping Assist System | Lane Departure Warning and Lane Keeping Assist System | Lane Departure Warning and Lane Keeping Assist System | Lane Departure Warning and Lane Keeping Assist System |
| Dynamic Radar Cruise Control | Adaptive Cruise Control with Low-Speed Follow | Adaptive Cruise Control with Low-Speed Follow | Adaptive Cruise Control with Low-Speed Follow | Adaptive Cruise Control with Low-Speed Follow |
| | | | | |
| Tire Pressure Monitoring System | | | | |
| Blind Spot Monitor System w/ Rear Cross Traffic Alert | | | | |
| Parking Clearance System w/ Sonar Detection | | Body-coloured parking sensors (4 front/4 rear) | Body-coloured parking sensors (4 front/4 rear) | Body-coloured parking sensors (4 front/4 rear) |
| | | | | |
| | | | | |
| | | | | |
| | 18" aluminum-alloy wheels | 2-tone 18" aluminum-alloy wheels | 2-tone 19" aluminum-alloy wheels | 2-tone 19" aluminum-alloy wheels |
| | | | | |
| Power Backdoor Open/Close | | | | |
| | | Heated, Reverse Auto-tilting side mirrors w/ memory | Heated, Auto-dimming, Reverse Auto-tilting, Power-folding door mirrors w/ memory | Heated, Auto-dimming, Reverse Auto-tilting, Power-folding door mirrors w/ memory |
| | | | Variable rain-sensing intermittent windshield wipers | Variable rain-sensing intermittent windshield wipers |
| | | | | |
| | | | | |
| | | | | |
| | | | | |
| | | | | |
| | | | | |
| | LED daytime running lights, LED Taillights | LED daytime running lights, LED Taillights | LED daytime running lights, LED Taillights | LED daytime running lights, LED Taillights |
| | | | | |
| | | | | |
| | | | | |
| | | | | |
| | 2110 mm 2345 mm (w/ mirrors) | 2110 mm 2345 mm (w/ mirrors) | 2110 mm 2345 mm (w/ mirrors) | 2110 mm 2345 mm (w/ mirrors) |
| | | | | |
| | | | | |