When getting behind the wheel of a modern vehicle, practically everyone raves about Apple CarPlay. If you are one of these people, you will be thrilled to learn that Apple will be releasing a significant enhancement to Apple CarPlay in 2023!
The next iteration of CarPlay, which was unveiled at WWDC 2022, will incorporate a car's instrument clusters, temperature controls, and infotainment units into a single, unified interface. Honda, Acura, Nissan, Volvo, Ford, Audi, Mercedes-Benz, Land Rover, Jaguar, and Porsche are just some of the automakers who have promised to include Apple CarPlay in future models.
With this "next-gen" update, CarPlay would become a full infotainment system, the term for the vehicle's control centre, which includes a variety of displays, media players, and other components.
In contrast to the present CarPlay setup, which is essentially limited to a single screen and functions more as a skin for the entertainment unit or an additional interface, this new setup seems integrated into the vehicle.
Exciting New Changes to Apple CarPlay for 2023
Apple CarPlay in 2023 integrates more deeply than ever before, and it has new capabilities that could make users' lives easier than before. Okay, so let's have a look at what's new.
Widgets on your display
The new CarPlay interface will heavily feature widgets. CarPlay widgets eliminate the need to constantly navigate the system's menus while driving, replacing them with large, tiled displays of pertinent information. From the local weather forecast to remote management for your smart home gadgets, you can choose which widgets to show. By customizing your display to feature the most relevant widgets, you can have easy access to the information you need while on the road.
Information such as the length of a trip, the amount of gas used, the distance travelled, upcoming appointments, the weather, incoming calls, and the status of a HomeKit-enabled garage door can all be viewed at a glance. The widgets can be viewed and navigated right from the instrument panel.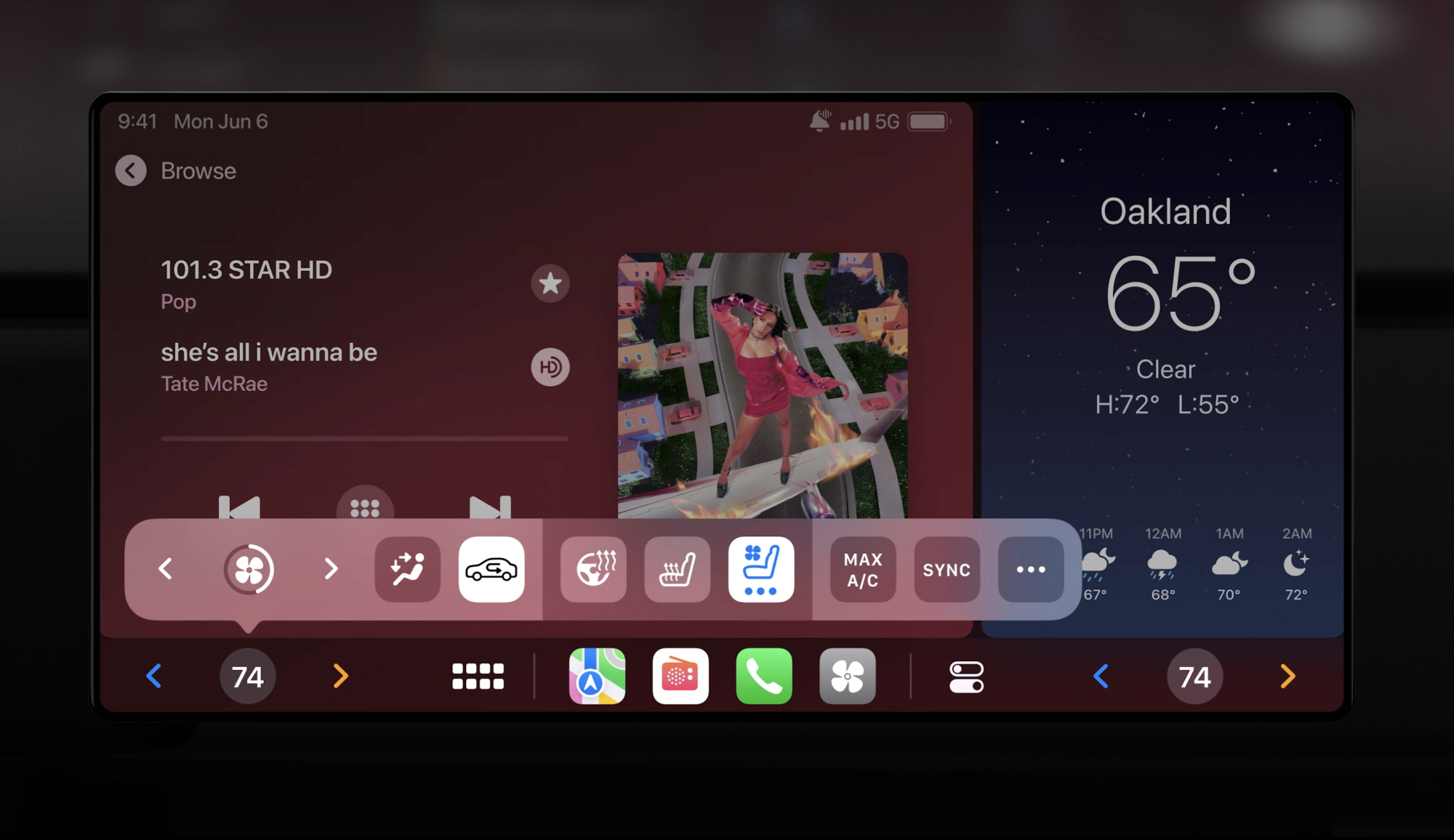 Integrated Climate Controls w/ Apple CarPlay
Climate controls based on touchscreens are already commonplace, such as on the Toyota Venza; however, they are not necessarily implemented optimally across brands. None of them are adequate replacements for standard buttons. Climate controls on an Apple product will presumably be touchscreen and function as intuitively as the company's phone interface designs.
The latest version of Apple CarPlay will have built-in climate control. This will let you change settings like the temperature of the car's air conditioner or heater, the speed of the ventilation system, and the heat or coolness of the seat and steering wheel without getting out of your seat.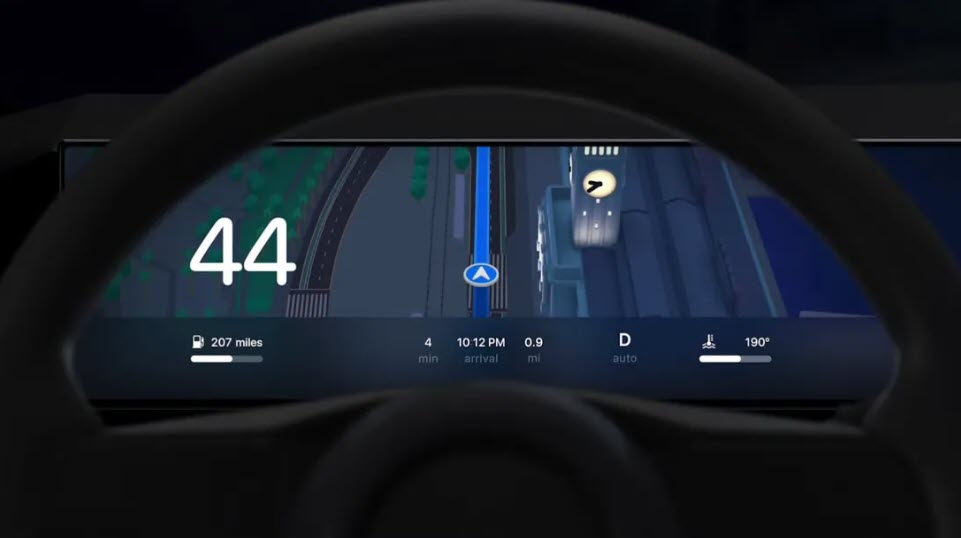 Instrument Digital Guages also Integrated
Apple's new CarPlay will have its own dedicated digital instrument cluster. The new CarPlay interface will be able to connect with the car's dashboard. This has the usual digital gauges, such as a speedometer, tachometer, odometer, fuel gauge, engine temperature gauge, oil pressure gauge, and more, as well as Apple Maps navigation.
What this means is that Apple-made digital gauges will be installed in compatible vehicles, allowing for greater customization than is currently available. Drivers will be able to choose from a wide range of other options for their instrument clusters, some of which are specific to their brand.
FM Radio
With Apple Maps Navigation, FM radio will be integrated into the vehicle's digital dashboard, allowing drivers to continue to listen to their favourite radio stations with the added convenience.
With Apple CarPlay, changing the radio station won't require exiting the app. There will be an FM radio integrated into Apple CarPlay so that you won't have to switch between using navigation apps like Google Maps or Waze and listening to the radio while driving.
How do I get the new Apple CarPlay?
The good news is that there should be a car available that has this higher level of CarPlay integration for any budget. The bad news is that your current vehicle is probably not compatible with the new Apple CarPlay.
You'll need a new vehicle that is compatible with this new version of Apple CarPlay, and those won't start showing up until the latter half of 2023. Apple is collaborating with automakers to bring this level of system integration to the market.
The most definitive statement was made by Volvo, which stated that it would integrate compatibility for the next generation of CarPlay into future models. Other manufacturers, such as Honda, Acura, Porsche, Jaguar, Polestar, Ford, Lincoln, and Land Rover, have also announced that their upcoming vehicles will incorporate Apple CarPlay's latest iteration.
Conclusion
With the new Apple CarPlay, all of a vehicle's displays will have the same uniform look and feel. Icons and user interfaces can be styled with a variety of layouts, backdrops, and motifs, from the ultra-contemporary to the classically retro.
Since you can't manage all of those features using Bluetooth alone, it's likely that Apple CarPlay won't be completely wireless after all this extra integration. Even yet, this is a minor inconvenience because tethered CarPlay is superior to wireless.