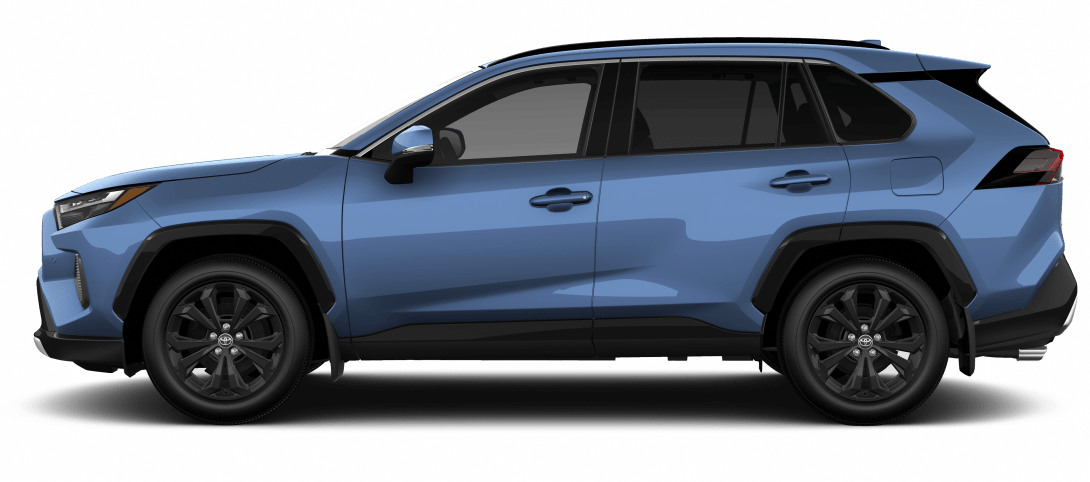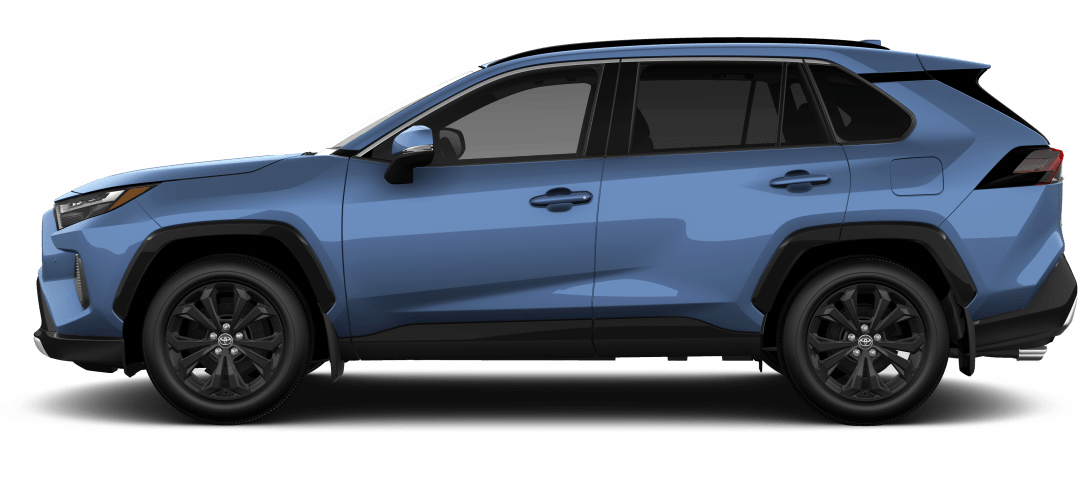 To put it simply, 2023 will be a watershed year for the RAV4 Hybrid. It's been updated in numerous ways, including the addition of a couple of new packages (XLE Premium and Woodland). Exteriorly, Wind Chill Pearl has replaced Blizzard Pearl as the new choice.
The new and improved Toyota Infotainment System, with built-in Apple CarPlay and Android Auto wireless connectivity, is standard equipment on all trim levels. A new Night Pedestrian Detection feature, together with Left Turn Oncoming Vehicle Detection/Braking and Right/Left Turn Oncoming Pedestrian Detection/Braking, have been added to Toyota Safety Sense v2.5.
A 10.5-inch Touch Screen and a 12.3-inch Multi. Info. Dashboard Display are standard on the XSE, XSE Tech, and Limited.
What are the standard features?
Each 2023 RAV4 Hybrid configuration includes standard features such as heated front seats and a smart key with push engine start. Each trim level now includes cordless Apple CarPlay and Android Auto, as well as the TSS 2.5 safety package.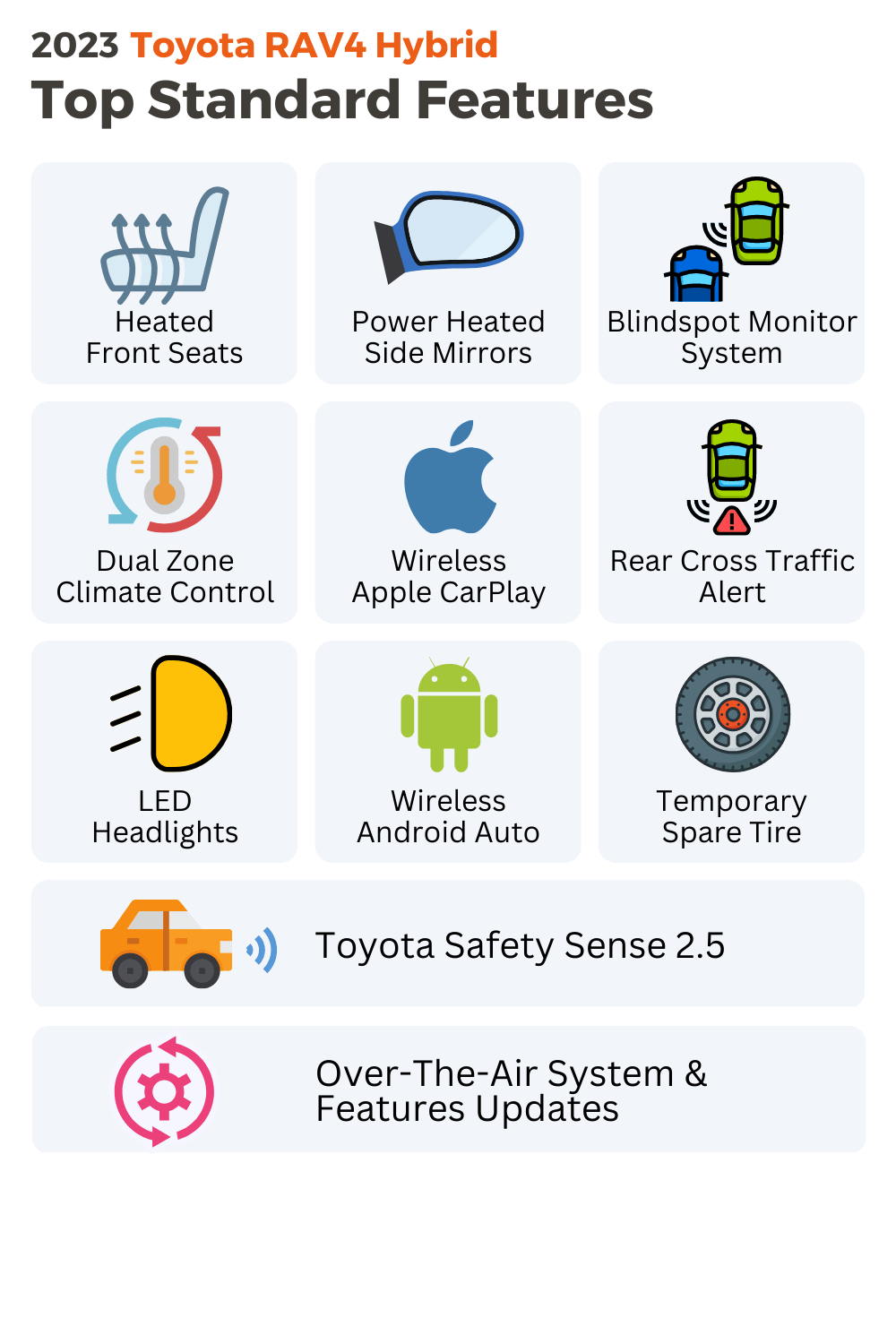 Key features summary
With the 2023 RAV4 Hybrid, Toyota has successfully revolutionized the compact SUV market with its remarkable fuel economy. It's a lot brisker than the RAV4 gas model. Here are the features of each 2023 RAV4 Hybrid configuration.
The 'L' trim level of the RAV4 Hybrid range is comparable to the gas variant. In terms of amenities, the LE comes with Dual Zone Climate Control, which is not available on the gas LE variant.
The RAV4 Hybrid's highlight is the 'Sport' trim level. There are three options available. The XSE lineup has the majority of the desirable features, such as a black roof design, a larger touch screen, and a full-size dash display, among others.
How Much Is The 2023 Toyota RAV4 Hybrid?
The prices for each 2023 Toyota RAV4 Hybrid configuration are listed below. The list of pricing below does not include any applicable taxes. These prices, according to their website, include dealer fees up to $990, $100 in air conditioning charges, $25 in tire levies, and $1,930 in freight and PDI. This information is based on prices posted on Toyota.ca in March 2023.
Because there are wait times involved and Toyota changes the prices on their website every few months, check toyota.ca before you pick up your car to ensure you have the most up-to-date pricing.
LE
$ 37,895
$42,442 w/ GST, PST
XLE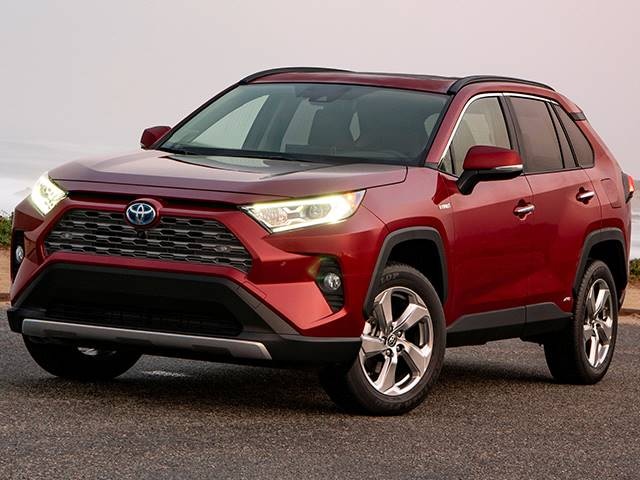 $ 41,035
$45,959 w/ GST, PST
SE
$ 42,835
$47,975 w/ GST, PST)
XLE Premium
$ 43,075
$48,244 w/ GST, PST
Woodland
$ 43,225
$48,412 w/ GST, PST
XSE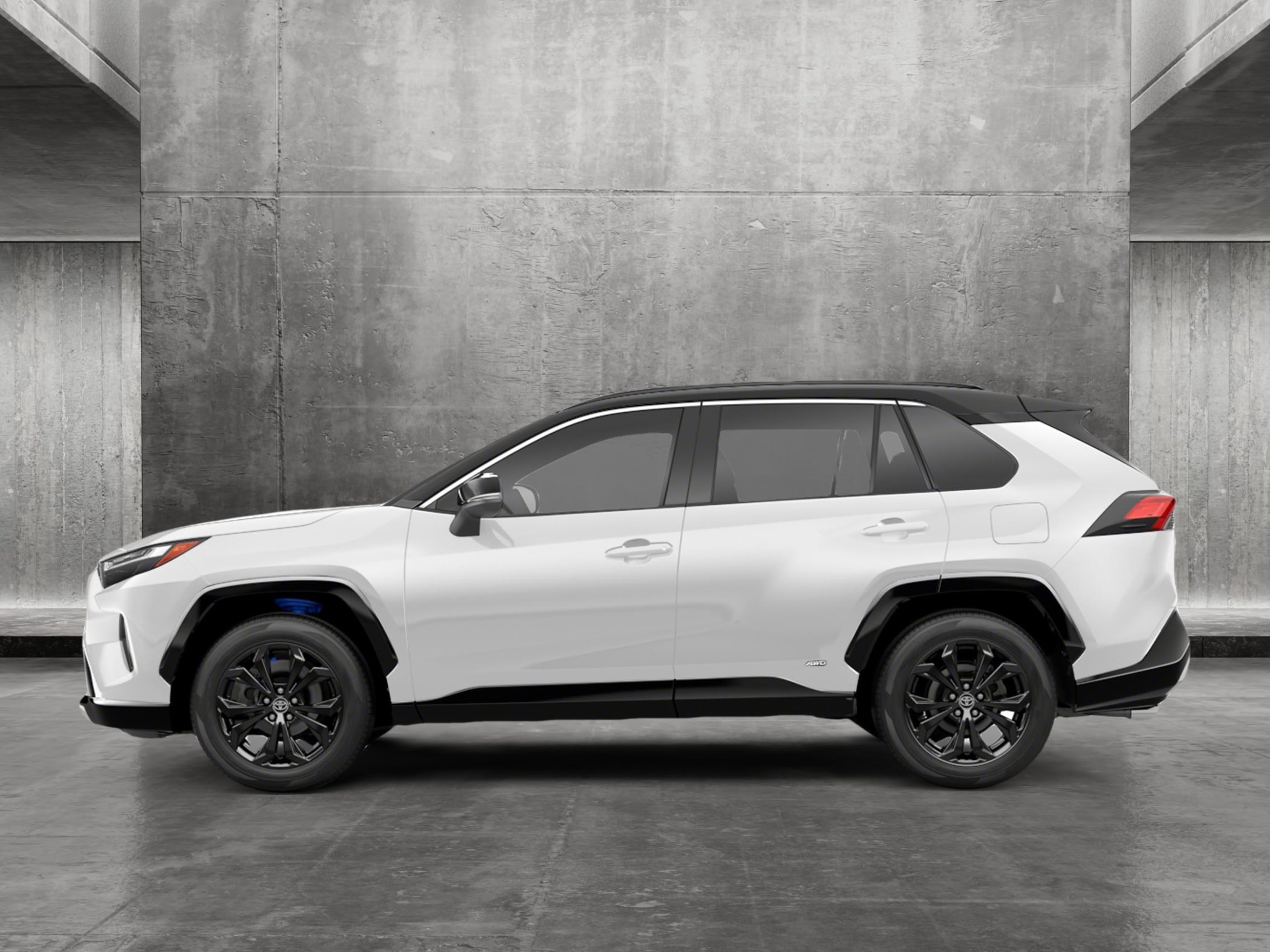 $ 45,735
$51,223 w/ GST, PST
XSE Technology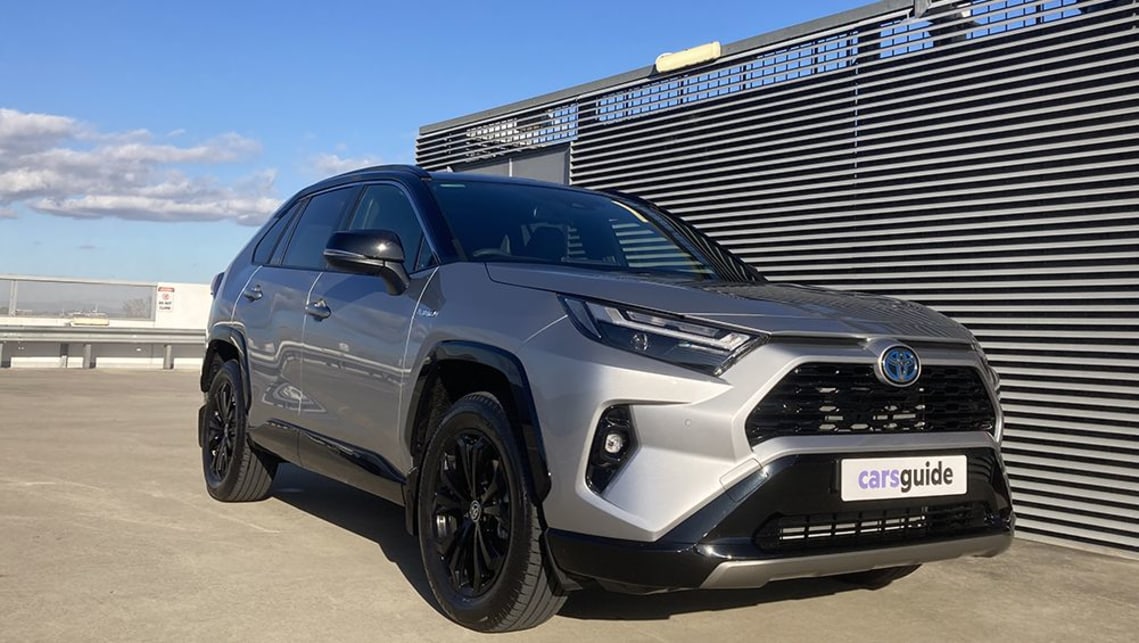 $ 48,295
$54,090 w/ GST, PST
Limited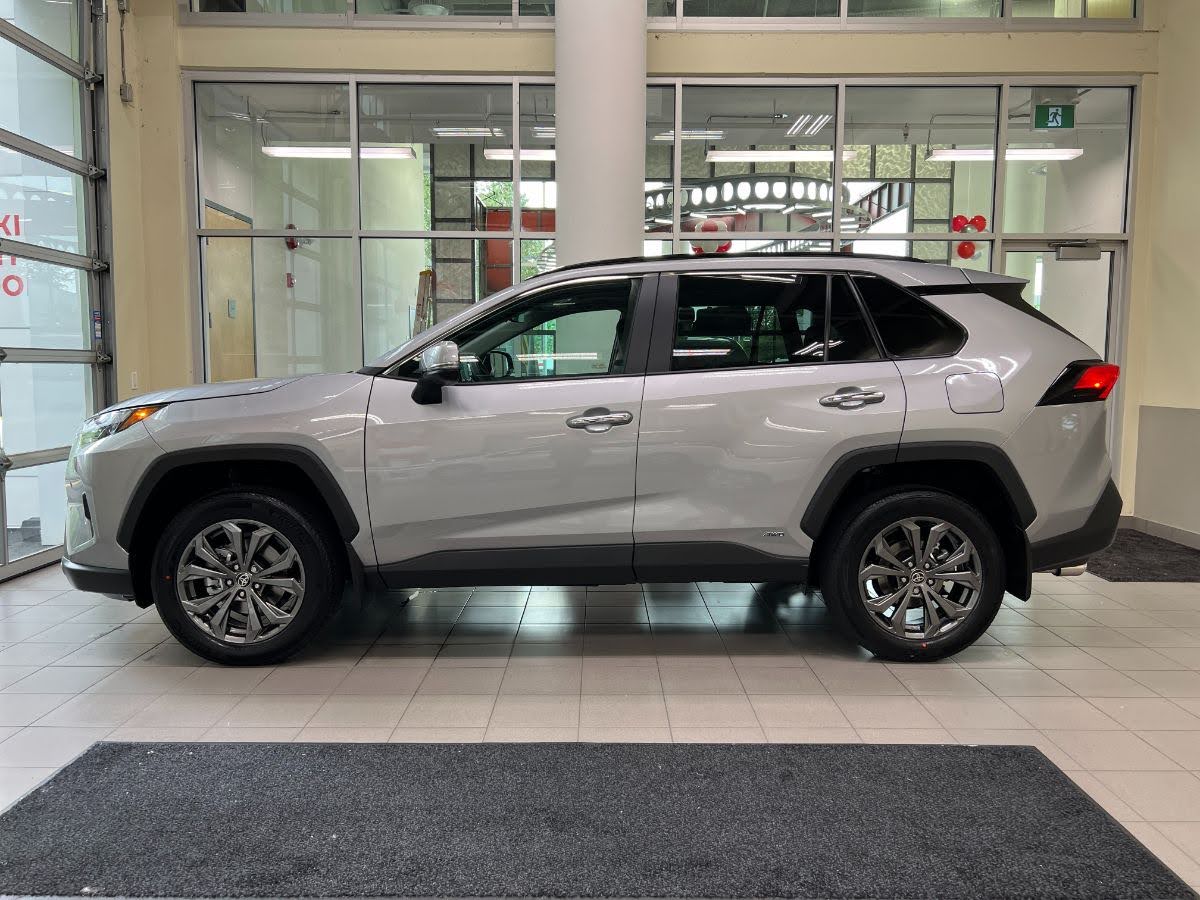 $ 48,895
$54,762 w/ GST, PST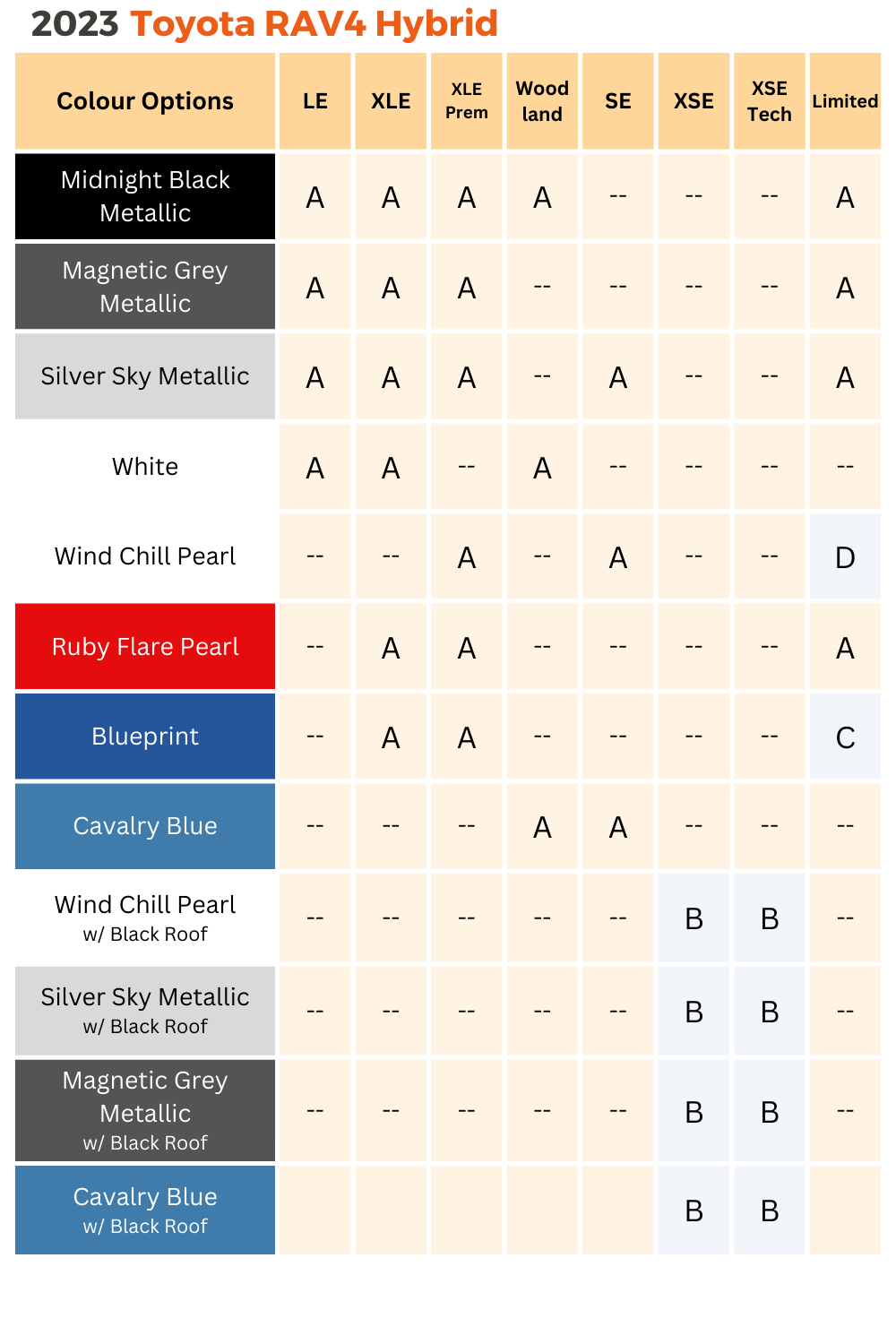 What Colour Options Are Available?
The 2023 Corolla's seat designs vary slightly between trim levels. The XSE is the only trim level that upgrades the standard fabric seats to SofTex leather.
Use this legend to learn about the different types of interiors that are available.
Seat Styles on each Trim
The seats in this vehicle come in a few different styles. Take a look at this gallery to see how they compare visually.
LE, XLE, Woodland, SE
Black Fabric
XLE Premium
Black SofTex Leather
XSE, XSE Technology
Black Softex Leather w/ Fabric & Blue Stripes
Limited
Black SofTex Leather
Limited
Light Grey SofTex Leather
Limited
Beige SofTex Leather
LE
Black Dashboard With 8″ Touchscreen
XLE, XLE Premium, Woodland, SE
Black Dashboard + 8″ Touchscreen, Silver Door Handle & Silver Steering Wheel Accent
XSE, XSE Technology
Black Dashboard + 10.5″ Touchscreen, Silver Door Handle, Silver Steering Wheel Accent, Silver Air Vent Knob, Silver Accent Shift Knob, Dark Roof
Limited
Black Dashboard + 10.5″ Touchscreen, Silver Door Handle, Silver Steering Wheel Accent, Silver Air Vent Knob, Silver Accent Shift Knob
Exterior Features
The appearance of the 2023 RAV4 Hybrid has not been altered. Keep in mind that the LE trim is the only one without power back door.
Puddle lights, which shine light into the foyer from the floor, are new to the Limited trim. The back door of the XSE Technology and Limited now has a kick sensor.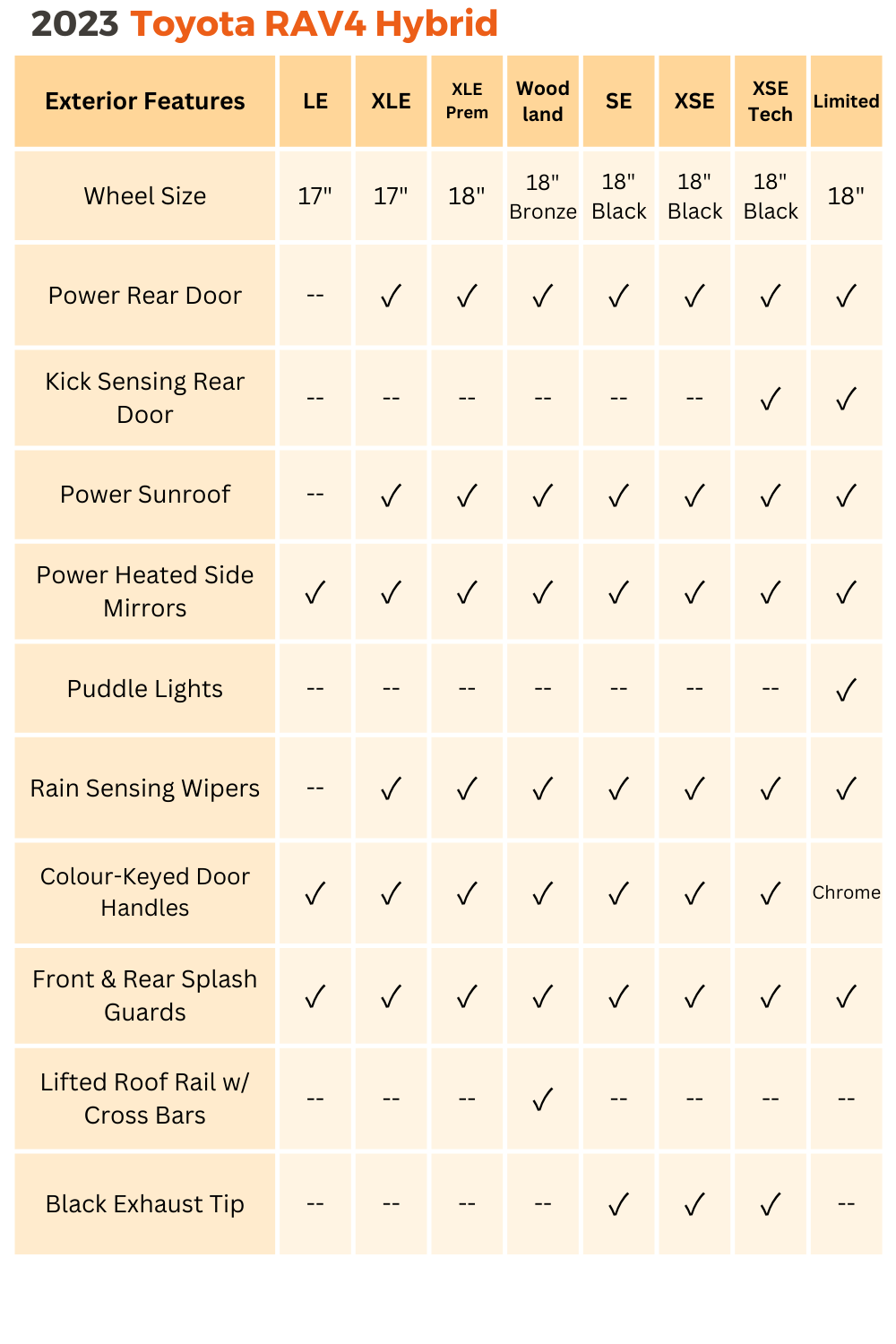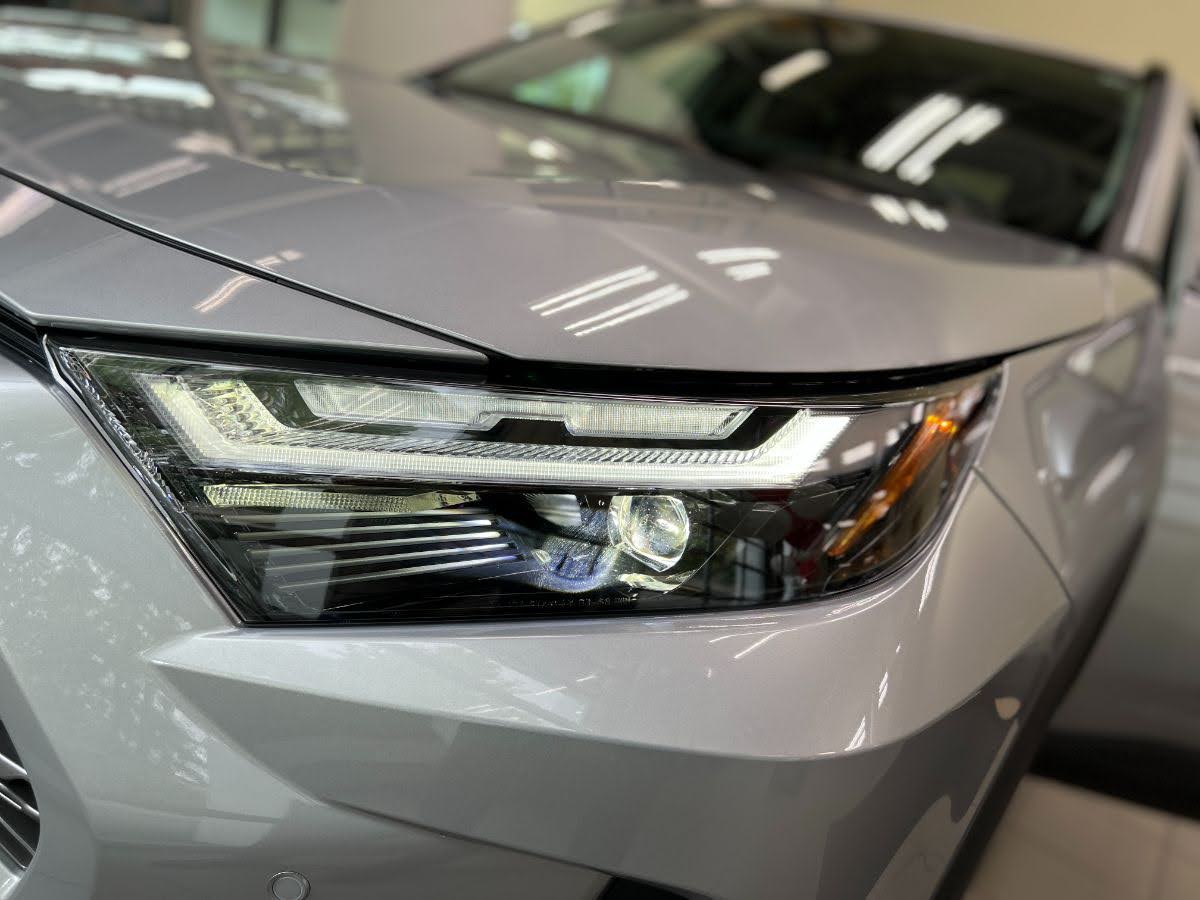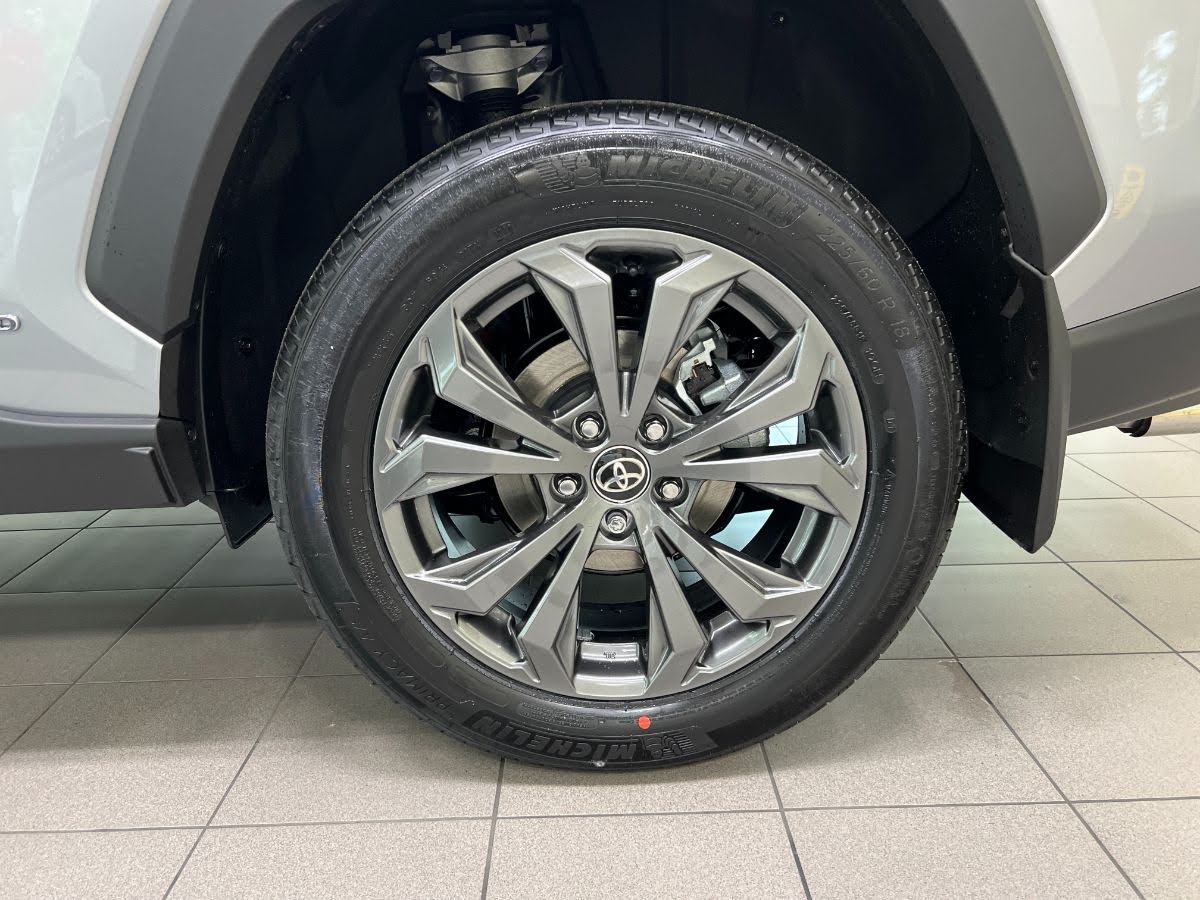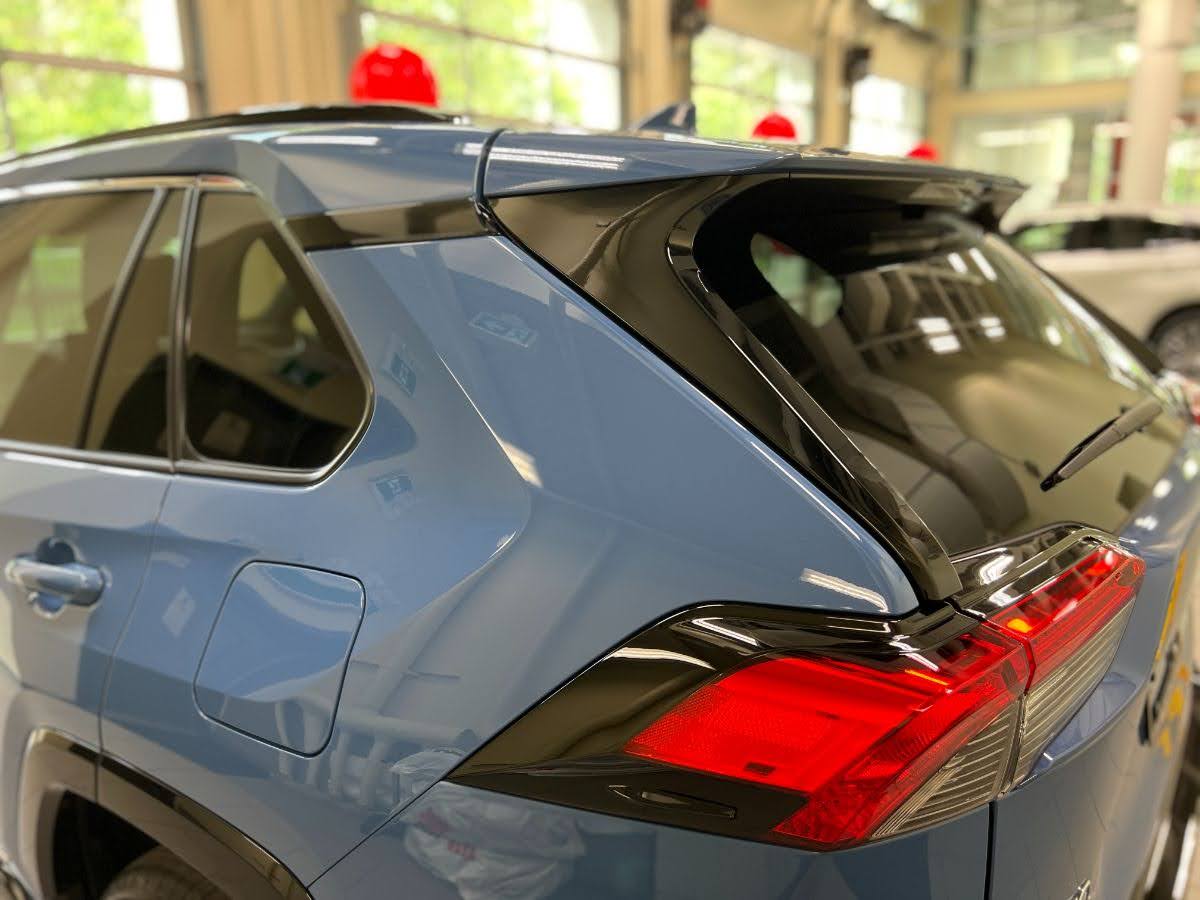 Performance
A 2.5-litre four-cylinder engine, along with two electric motors, gives the RAV4 Hybrid 219 total system horsepower. The transmission system is a CVT. The RAV4 Hybrid is significantly more fuel-efficient than its gas-powered all-wheel-drive counterpart.
The hybrid RAV4 handles and rides as well as the conventional RAV4. Standard all-wheel drive is achieved by having one electric motor power the rear wheels and the other electric motor and gasoline engine power the front wheels.
The RAV4 Hybrid has better gas mileage than the standard RAV4, and it also accelerates more quickly. The RAV4 Hybrid's electric motor provides satisfyingly instantaneous power delivery, giving the vehicle a noticeable boost in acceleration when starting off from a stop.
Seat Comfort
Comfortably transporting up to five passengers in style is a breeze in the RAV4 Hybrid. Front seats are heated in every configuration as standard. When you upgrade to the XLE trim level, you get a power driver seat, smart key w/ push engine start, and a number of convenient features.
The XLE Premium and Limited come standard with full SofTex leather upholstery and a driver's seat memory system. Each seat in the XSE and XSE Technology is upholstered in a combination of fabric and SofTex leather and features sporty blue stitching.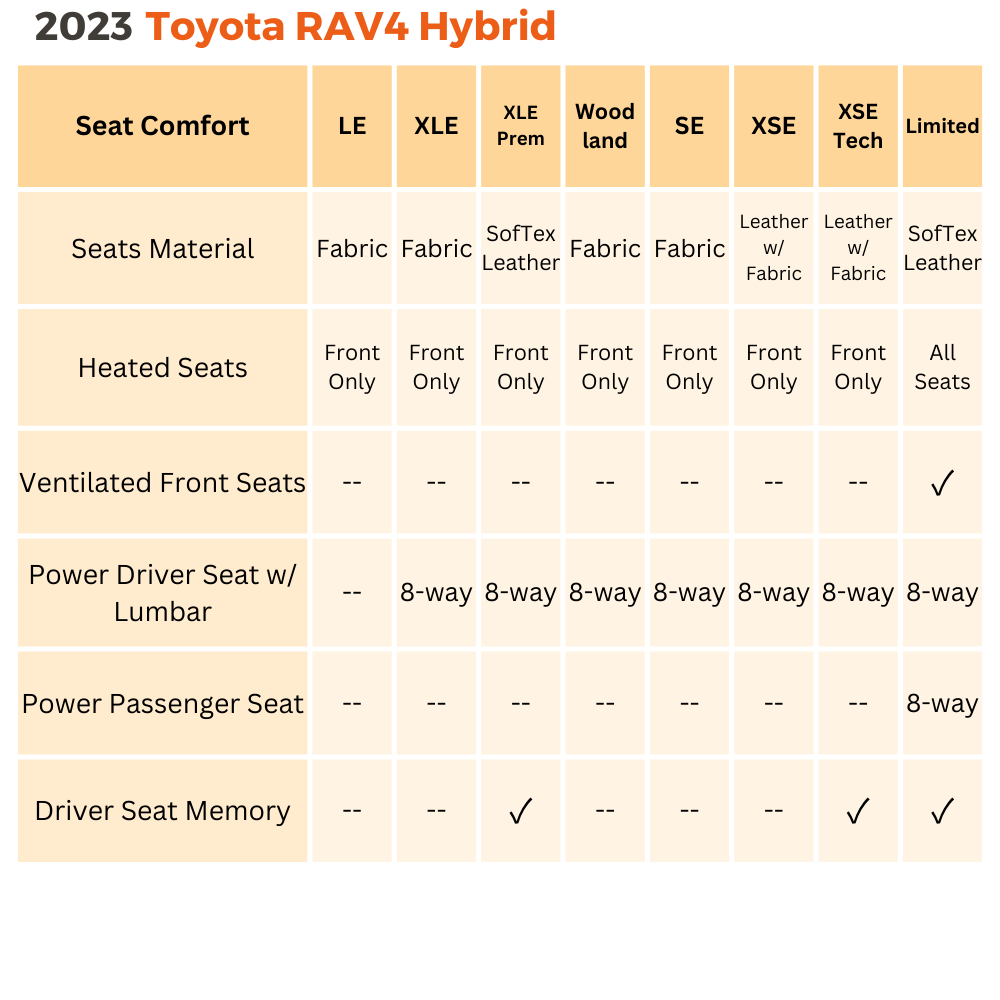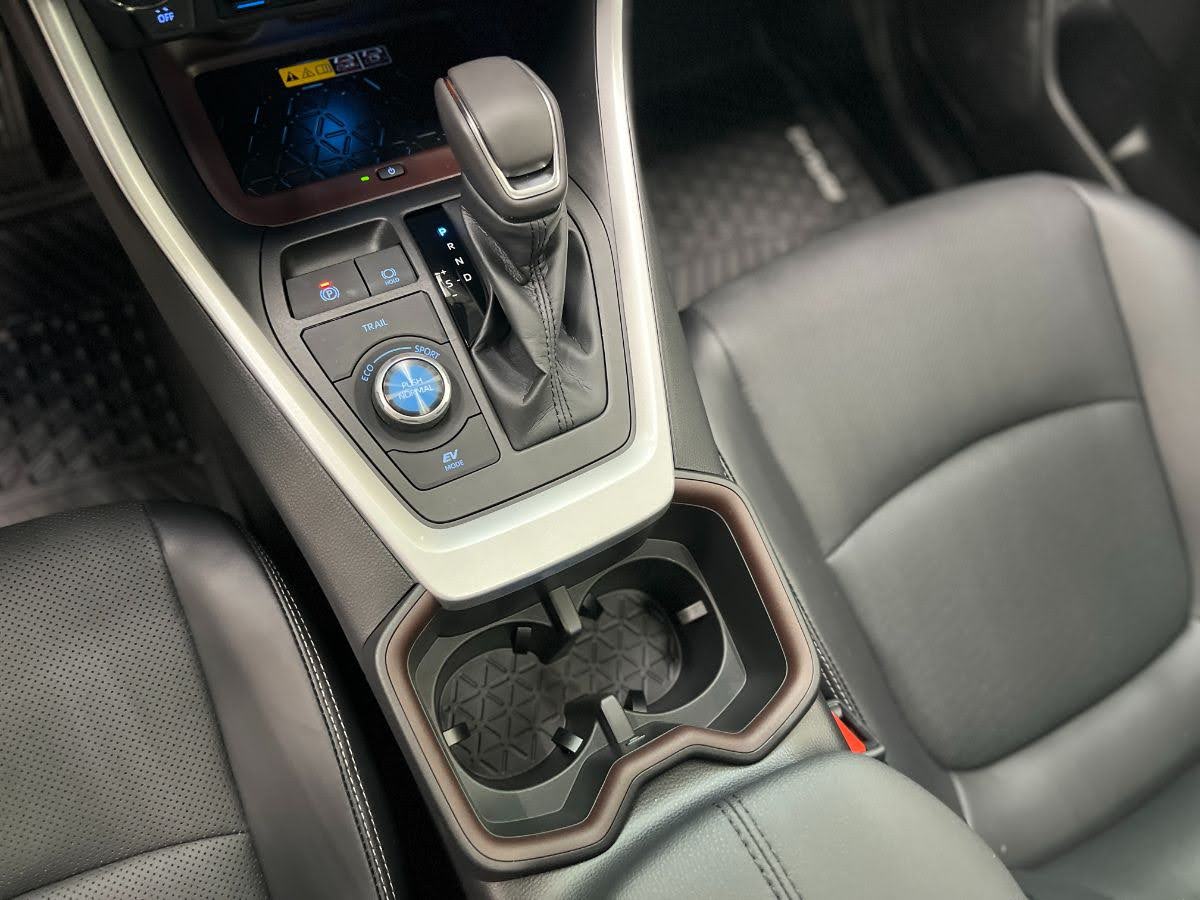 Comfort Features
The cabin of the RAV4 Hybrid is nicely constructed and tastefully equipped, but it puts function before form. All the knobs and buttons are conveniently placed, and there are plenty of compartments to store your little items.
The RAV4 Hybrid is just as spacious inside for goods and passengers as the gas RAV4. The cargo floor may be adjusted in height and there is automated climate control for two separate climatic zones, all of which come standard on the base model from Toyota.
As you move up the trim levels, more and more luxurious amenities, like heated front and rear seats, and ambient interior lighting, become standard.
Credit: toyota, US News, Carbuzz
Infotainment Features
The base LE and XLE models have an 8.0-inch infotainment screen, while the XSE and Limited trims have 10. 5-inch screens.
For the first time, remote software upgrades are offered on the 2023 RAV4 Hybrid. New features include wireless support for Apple CarPlay and Android Auto, as well as dual-band Bluetooth connectivity.
While the base digital gauge display is 7.0 inches, the XSE and Limited models have a larger 12.3-inch screen. The XSE Technology and Limited trims include a JBL audio system with 11 speakers.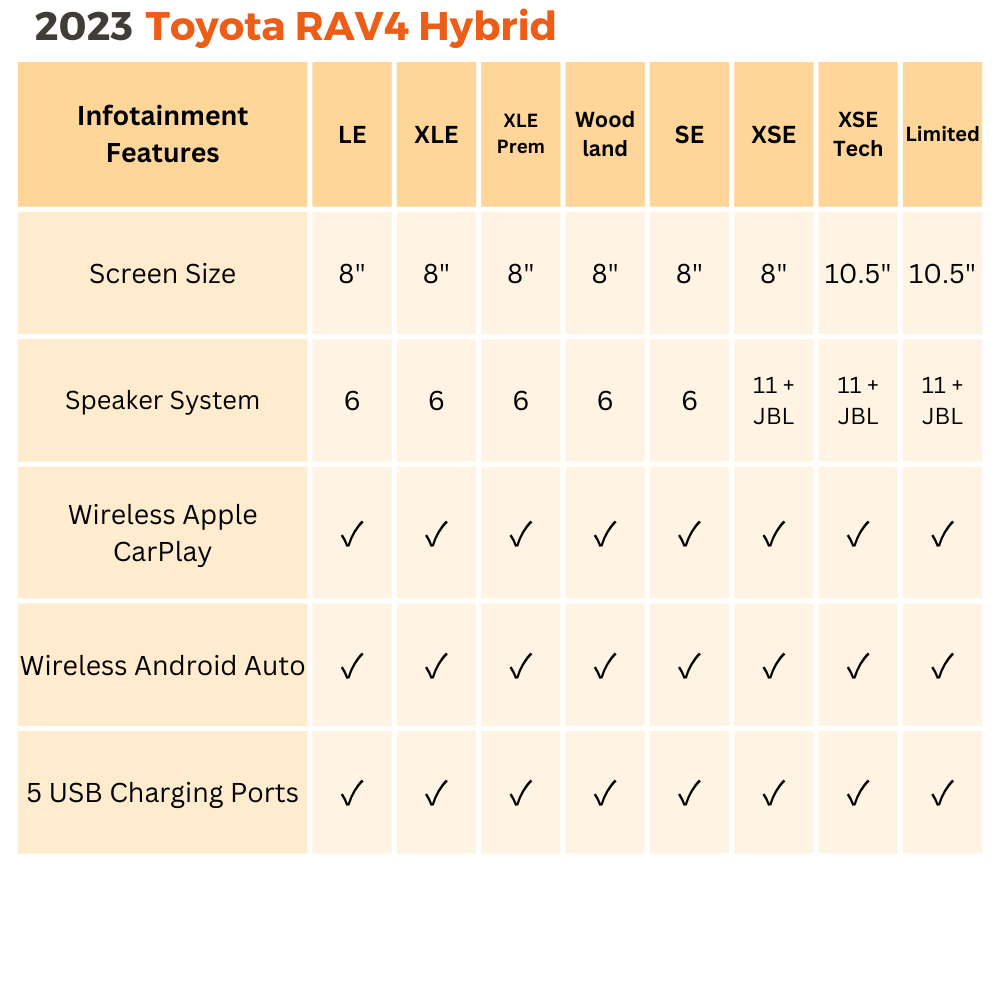 Trials and Subscriptions
All 2023 Toyota RAV4 Hybrid configurations offer several premium services, some of which are free for a limited period and others of which need a subscription fee.
Learn more about each service here:
Remote Connect

Via the Toyota app on compatible smartphones and smartwatches, you can use Toyota Remote Connect and take command of your vehicle from afar. With the help of this feature, you can lock/unlock the doors and start/stop the engine from a distance.
Drive Connect

The most recent navigation system from Toyota updates traffic using cloud technology. Even with a weak signal, traffic and navigation information can be accessed. Get directions at any moment from a live person. Request information from the AI assistant in the car, such as directions or nearby businesses.
Service Connect

Receive vehicle health and maintenance reports. Service Link offers Vehicle Health Reports, Maintenance Alerts, and Maintenance Reminders. Get confidence in knowing the current state of your vehicle's maintenance and performance.
Safety Connect

Stolen Vehicle Finder uses GPS to assist police locate your stolen vehicle. Toyota's 24-hour response centre can dispatch emergency medical services and roadside assistance, as well as notify you of airbag deployment and rear-end crashes.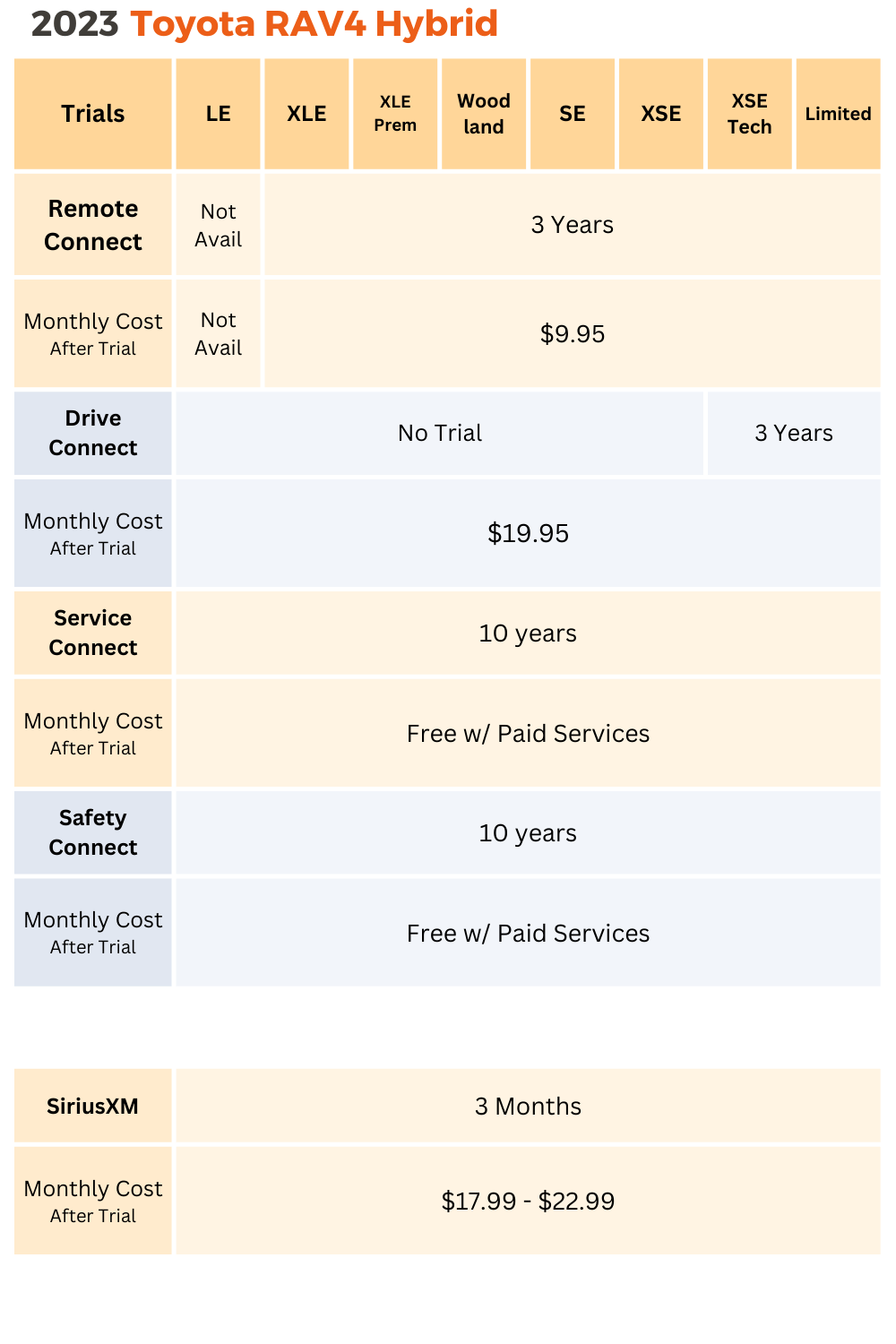 Learn more about the Toyota Safety Sense System:
Compare Features of TSS 2.5, 2.5+, 3.0
Compare Features of TSS-C and TSS-P
Included Accessories
A variety of Toyota extras come standard on the more expensive configurations.
Rubber mats are included with all trim levels, but a tonneau cover is only included at no cost with the XLE and higher.
Don't worry about shelling out extra cash to line your trunk, because both the Woodland, XSE, and the Limited come standard with a cargo liner.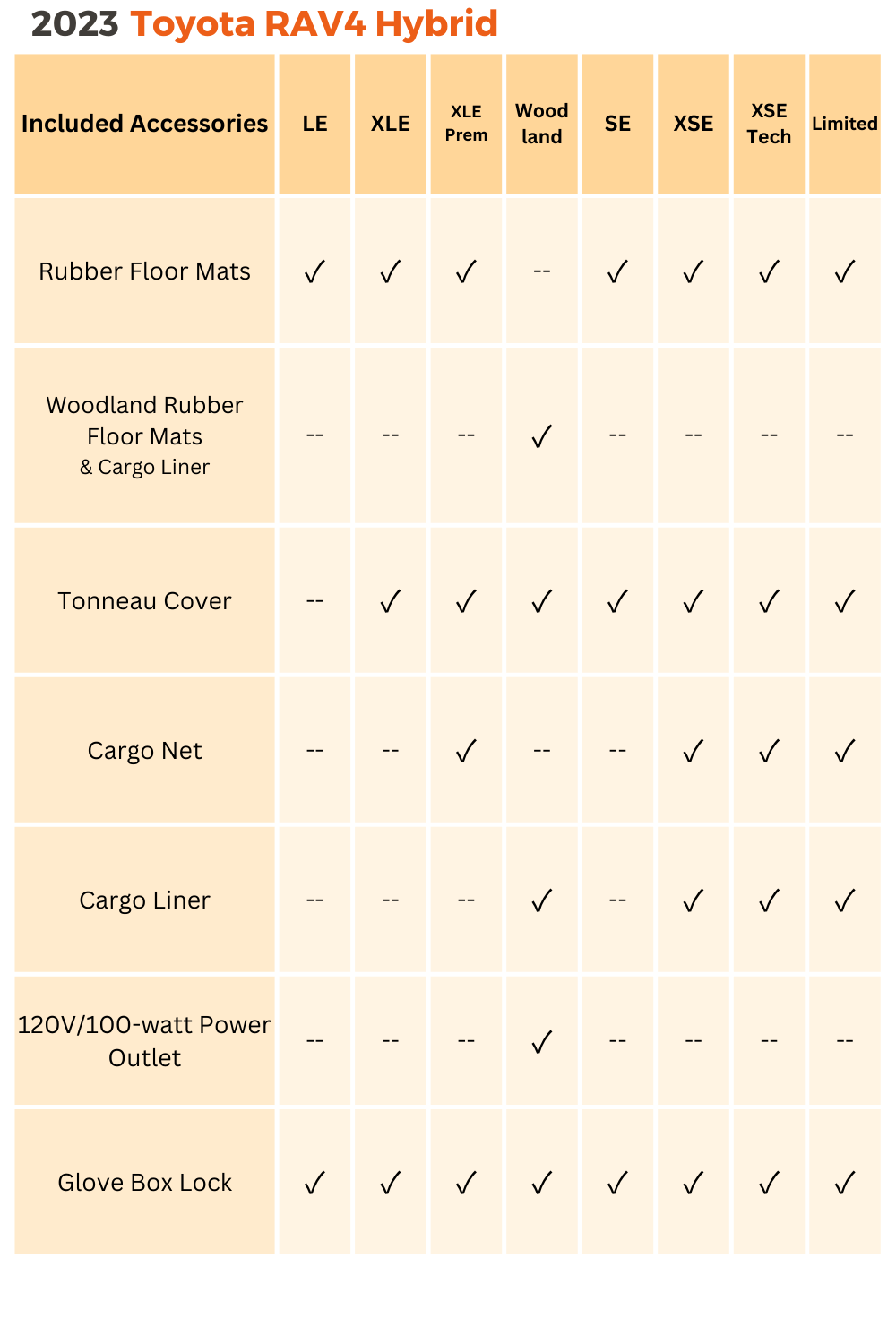 Specifications
ENGINE
2.5 Litre, 4-Cylinder w/ Hybrid Synergy Drive
TRANSMISSION
CVT Automatic
DRIVETRAIN
AWD
HORSEPOWER
219
TORQUE
221 lb-ft
TOWING CAPACITY
1,750 lbs / 794 kg
FUEL ECONOMY (CITY-HWY-COMBINED)
5.8/6.3/6.0 L/100km
FUEL CAPACITY
57 Litres
FUEL TYPE
Regular
LENGTH
460.1 cm/ 181.1 in
WIDTH
185.4 cm/ 73 in
HEIGHT
170.2 cm / 67 in
CARGO CAPACITY
37.4 cu.ft (w/ Back Seats Up)
69.8 cu.ft (w/ Back Seats Down)
GROUND CLEARANCE
20.6 cm / 8.1 in
NUMBER OF SEATS
5
NUMBER OF AIRBAGS
8
MANUFACTURING COUNTRY
Woodstock, Ontario, Canada
LAST REDESIGN
2019