The 2023 Toyota Corolla Hybrid is entering an exciting year! Significant improvements include the availability of three new AWD grades. There are currently a total of four available trims; Higher grades (SE, XSE) include a Sports body with previously unavailable options like Power Sunroof and Remote Connect.
The infotainment system is receiving a big makeover with the introduction of a brand-new multimedia entertainment interface from Toyota. All models now offer wireless Apple CarPlay and Android Auto, as well as access to the new Toyota Drive Connect Service, which includes Cloud Navigation with Destination Assist and a voice-activated Intelligent Assistant.
The updated Toyota Safety Sense 3.0 increases vehicle safety. The Premium trim is no longer available, however, the SE and XSE now come in a new Dark Grey colour.
What are the standard features?
All 2023 Toyota Corolla Hybrid trim levels include a number of standard features.
All models come standard with wireless Apple CarPlay, wireless Android Auto, hill-start assist, and a spare tyre.
All models also include the latest TSS 3.0 safety system, which includes several new features such as an upgraded camera that can detect road conditions ahead.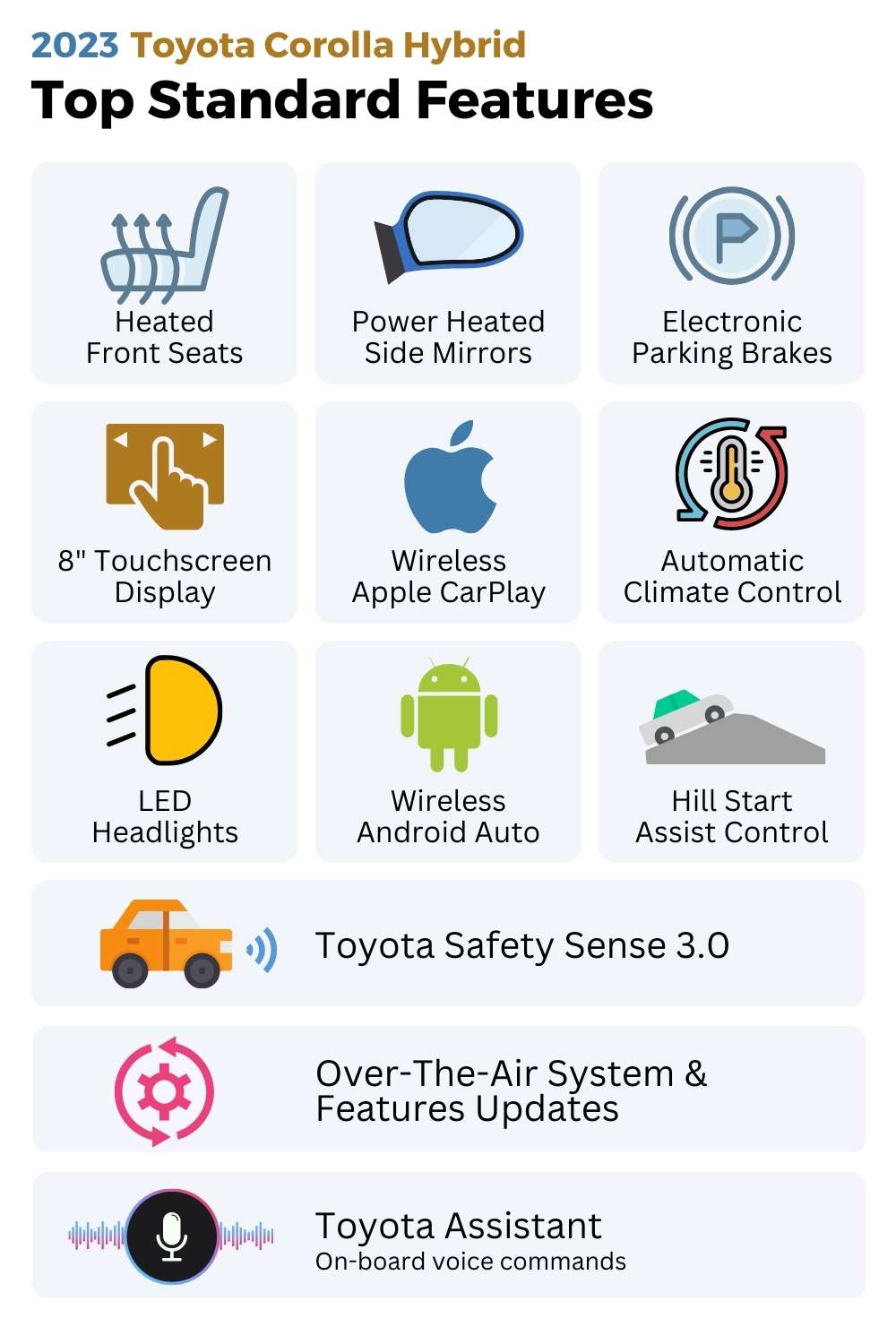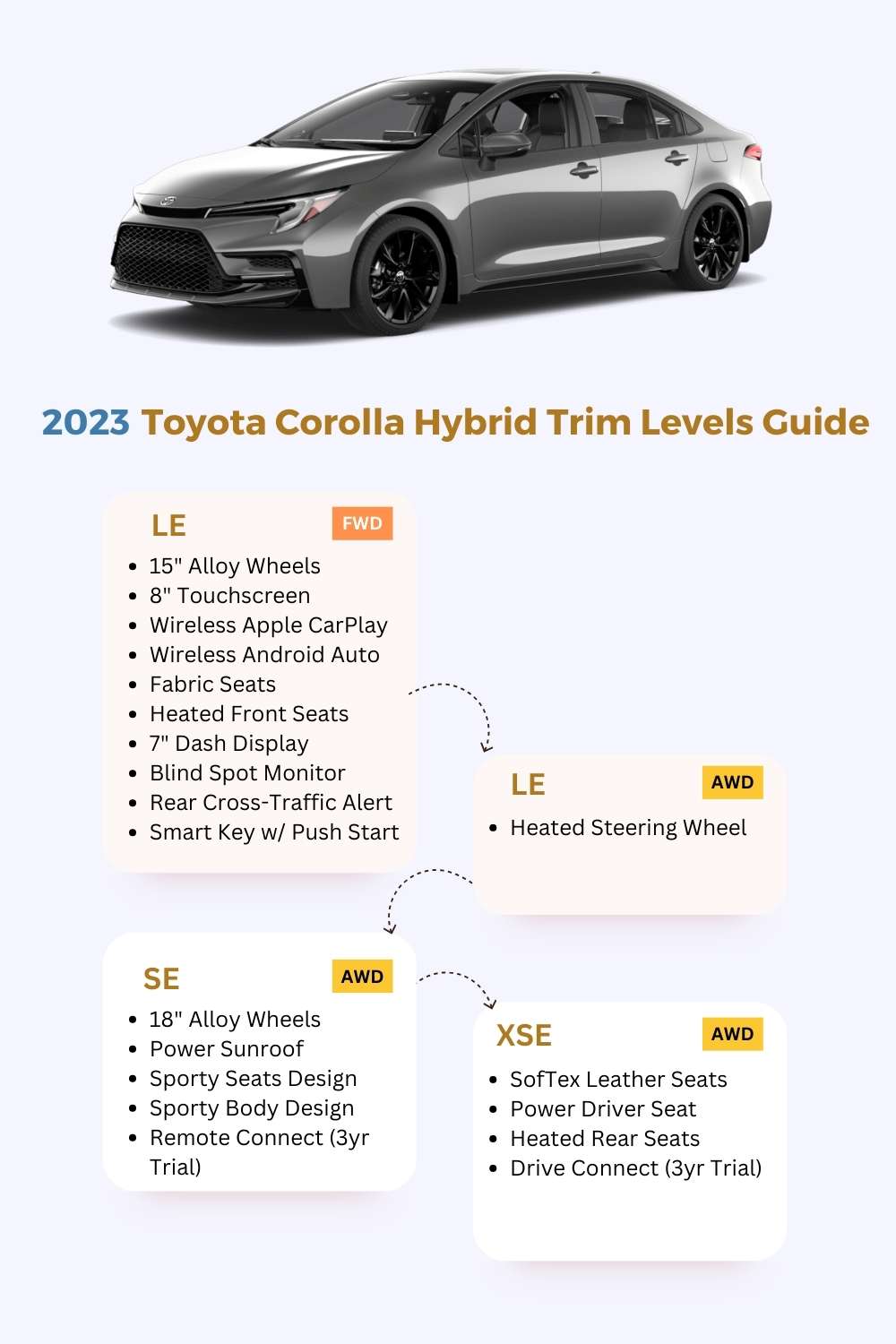 Key features summary
The Toyota Corolla Hybrid now comes in 4 different trim levels, up from only 2 in previous years. The "S" trim levels, which have a sporty exterior and a dark interior, are a welcome addition. While the 'L' model continues to offer a FWD variant, all vehicles now come standard with AWD.
How Much Is The 2023 Toyota Corolla Hybrid?
The prices for each 2023 Toyota Corolla Hybrid trim level are listed below. The list of pricing below does not include any applicable taxes. These prices, according to their website, include dealer fees up to $990, $100 in air conditioning charges, $25 in tire levies, and $1,930 in freight and PDI. This information is based on prices posted on Toyota.ca in March 2023.
Because there are wait times involved and Toyota changes the prices on their website every few months, check toyota.ca before you pick up your car to ensure you have the most up-to-date pricing.
LE FWD
$ 28,860
$32,323 w/ GST, PST
LE AWD
$ 30,360
$34,003 w/ GST, PST
SE AWD
$ 32,760
$36,691 w/ GST, PST)
XSE AWD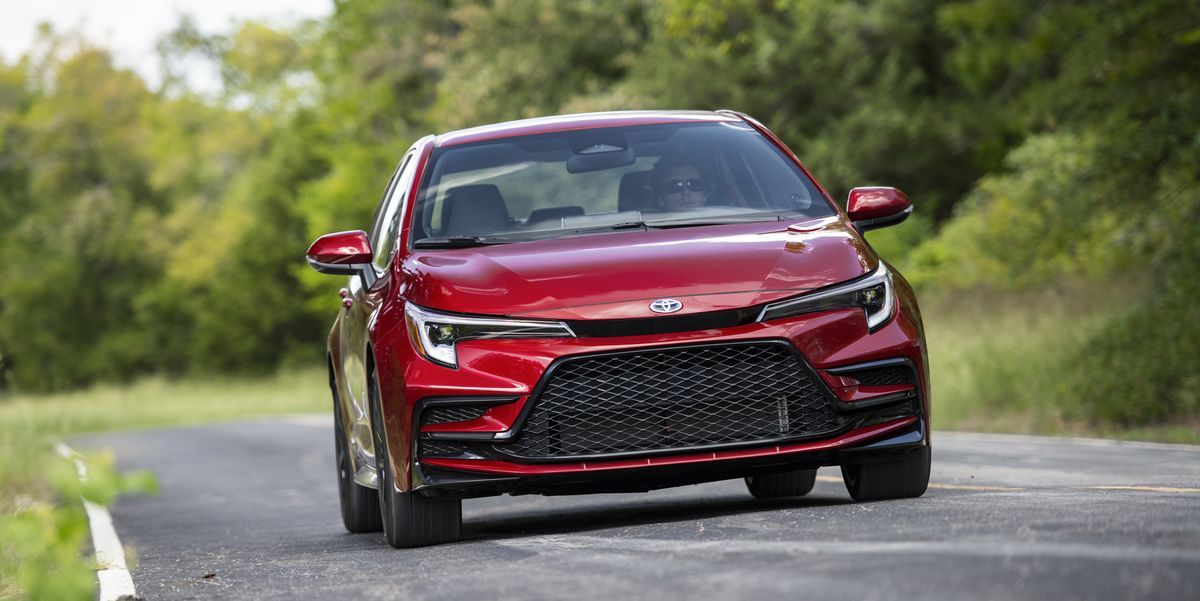 $ 37,160
$41,619 w/ GST, PST
What Colour Options Are Available?
The 2023 Corolla Hybrid's seat style changes slightly according to the trim level. The regular fabric seats are upgraded to SofTex leather only on the XSE trim level.
Use this legend to learn about the different types of interiors that are available.
A. Black Interior with White Lines
B. Black Interior with Red Accents
Seat Styles on each Trim
The seats in this vehicle come in a few different styles. Take a look at this gallery to see how they compare visually.
LE
Black Fabric with white lines
SE
Black Fabric with red accents
XSE
Black and Red SofTex Leather
Seat Comfort & Power
The 2023 Toyota Corolla Hybrid is propelled by a hybrid engine that displaces 1.8 litres. The FWD output 121 hp while the AWD edition produces 134 hp. Hill-start assist and electric vehicle modes are standard on all models.
The front seats are heated as standard on all models. The XSE trim level is where you'll find the greatest amenities, such as the power-adjustable driver seat and heated front and rear SofTex leather upholstery.
Credit: Autoblog, Toyota, Toyota
Comfort Features
The gauge cluster in the 2023 Corolla Hybrid is a new and enhanced 7.0 inches in size. The heated leather-wrapped steering wheel is standard on all AWD models, but wireless phone charging is only offered on the SE and XSE trims.
A larger 8.0-inch infotainment screen is now standard, making the touch screen easier to use. Toyota's newest infotainment system is sleek, and it supports wireless pairing with both Apple CarPlay and Android Auto.
In addition, more features may be added in the future as Toyota has enabled over-the-air update capability.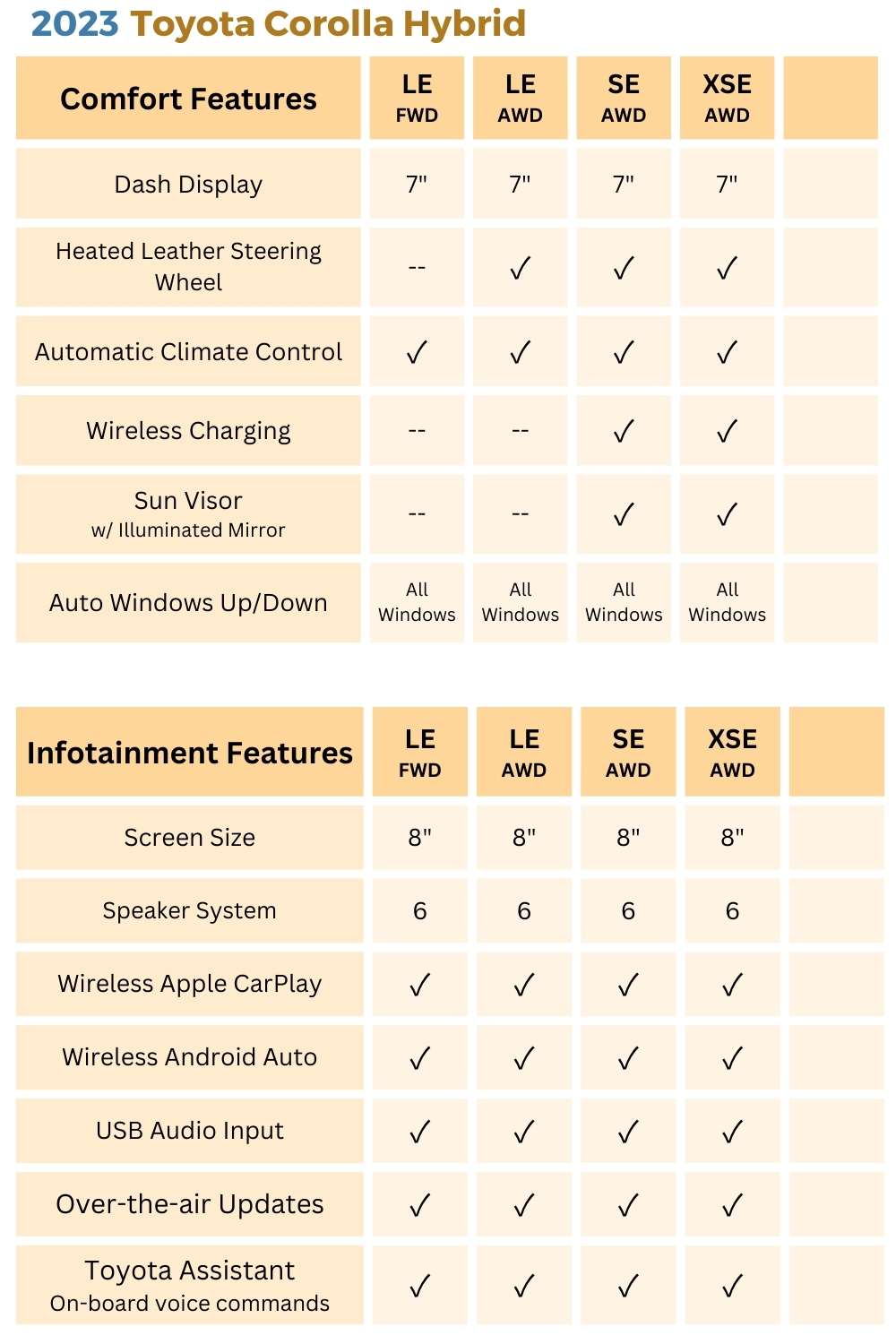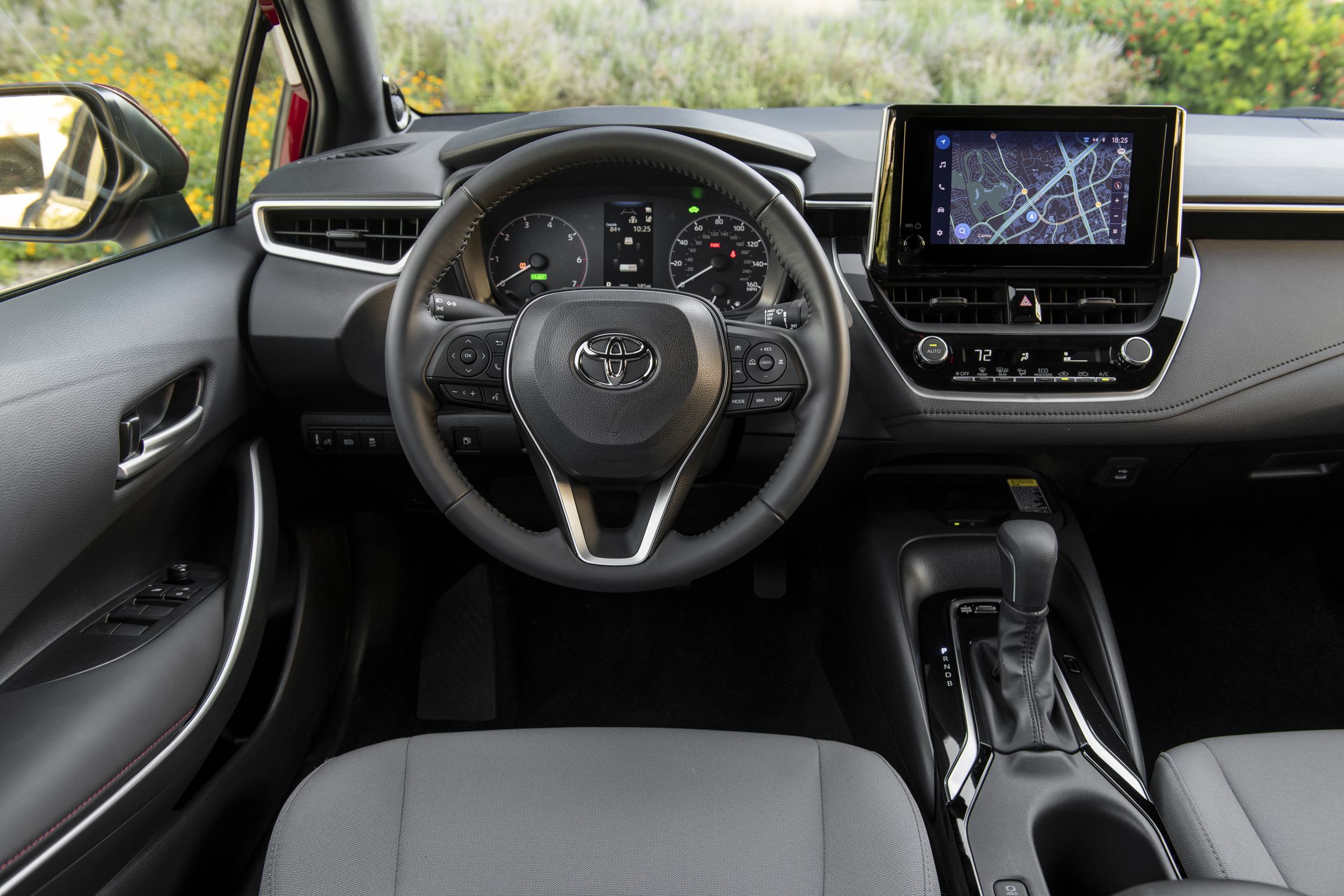 Credit: toyota, top gear, car and gear
Trials and Subscriptions
All 2023 Toyota Corolla Hybrid configurations offer several premium services, some of which are free for a limited period and others of which need a subscription fee.
Learn more about each service here:
Remote Connect

Via the Toyota app on compatible smartphones and smartwatches, you can use Toyota Remote Connect and take command of your vehicle from afar. With the help of this feature, you can lock/unlock the doors and start/stop the engine from a distance.
Drive Connect

The most recent navigation system from Toyota updates traffic using cloud technology. Even with a weak signal, traffic and navigation information can be accessed. Get directions at any moment from a live person. Request information from the AI assistant in the car, such as directions or nearby businesses.
Service Connect

Receive vehicle health and maintenance reports. Service Link offers Vehicle Health Reports, Maintenance Alerts, and Maintenance Reminders. Get confidence in knowing the current state of your vehicle's maintenance and performance.
Safety Connect

Stolen Vehicle Finder uses GPS to assist police locate your stolen vehicle. Toyota's 24-hour response centre can dispatch emergency medical services and roadside assistance, as well as notify you of airbag deployment and rear-end crashes.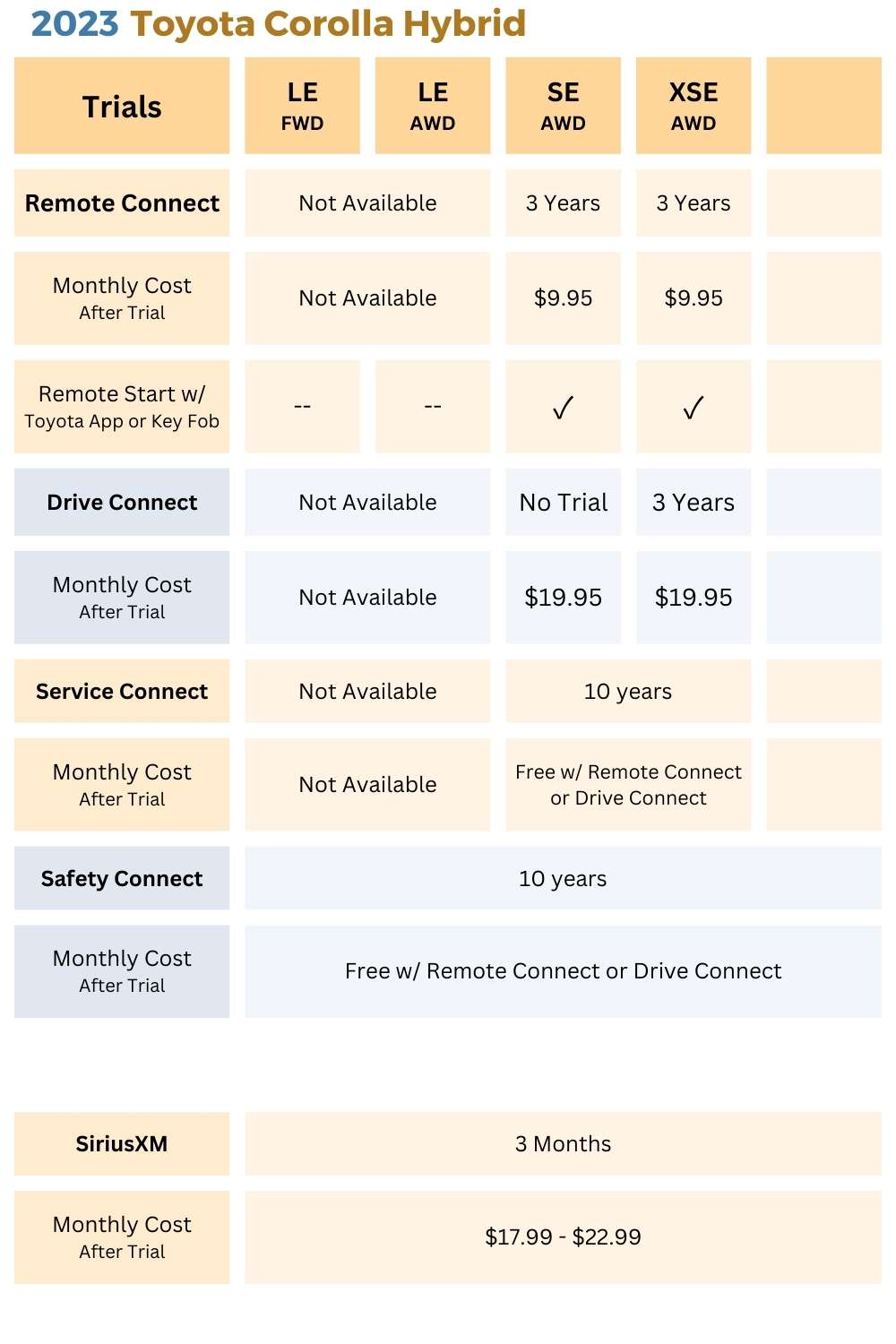 Learn more about the Toyota Safety Sense System:
Compare Features of TSS 2.5, 2.5+, 3.0
Compare Features of TSS-C and TSS-P
Specifications
ENGINE
1.8 Litre 4-cylinder w/ Hybrid Synergy Drive
Fuel Economy
(City-Hwy-Combined)
4.4/5.1/4.7 L/100km (LE FWD)
4.6/5.4/4.9 L/100km (LE AWD)
5.0/5.7/5.3 L/100km (SE, XSE)
Fuel Capacity
43 Litres (FWD)
40 Litres (AWD)
Length
463.6 cm/ 182.5 in
Cargo Capacity
13.1 cu.ft
Ground Clearance
13.5 cm/ 5.3 in
Manufacturing Country
Japan