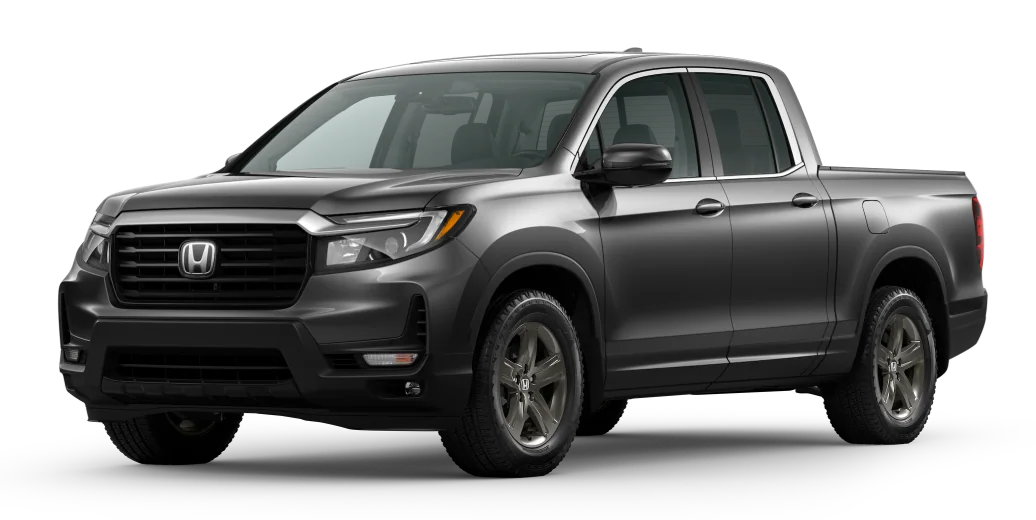 2023 Honda Ridgeline Levels Guide
The Honda Ridgeline, a mid-size truck, is a unibody vehicle, meaning there is no separate frame. Unlike competitors like the Chevrolet Colorado and Toyota Tacoma, which offer body-on-frame pickups, this one has a unibody construction. For those seeking a more refined and economical option, Honda has created the Ridgeline.
The sole powerplant is a 3.5-litre V-6 that generates 280 horsepower and 262 pound-feet of torque, and it is mated to a nine-speed automated transmission and standard all-wheel drive. The engine is refined, and it responds well to aggressive throttle inputs.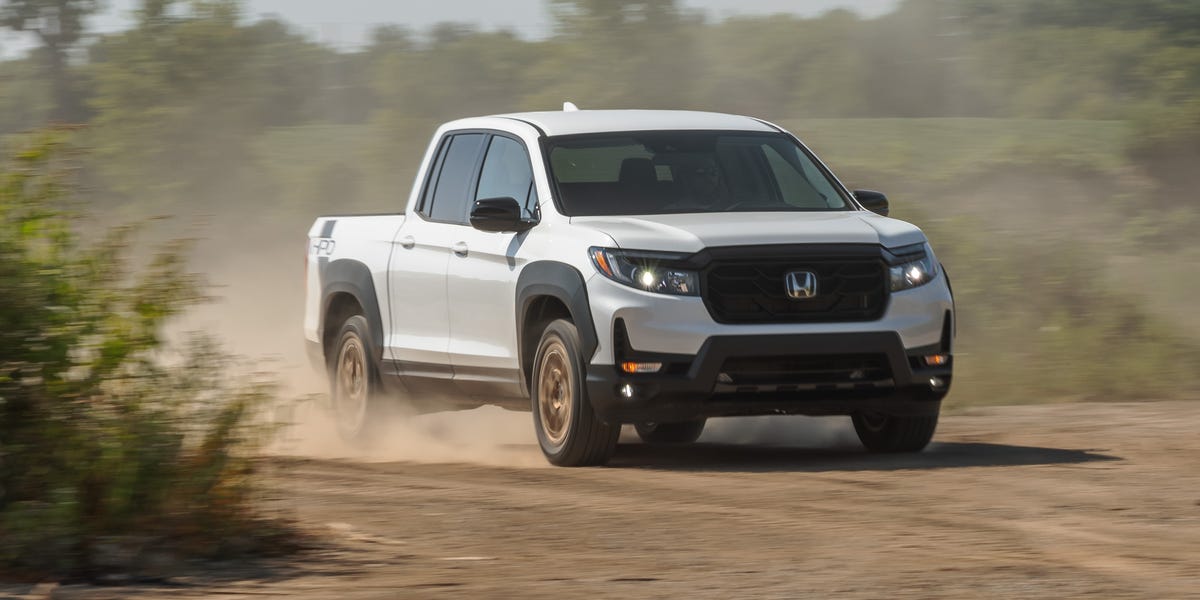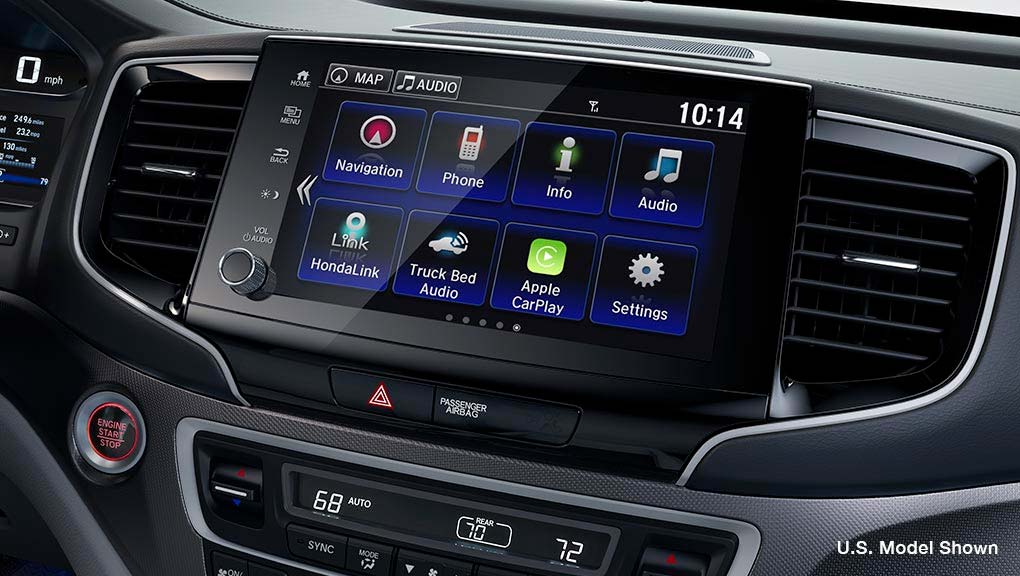 Credit: Cars and Driver, CarBuzz, Honda
When it comes to usability and passenger comfort, the Ridgeline is unrivalled. This midsize car has the most legroom and headroom in the backseat of any of its competitors. Thanks to the low positioning of the centre console between the front seats, the inclusion of fold-down armrests on both seats is well appreciated.
Every Ridgeline has an 8.0-inch display;  Honda claims that it is simpler to operate than its predecessor now with a physical volume knob and on-screen graphics.
While the Honda Ridgeline may be a head-turner, it's not exactly a heavy-duty hauler. There is a 5,000-pound towing capacity and all-wheel drive on all Ridgelines.
The Ridgeline's unconventional design marries the spacious inside of a sport utility vehicle (SUV) with the hauling capacity and cargo space of a pickup truck. The Ridgeline is the only midsize pickup that can lay a sheet of 4′ x 8′ lumber flat on the bed floor, thanks to the extra space of 50.0 inches between the wheel wells.
Compare the Trims & Specs
| | | | | | |
| --- | --- | --- | --- | --- | --- |
| | | | | | |
| | | | | | |
| | 4 Configurations Available | | | | |
| | | | | | |
| | | | | | |
| | | | | | |
| | | | | | |
| | | | | | |
| | | | | | |
| | | | | | |
| | | | Perforated Leather-trimmed seating surfaces | Perforated Leather-trimmed seating surfaces | Perforated Leather-trimmed seating surfaces |
| | | | | | |
| | Front seats (all trims) Rear seats (3 of 4 trims) | | | | |
| | Driver's seat with 10-way power adjustment & power lumbar support, Passenger's seat with 4-way power adjustment | Driver's seat with 10-way power adjustment & power lumbar support, Passenger's seat with 4-way power adjustment | Driver's seat with 10-way power adjustment & power lumbar support, Passenger's seat with 4-way power adjustment | Driver's seat with 10-way power adjustment & power lumbar support, Passenger's seat with 4-way power adjustment | Driver's seat with 10-way power adjustment & power lumbar support, Passenger's seat with 4-way power adjustment |
| | | | | | |
| Driver Seat Memory System | | | w/ mirror position memory | w/ mirror position memory | w/ mirror position memory |
| | | | | | |
| | | | | | |
| | | | | | |
| | 4.2" colour TFT centre meter display with Driver Information Interface | 4.2" colour TFT centre meter display with Driver Information Interface | 4.2" colour TFT centre meter display with Driver Information Interface | 4.2" colour TFT centre meter display with Driver Information Interface | 4.2" colour TFT centre meter display with Driver Information Interface |
| | | | | | |
| | | | | | |
| Rear View Mirror Features | | | Auto-dimming rearview mirror | Auto-dimming rearview mirror | Auto-dimming rearview mirror |
| Automatic Climate Control | Tri-zone automatic climate control with air-filtration system | Tri-zone automatic climate control with air-filtration system | Tri-zone automatic climate control with air-filtration system | Tri-zone automatic climate control with air-filtration system | Tri-zone automatic climate control with air-filtration system |
| Smart Key System w/ Push-to-Start | | | | | |
| Integrated Garage Door Opener | | | | | |
| | Walk-away door lock, 60/40 lift-up rear seat with underseat storage | Walk-away door lock, 60/40 lift-up rear seat with underseat storage | Walk-away door lock, 60/40 lift-up rear seat with underseat storage | Walk-away door lock, 60/40 lift-up rear seat with underseat storage | Walk-away door lock, 60/40 lift-up rear seat with underseat storage |
| | | | | | |
| | | | | | |
| | 8" Display Audio touchscreen | 8" Display Audio touchscreen | 8" Display Audio touchscreen | 8" Display Audio touchscreen | 8" Display Audio touchscreen |
| | 7 speakers including subwoofer, 225-watt | 7 speakers including subwoofer, 225-watt | 7 speakers including subwoofer, 225-watt | 8 speakers including subwoofer, 540-watt | 8 speakers including subwoofer, 540-watt |
| | | | | | |
| | | | | | |
| | | | | | |
| Integrated Remote Engine Start | | | | | |
| Embedded Navigation System | | | | | |
| | | | | | |
| | | | | | |
| | | | | | |
| | | | | | |
| | 3.5-litre, 24-valve, Direct Injection, V6 | 3.5-litre, 24-valve, Direct Injection, V6 | 3.5-litre, 24-valve, Direct Injection, V6 | 3.5-litre, 24-valve, Direct Injection, V6 | 3.5-litre, 24-valve, Direct Injection, V6 |
| | 9-speed automatic transmission w/ Electronic gear selector | 9-speed automatic transmission w/ Electronic gear selector | 9-speed automatic transmission w/ Electronic gear selector | 9-speed automatic transmission w/ Electronic gear selector | 9-speed automatic transmission w/ Electronic gear selector |
| | | | | | |
| | | | | | |
| | Available 2,267 kg (5,000 lbs) | Available 2,267 kg (5,000 lbs) | Available 2,267 kg (5,000 lbs) | Available 2,267 kg (5,000 lbs) | Available 2,267 kg (5,000 lbs) |
| Fuel Economy (city/hwy/combined) | 12.8/9.9/11.5 L/100km Regular, 73.8L Tank | 12.8/9.9/11.5 L/100km Regular, 73.8L Tank | 12.8/9.9/11.5 L/100km Regular, 73.8L Tank | 12.8/9.9/11.5 L/100km Regular, 73.8L Tank | 12.8/9.9/11.5 L/100km Regular, 73.8L Tank |
| | | | | | |
| | MacPherson strut front suspension, Multi-link independent rear suspension | MacPherson strut front suspension, Multi-link independent rear suspension | MacPherson strut front suspension, Multi-link independent rear suspension | MacPherson strut front suspension, Multi-link independent rear suspension | MacPherson strut front suspension, Multi-link independent rear suspension |
| | Active Noise Cancellation | Active Noise Cancellation | Active Noise Cancellation | Active Noise Cancellation | Active Noise Cancellation |
| Locking Rear Differential | | | | | |
| | | | | | |
| | | | | | |
| | | | | | |
| | Multi-angle rearview camera with dynamic guidelines | Multi-angle rearview camera with dynamic guidelines | Multi-angle rearview camera with dynamic guidelines | Multi-angle rearview camera with dynamic guidelines | Multi-angle rearview camera with dynamic guidelines |
| Anti-Collision System w/ Auto-Braking Capability | Collision Mitigation Braking System w/ Road Departure Mitigation | Collision Mitigation Braking System w/ Road Departure Mitigation | Collision Mitigation Braking System w/ Road Departure Mitigation | Collision Mitigation Braking System w/ Road Departure Mitigation | Collision Mitigation Braking System w/ Road Departure Mitigation |
| | | | | | |
| Dynamic Radar Cruise Control | | | | | |
| | | | | | |
| Tire Pressure Monitoring System | | | | | |
| Blind Spot Monitor System w/ Rear Cross Traffic Alert | | | | | |
| Parking Clearance System w/ Sonar Detection | | | Front and rear parking sensors | Front and rear parking sensors | Front and rear parking sensors |
| | Lane Keeping Assist System | Lane Keeping Assist System | Lane Keeping Assist System | Lane Keeping Assist System | Lane Keeping Assist System |
| | | | | | |
| | | | | | |
| | | | | | |
| | Power sliding rear cabin window | Power sliding rear cabin window | Power sliding rear cabin window | Power sliding rear cabin window | Power sliding rear cabin window |
| | 2 Integrated bed lights with auto-off timer | 2 Integrated bed lights with auto-off timer | 2 Integrated bed lights with auto-off timer | 2 Integrated bed lights with auto-off timer | 2 Integrated bed lights with auto-off timer |
| | | | | 150W/400W truck-bed power outlet | 150W/400W truck-bed power outlet |
| | Power tailgate lock, Dual-action tailgate | Power tailgate lock, Dual-action tailgate | Power tailgate lock, Dual-action tailgate | Power tailgate lock, Dual-action tailgate, Truck-Bed Audio System | Power tailgate lock, Dual-action tailgate, Truck-Bed Audio System |
| | | | | | |
| | | | | | |
| | 18" aluminum-alloy wheels | 18" aluminum-alloy wheels | 18" aluminum-alloy wheels | 18" aluminum-alloy wheels | 18" Black aluminum-alloy wheels |
| | | | | | |
| | | | Memory-linked with reverse gear tilt-down | Memory-linked with reverse gear tilt-down, Power folding, Auto-dimming side mirrors | Memory-linked with reverse gear tilt-down, Power folding, Auto-dimming side mirrors |
| | Variable intermittent windshield wipers | Variable intermittent windshield wipers | Variable intermittent windshield wipers | Variable intermittent windshield wipers, Rain-sensing windshield wipers | Variable intermittent windshield wipers, Rain-sensing windshield wipers |
| | | | | | |
| | | | | | |
| | | | | | |
| | Dual-action tailgate, 2 Integrated bed lights with auto-off timer, Power sliding rear cabin window | Dual-action tailgate, 2 Integrated bed lights with auto-off timer, Power sliding rear cabin window | Dual-action tailgate, 2 Integrated bed lights with auto-off timer, Power sliding rear cabin window | Dual-action tailgate, 2 Integrated bed lights with auto-off timer, Power sliding rear cabin window | Dual-action tailgate, 2 Integrated bed lights with auto-off timer, Power sliding rear cabin window |
| | | | | | |
| | | | | | |
| | | Projector-beam LED headlights (low beam), Reflector-beam halogen headlights (high beam) | Projector-beam LED headlights (low beam), Reflector-beam halogen headlights (high beam) | Projector-beam LED headlights (low beam), Reflector-beam halogen headlights (high beam) | Projector-beam LED headlights (low beam), Reflector-beam halogen headlights (high beam) |
| | | | | | |
| | | | | | |
| | | | | | |
| | | | | | |
| | | | | | |
| | | | | | |
| | | 2116 mm 2279 mm (with mirror) | 2116 mm 2279 mm (with mirror) | 2116 mm 2279 mm (with mirror) | 2116 mm 2279 mm (with mirror) |
| | | | | | |
| | | | | | |