The new Toyota Tundra is ideal for those who demand a vehicle that can endure whatever they throw at it. The Tundra Towing Package has you covered whether you're transporting a significant weight or pulling a trailer.
What are the Tundra bed sizes available?
If you want to tow a lot and have good performance, the 2022 Toyota Tundra is perfect for you! The new Tundra comes in two body styles: Double Cab and CrewMax.
Double Cab models can come with a 6.5-foot standard bed, 8.1-foot long bed or 5.5-foot short bed. The CrewMax version is available with two bed sizes only: 6.5 foot or 5.5 foot short bed.
What is the 2022 Tundra Towing Capacity and power?
The Toyota Tundra is a significant upgrade from the previous version, which means that plenty of drivers who choose it will want a truck that can handle heavy-duty tasks and can tow the tools and cargo they require. The maximum towing capacity for the 2022 Toyota Tundra has increased to 12,000 pounds with a maximum payload of 1,940 pounds!
The Toyota Tundra can be purchased with a 3.5-liter i-FORCE Twin-Turbo V-6 engine that produces 389 horsepower or a 3.5-liter i-FORCE MAX Twin-Turbo Hybrid V-6 engine that generates 437 horsepower. Check out our 2022 Tundra Trim Levels Guide for more details!
The New Tundra Towing Package
The 2022 Toyota Tundra is a high-end towing vehicle. The new Tundra has superior powertrains and high-strength construction, which makes it quite powerful. It makes use of a number of cutting-edge next-generation technologies accessible through the Tundra's Towing Package.
Toyota's integrated Trailer Brake Controller works in conjunction with the Tundra Towing Package to take the strain out of towing, whether it's for a weekend getaway with the fishing boat or a cargo trailer full of furniture for your first new house. Let's go through what's new with this system!
Trailer Garage Memory System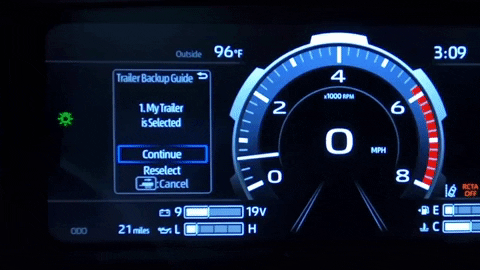 Tundra's Trailer Garage technology allows you to make the most of your towing expedition by allowing you to register and save multiple trailers.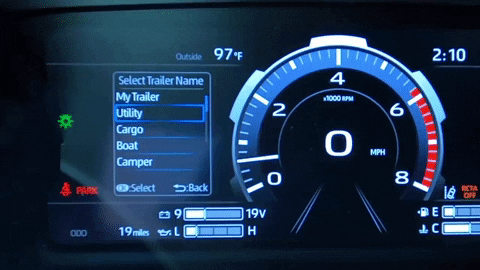 This system, which is built into the Tundra's Multi-Information Display, enables you to register and store numerous trailers so that the appropriate settings may easily be loaded when they're connected.
Different RVs or ATVs have different towing requirements. Once you register them in your virtual garage, your Tundra will be able to figure out how to change its settings accordingly.
Make Towing Easier With Trailer Backup Guide
Trailer Backup Guide is a tool that makes it easy to keep things pointed in the right direction when backing up with a trailer. It's also very helpful for anyone who's ever had to back up with a trailer and has had to deal with this problem.
This system includes two distinct driver assistance modes, a Guidance mode, and a Straight Path Assist mode.
Guidance Mode
The system will overlay arrows onto the overview camera view to show which direction the trailer is turning in Guidance mode, making it easier to make adjustments on your own. This is important because it can be hard to steer with a trailer.
Straight Path Assist
Straight Path Assist helps a lot. It's easy to see how this would be helpful. With this intelligent automated system, all you have to do is handle the gas and brakes, and the system will steering itself to make the adjustments necessary to keep the trailer facing forward, regardless of the angle of the truck.
Enhanced Blind Spot Monitor Function
Blind Spot Monitor will now function while the truck is towing with the 2022 Tundra. That means that when a trailer is connected, the Blind Spot Monitor will watch for vehicles in a wider detection radius that is based on the system's prediction of trailer length.
In Trailer Mode, the Blind Spot Monitor automatically detects and calculates the length of the trailer. This is automated and requires no input from you while you focus on the road.
The Tundra's Toyota Safety Sense 2.5 has now been specifically tuned for towing with an integrated Trailer Braking Alert, now you can tow with extra safety!
Better Highway Driving with Active Front Spoiler
An active front spoiler is standard on the 2022 Tundra. When speeds climb above 60km per hour, a flap is expanded beneath the Tundra. Air flows over and around the Tundra rather than getting trapped underneath, ensuring greater aerodynamics for improved efficiency and balance.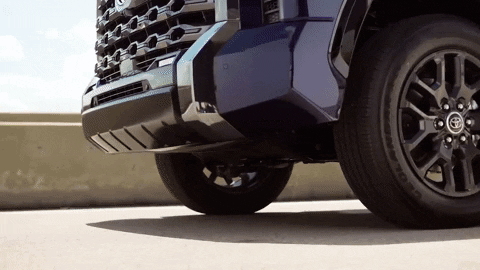 This Tundra Towing Package feature is also able to identify whether a trailer is connected and, if so, what type of trailer it is. It automatically adjusts itself according to the trailer's specifications, ensuring optimum efficiency and stability for your drive.
Conclusion
The 2022 Toyota Tundra is ideal for those who demand a vehicle that can endure whatever they throw at it. It has you covered whether you're transporting a significant weight or pulling a trailer.
The 2022 Tundra Towing Package makes use of cutting-edge next-generation technologies to make your experience as easy as possible. If this sounds like what you need in an all-around tugger, check out our 2022 Tundra Trim Levels Guide to learn every trim and feature available!
The all-new 2022 Toyota Tundra comes with an impressive Advanced Towing Package. Check out its next-generation technologies that will make towing a breeze!