Product lifecycles are always very long at Toyota. And when the brand unveils a replacement, it's always a process! And after teasing us with its new Tacoma mid-size truck over the past few months, Toyota has finally unveiled it today.
On the menu: a complete physical makeover, two engines including a hybrid, new technologies and a brand new variant. And that's just the beginning! In terms of styling, many elements have been enhanced without betraying the familiar Tacoma look. The shape of the grille is recognizable, surrounded by elements borrowed from the design line of its big brother, the Tundra, such as the headlights.
The Tacoma pickup is available in 5- and 6-foot bed configurations, with a four-door double cab or a new two-door cab called XtraCab (to be offered later in Canada). In Canada, it will be offered in SR5, TRD Sport, TRD Off-Road, Limited, Trailhunter and TRD Pro variants.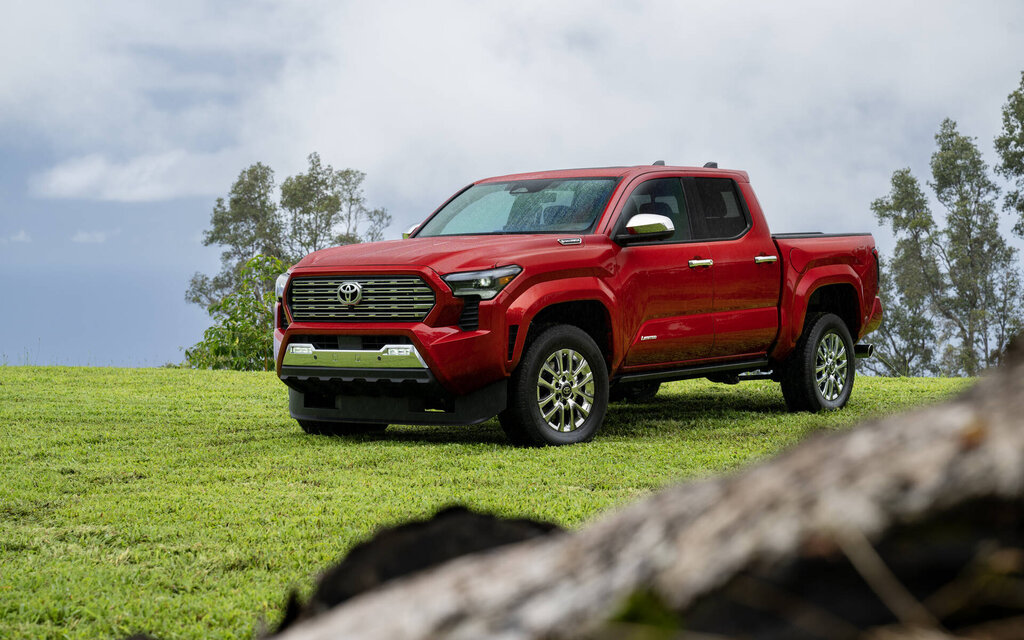 Use The i-Force, Toyota! (And The Manual Transmission…)
First of all, the 3.5-liter V6 has been thanked for its loyal service and is now offered with two turbocharged four-cylinder engines. The first is a 2.4-litre engine that produces 278 horsepower and 317 lb-ft of torque. This mill sits under the hood of the base models and is available with a choice of a six-speed manual transmission (hooray!), or an eight-speed automatic.
Those who choose the manual transmission will be slightly penalized in terms of performance, with 8 less horsepower and 7 less lb-ft of torque. It should also be noted that the third pedal is not available on the base SR5 model, but only on the TRD Sport and TRD Off-Road models.
Toyota is also putting its hybrid expertise to work with the available i-Force MAX engine. It pairs the 2.4-liter turbocharged engine with an eight-speed transmission that integrates an electric motor connected to a 1.87 kWh battery. The result is 326 horsepower and an astonishing 465 lb-ft of torque.
You may have guessed that the manual transmission is not available with this engine, mainly because of the hybrid system.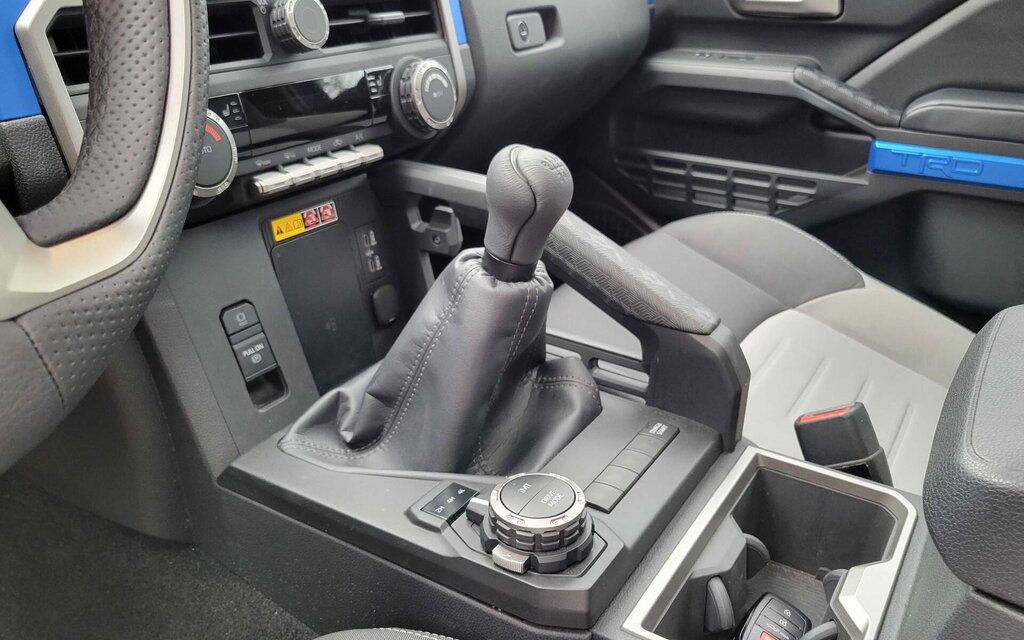 Towing capacity is similar to the outgoing model, with 6,500 pounds for models equipped with the i-Force engine and eight-speed automatic transmission. However, the i-Force MAX hybrid models will have 500 pounds less capacity. In Canada, the new Tacoma is available in 4×4 configuration only.
A Completely Revamped Interior
A complete redesign typically includes a revamped interior. And the once amenity-starved midsize pickup segment now gets the best of what automakers have to offer in this regard. In addition to the new styling theme, base variants get a new 8-inch screen for the infotainment system that switches to Toyota's latest interface. The upper variants get a larger 14-inch screen. There's a 7-inch instrument cluster in base variants, while the range-toppers get a 12.3-inch unit. The Tacoma also boasts more storage space and improved connectivity, including a "digital key" that allows drivers to unlock, start and activate various functions using their smartphones.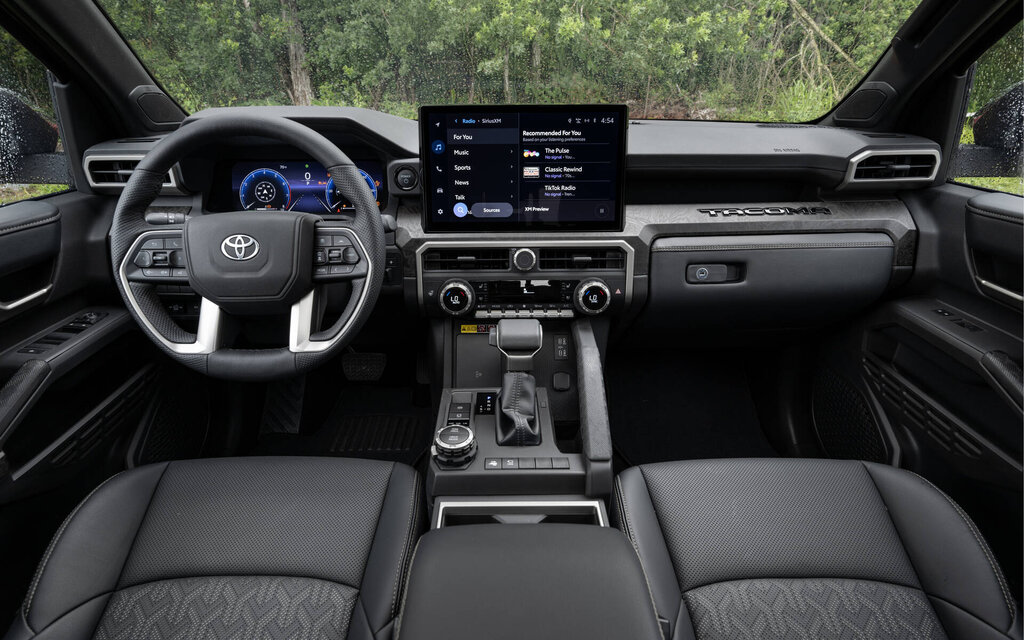 Ready to Play in the Mud
The Tacoma wouldn't be a Tacoma if it didn't enhance its off-road capabilities, not only to meet the demands of its loyal customers, but also to compete with the American competition, which is increasingly showing its teeth in this regard. In fact, all Tacoma variants except the SR5 XtraCab come standard with a multi-link/spring suspension at the rear that replaces the blades.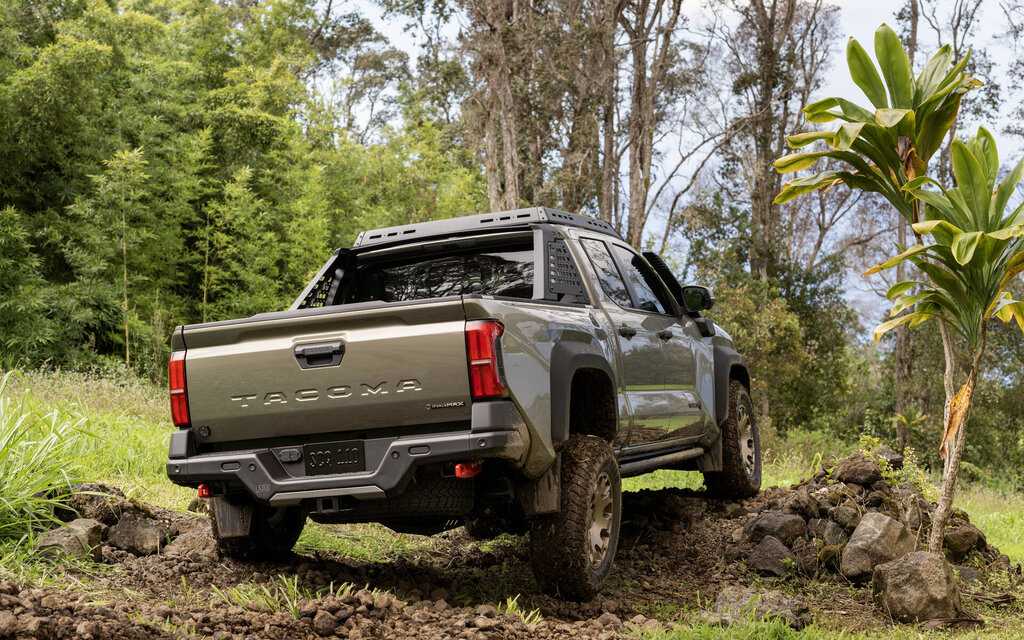 The TRD Pro variant is equipped with the i-Force Max hybrid engine and a standard electronic locking rear differential. The heavy artillery is also deployed on the chassis side with a Fox suspension with three-way adjustable internal bypass valves up front and auxiliary reservoir shocks in the rear. The Tacoma TRD Pro is obviously plastered with skid plates underneath to keep its vitals intact, but it also sits on 33-inch diameter Goodyear Territory R/T tires. Toyota has equipped the TRD Pro's cabin with new IsoDynamic upholstery that adds a shock absorber system under the front seats to counteract body movements in off-road conditions and ensure driver and passenger comfort.
In addition, a brand new variant is added to the Tacoma lineup: the Trailhunter. This one is specifically developed for overlanding. While we highly doubt that this one will be chosen by buyers for its great looks more than its technical features, it certainly has plenty of bit in terms of capabilities.
In addition to physical features such as a snorkel-type air intake along the A-pillar, Toyota also pushed envelope on the chassis with an Old Man EMU (OME) suspension developed by the renowned Australian firm ARB. A 2400W AC converter, an integrated air compressor and a bunch of other gadgets are also included.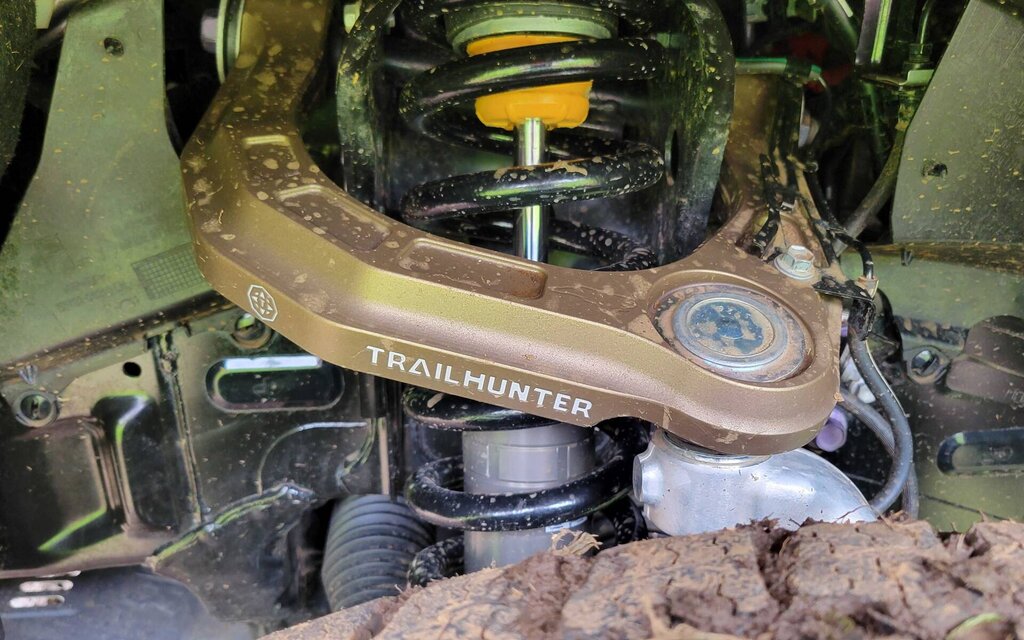 Tacoma fans have the model's name tattooed on their hearts, and the manufacturer seems to be doing everything it can to charm them with a more capable, more technological and more adventurous off-road truck.
Let's just hope the hybrid powertrain remains reliable, and that the price doesn't cause a heart attack. Models with the i-Force turbocharged engine will be available in late 2023, while those with the hybrid mill will not arrive until spring 2024. Pricing will be announced in the coming months.