Ford Bronco Sport vs. Toyota RAV4: Which of these two compact crossover vehicles earns the spot in your driveway? When it comes to performance and safety, one of these two SUVs takes a slight lead—while the other grabs the top fuel economy ranking.
The 2023 Ford Bronco Sport is just a few model years old, but it's already made a statement as the assertive, retro-themed companion to Ford's more urbane Escape crossover. The Bronco Sport sits on a shorter wheelbase and has more off-road tricks than the Escape, but nets less rear-seat space. The 2023 Toyota RAV4, meanwhile, has been a bestseller for years thanks to its versatility and the availability of its hybrid and plug-in hybrid editions. It can be wildly quick, even as it ferries four people plus their cargo.
Which one's better for you? Here's how they compare, category by category.
2023 Ford Bronco Sport with Black Diamond Off-Road Package
Bronco Sport vs. RAV4 price and trims
Base Bronco Sport starts in the low $30,000s

Base RAV4 starts at about $30,000

Best picks: Ford Bronco Sport Big Bend, Toyota RAV4 Hybrid
How much is a Ford Bronco Sport?
Which Ford Bronco Sport should I buy?
With a price in the low $30,000 range, the base Bronco Sport comes with features such as an 8.0-inch touchscreen, Android Auto and Apple CarPlay, roof rails, and cruise control. Options include Bang & Olufsen 10-speaker audio, a track-mounted cargo organizer, and rubberized floors.
Spend a little more to get at least the Big Bend Bronco Sport, which costs about $35,000 once you've added adventure gear such as cargo mats and storage pockets with Molle straps. 
The fancy versions include the Outer Banks—stickered from the high $30,000s, it gets power front seats with heat, 18-inch wheels, and leather upholstery—or the Badlands which for about the same money adds in more robust off-road hardware, a front-view camera, a more powerful engine, and front-mounted tow hooks. 
How much is a Toyota RAV4? Which Toyota RAV4 should I buy?
A huge span in prices drives Toyota RAV4 owners from the $30,000 mark to more than $40,000, but the base model will serve many just fine. With front-wheel drive, or $1,400 more for all-wheel drive, it has 17-inch wheels, adaptive cruise control, and an 8.0-inch touchscreen with wireless Apple CarPlay and  Android Auto. 
We'd spend about $35,000 to upgrade to the XLE Hybrid RAV4, which gets a power driver seat and heated front seats as well as the more frugal drivetrain. 
An Adventure model costs about $35,000 and gets rugged styling, but the TRD Off-Road actually has the off-road goods—more ride height and drive modes—for a price in the high $30,000s. At the top of the range, the plug-in RAV4 Prime costs about $43,000 in base SE trim, but adding a power tailgate, JBL audio, a 10.5-inch touchscreen, heated rear seats, a surround-view camera system, and a head-up display in the Prime XSE, and the sticker runs more than $50,000. 
Advantage: A draw—both have lots of variety and a big span in prices.
2023 Toyota RAV4 Hybrid XSE AWD
RAV4 vs. Bronco Sport towing, off-road, and performance
Bronco Sport has advanced off-road touches

RAV4 TRD Off-Road can carve trails, too

RAV4 Prime is the quickest of all
Is the Ford Bronco Sport 4WD?
Every version of the Bronco Sport comes with all-wheel drive. Those with the 181-hp turbo-3 engine get a less complicated system with a power split between the front and rear axles, as well as a set of five drive modes that alter traction and stability control to better cruise through sand or slippery conditions.
On the 245-hp turbo-4 Bronco Sport, Ford fits a system with a twin-clutch rear differential. It can not only shift power between the front and rear, it can move it between the rear wheels for better power distribution. Those versions also get drive modes for muddy and rocky conditions. The Bronco Sport can tow at least 2,000 pounds and most versions have at least 7.9 inches of ground clearance.
With available skid plates and all-terrain tires and hill descent control, the Bronco Sport can be a capable and ideally sized trailblazer. But even on road, the SUV has a ride that's compliant enough for daily driving, smartly tuned steering, and smooth transmission shifts—though the cabin can get loud.
Is the Toyota RAV4 4WD?
Standard-issue RAV4s get front-wheel drive, but all versions can be outfitted with all-wheel drive. Non-hybrids get a simple system with a power split front to rear, while Hybrid and Prime RAV4s use their electric motor to power the rear wheels while the gas engine powers the fronts. For better grip in stickier situations, the RAV4 Adventure, TRD Off-Road, and Limited split power between their rear wheels, too. 
Base RAV4s tap a 203-hp 4-cylinder and an 8-speed automatic to move with reasonable authority, but there's a lot of noise that accompanies a heavy throttle foot. The Hybrid pairs that to the rear motor and a battery pack for a net of 219 hp and smarter off-the-line acceleration. With a bigger battery pack, the 302-hp RAV4 Prime is the quickest of all, hitting 60 mph in 5.7 seconds while generating pure electric driving range.
The battery, though, gives it a heavy feel on the road, though it still steers with clarity and has a well-tuned ride. All RAV4s have better steering and handling than the vehicles that bore the nametag a few years ago. 
Advantage: Ford Bronco Sport for off-roading; RAV4 Prime for stoplight 0-60 mph runs
2023 Ford Bronco Heritage Edition and 2023 Ford Bronco Sport Heritage Edition
Bronco Sport vs. RAV4 safety
The Bronco Sport earns a Top Safety Pick+ award

The RAV4 just misses the "+"

Both have standard automatic emergency braking
How safe is the Ford Bronco Sport?
It scored very well in all crash tests, with a Top Safety Pick+ award from the IIHS and five stars from the NHTSA. All models have automatic emergency braking, active lane control, blind-spot monitors, and automatic high beams. Outward vision is good, too.
How safe is the Toyota RAV4?
It's almost as good, with a Top Safety Pick from the IIHS and five stars from the NHTSA. Toyota outfits each version with standard automatic emergency braking, automatic high-beam headlights, active lane control, and adaptive cruise control. Rearward vision isn't so good, because of the thick roof pillars.
Advantage: The Bronco Sport posts slightly higher safety scores.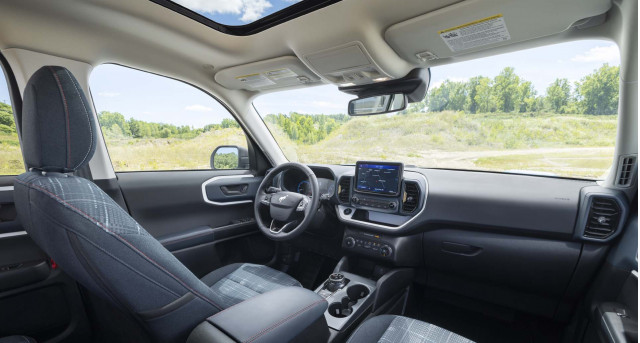 2023 Ford Bronco Sport Heritage Edition
RAV4 vs. Bronco Sport size, space, and cargo capacity
The RAV4's superior for space

The Bronco Sport has a more interesting interior design

RAV4 headroom can be limited for tall people
How big is the Ford Bronco Sport?
It's big enough, but it's smaller than the RAV4 in some key dimensions. While it has a shorter body and wheelbase, the Bronco Sport has lots of headroom and good front seats with comfortable cushions, so it's good for longer trips. It surrounds front passengers with an interesting design that's retro and catchy, though it's made up of a lot of plastic trim. 
In back, two tall adults will fit, but a third would be too tight a squeeze. Cargo space measures about 32.5 cubic feet behind the rear seats or about 65 cubic feet with them folded down. It's useful—and made more so with the cargo shelves, bins, pockets, tie-downs, and carabiners sold by Ford.
How big is the Toyota RAV4?
It's bigger by interior volume, but the RAV4 has high-mounted seats that sacrifice some headroom to the design. It's made worse by the available panoramic sunroof, but medium-sized passengers shouldn't find it a problem.
Base RAV4s don't have lumbar support, but higher-trim models have better chairs with power adjustment and heating, not to mention synthetic leather trim on the options list. In back, legroom isn't the issue—it's headroom again, making the RAV4 a vehicle you must sit in before deciding on its long-distance comfort.
The RAV4 does have superior cargo space, with 37 cubic feet of space expanding to about 69 cubic feet when the rear seats are folded down. The Prime version has a little less space, due to its big battery pack.
Advantage: The Bronco Sport for taller people, the RAV4 for those who need a little more cargo room.
2023 Toyota RAV4
Bronco Sport vs. RAV4 styling
Bronco Sport's a retro kick

RAV4 has an edgy and athletic stance

Both vehicles have more modest interiors
Is the Ford Bronco Sport a good-looking car?
It is, thanks to the retro cues that give it a striking, squared-off look. There's a vague Land Rover vibe at work, with the thin LED headlights and unsubtle BRONCO lettering on the nose. The roofline angles just so, and the tailgate has flip-up glass, as it should. Inside, the durable-looking cabin has rubber-coated vents and surfaces, but puts the touchscreen and storage where it needs to be. 
Is the Toyota RAV4 a good-looking car?
With a hint of Tacoma here and a smattering of 4Runner there, the RAV4 wears its track suit with confidence. It's stubby, angular, and ready to play, with a blunt front end and blistered fenders teaming with a wide rear roof pillar to give off a sporty vibe. More rugged Adventure and TRD Off-Road versions look the part. Inside, the RAV4 has a well-organized dash with a priority on simplicity, though it would look even better with leather and nicer plastic trim. 
Advantage: Draw.
2023 Ford Bronco Sport with Black Diamond Off-Road Package
RAV4 vs. Bronco Sport fuel economy
Bronco Sport suffers for its turbos

RAV4 gets at least 28 mpg combined

RAV4 Prime has 42 miles of plug-in range
Is the Ford Bronco Sport good on gas?
It's OK, at an EPA-rated 26 mpg combined for the turbo-3 version. Turbo-4 Bronco Sports get just 23 mpg combined—a low figure for a small SUV.
Is the Toyota RAV4 good on gas?
It's terrific, with even base models with all-wheel drive rated at 28 mpg or higher. Hybrids get 40 mpg combined; the Prime offers 42 miles of electric driving range. It's the most efficient non-electric compact SUV we'd want to drive every day.
Advantage: The RAV4, with a Prime kicker.
2023 Ford Bronco Sport Heritage Edition
Which is better: Ford Bronco Sport or Toyota RAV4?
It's very close, with the Bronco Sport picking up an extra point in performance and safety, while the RAV4 outpoints it in fuel economy. Fantastic off-road and poised everywhere else, the throwback Bronco Sport earns a TCC Rating of 6.7 out of 10 (Read more about how we rate cars.) The RAV4? It's just two-tenths behind at 6.5 out of 10. 
Winner: The Ford Bronco Sport, if we're talking base models—the RAV4 Prime would be the winner if efficiency mattered most.