When it was first introduced, the Prius represented Toyota's head start in the green car business. With its frugal consumption, singular look and attractive price, it lured many followers to the brand over the course of four generations. And as the years went by, contrary to popular belief, these new Prius-lovers weren't only ecologists, intellectuals and history teachers who wear socks with orthopedic sandals.
Sometimes sober, but more often futuristic, the design of the Prius has never left anyone indifferent throughout its existence. Today, Toyota designers seem to have found the right sophistication/quirkiness that the model deserved. However, the "green lead" it represented for Toyota is being questioned, as the automaker has been eclipsed by many of its rivals who are well into their transition to zero-emission vehicles. 
After testing the Prius a few months ago, The Car Guide visited the Carlsbad, California region to test the plug-in Prime version of this hybrid.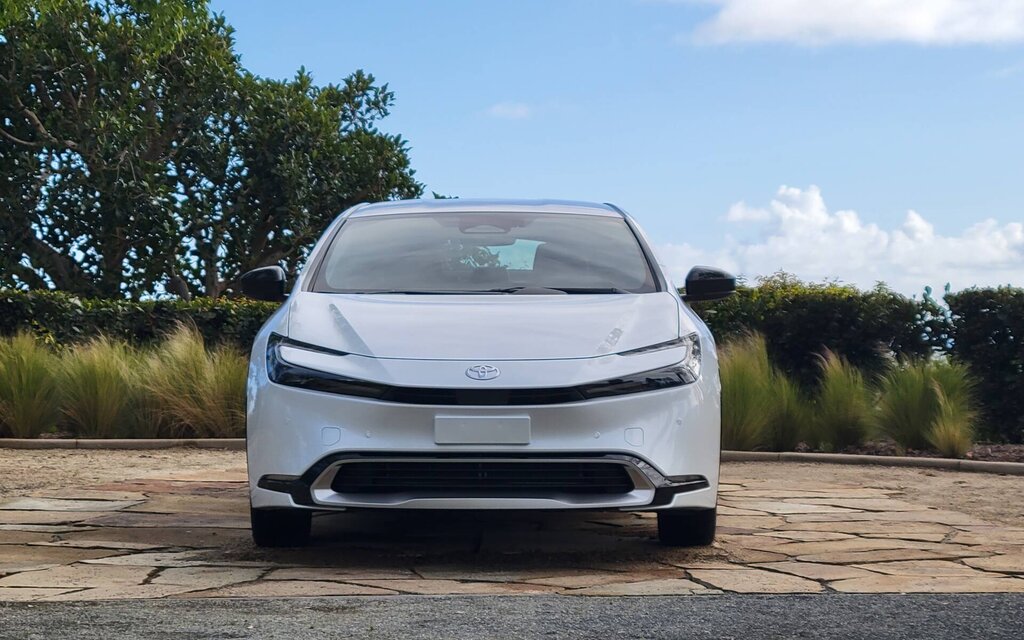 Performance Enhancements
You're probably aware that the Prius has never been a champ when it came to power, and it still isn't. And that's just fine, because it's not for straight-line performance that people adopt it. However, we have to applaud the efforts made under the hood of this fifth generation, with a renewed 220 horsepower output compared to 121 for the outgoing model, made possible by the combination of a 2.0-litre Atkinson-cycle four-cylinder combustion engine and an electric motor mated to a larger 13.6 kWh battery. For comparison, the outgoing model's battery ranked in at 8.8 kWh.
Unlike the traditional Prius, the Prime model is not available with all-wheel drive, with power being sent exclusively to the front wheels. It can now sprint from 0 to 100 km/h in 6.8 seconds. That's 40% quicker than the outgoing model!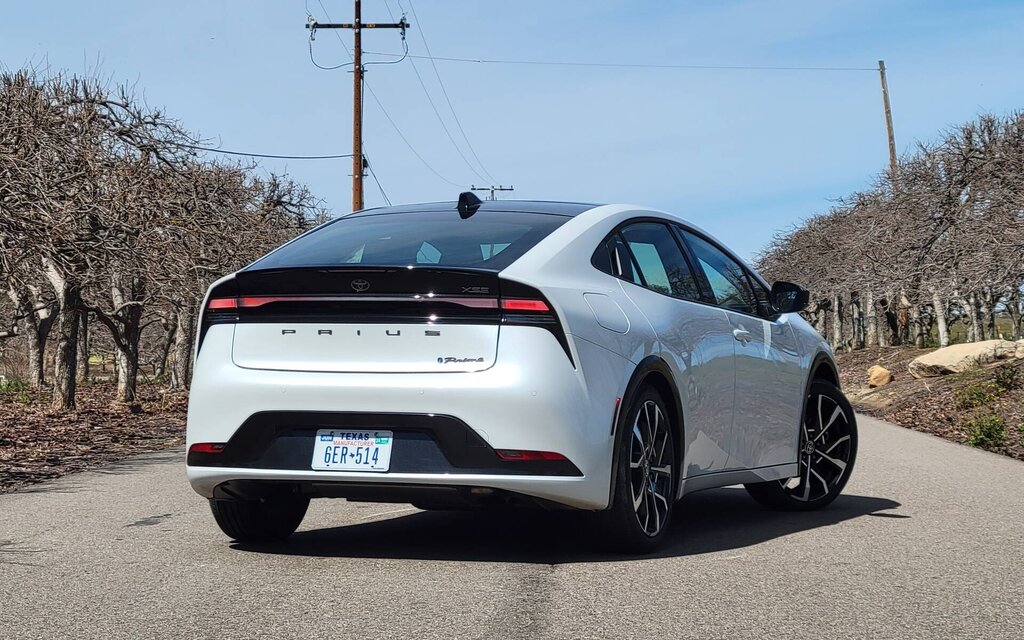 If this metric isn't relevant to the average Prius driver, the following ones certainly are.
Full Speed Ahead in EV Mode
The Prius Prime is not an electric car, but it can easily personify it. Recharging the battery will take 4 hours at a 240-volt station, while it takes 11 hours on a 120-volt household outlet.
Once that battery is fully charged, the Prime will offer up to 45 miles (72 km) of fuel-free range, all in ideal weather conditions, of course. But what's even more interesting is that it can do so at up to 135 kilometres per hour without the combustion engine getting involved.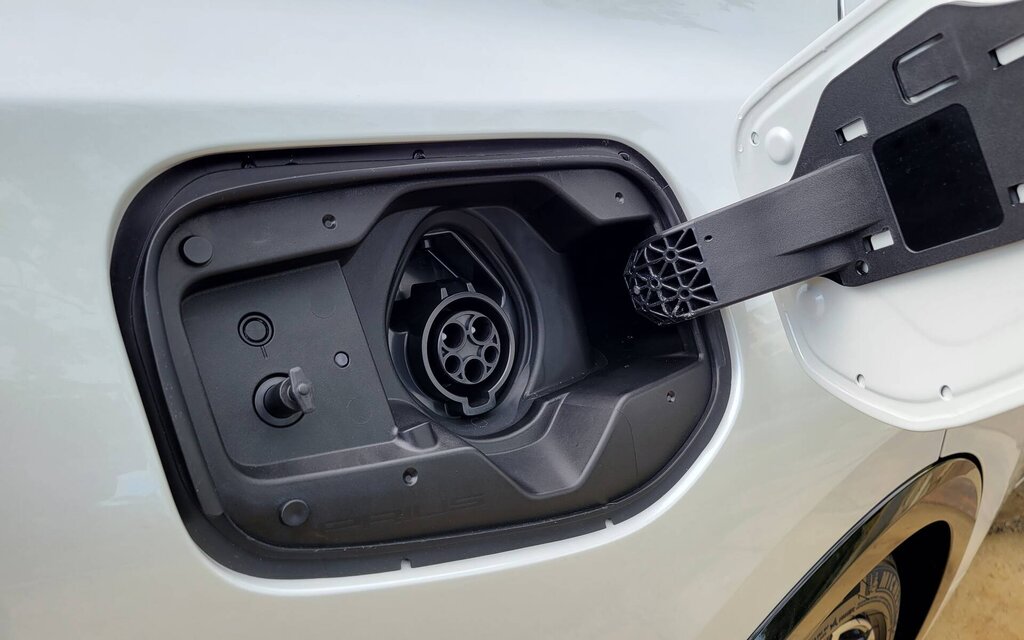 So if you go to work, run a few errands and come back home, and your trip is less than 72 kilometres, you'll only have to stop at the gas station if you forget to plug in your Prius! Note that the XSE and XSE Premium trim levels shave a few kilometres off this distance due to their oversized 19-inch wheels.
A Much More Compelling Experience
We can't call it dynamic just yet, but the Prius' driving experience has certainly grown in stature. Even with its larger battery, it has lost 50 pounds and gained in rigidity. The driving modes linked to the hybrid system make for smooth transitions, and there's even a charge mode that allows you to recharge the battery using the internal combustion engine and regenerative braking. Although the Prius can be a bit noisy in this mode, it can be quite useful. The manufacturer estimates average fuel consumption at 4.5 L/100 km. During our drive we recorded 17.26 kWh/100km in electric mode and 7.6 L/100km in charge mode (where we were able to recuperate a good part of our battery). We'll have to take it on a longer drive to take full advantage of the modes, but Toyota's figure should be easily attainable.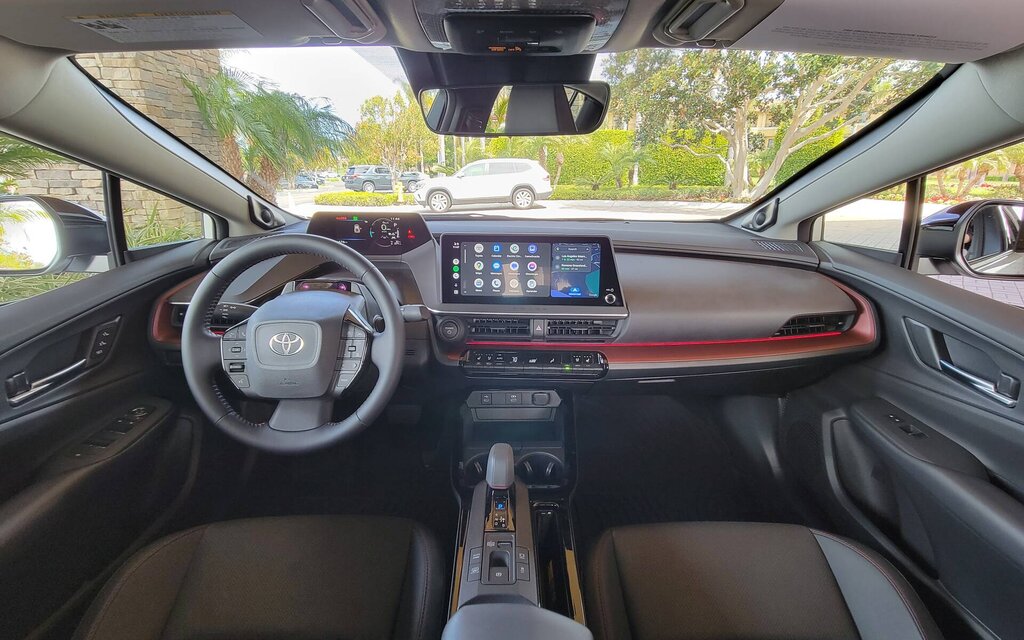 The Prius interior features Toyota's all-new interface, which is much easier to use than the outgoing system. It's delivered on an 8-inch screen on the base S trim, as well as a 12.3-inch screen in the XSE variants. Apple CarPlay and Android Auto wireless software suites are also included.
It's important to remember that, even though it's grown a bit in size – that's 20mm in width and 25mm in length, it's still considered a compact car. Despite this, it manages to deploy 574 litres of cargo space behind the second-row seats. Once inside, you get the feeling that the Prius' cabin is solid, well-built and well soundproofed, which is very refreshing for this small car segment. Two minor irritants: the instrument cluster is positioned a bit oddly, and the information it displays is cluttered. Also, while we applaud the fact that the volume knob remains manual, it's too far from the driver. It's better to use the steering wheel control. That's it!
Toyota is Sticking to its Hybrids
It'll take a while before gasoline leaves the automotive world. And at the rate things are going, the 2035 objectives seem less and less attainable. So even if Toyota isn't quite in the race for all-electric vehicles yet, the company can still rely on its superior hybridization know-how.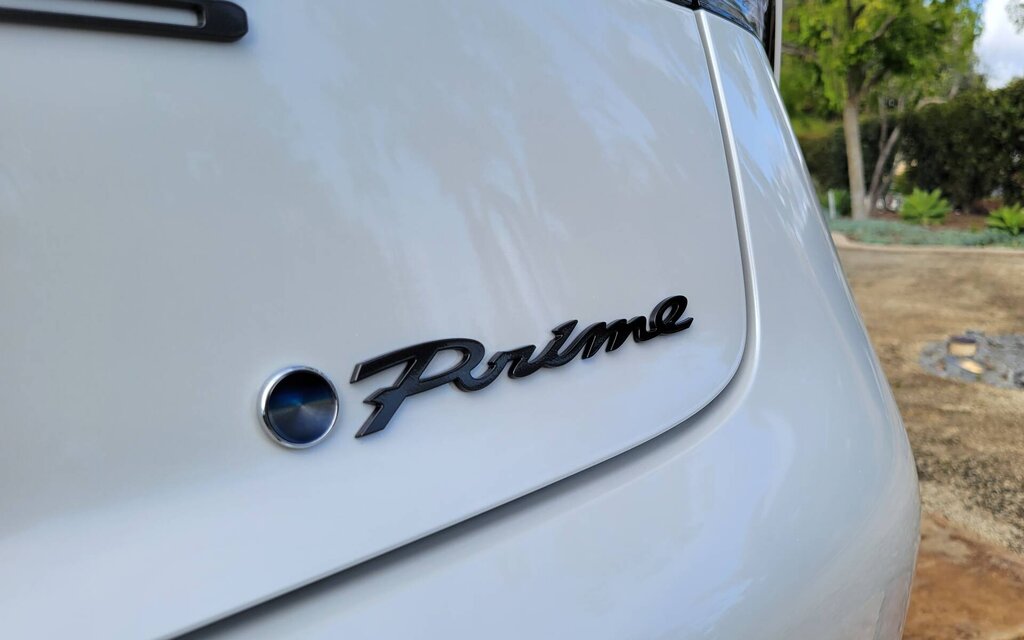 This new generation is more powerful, more autonomous, well put together and frankly, easier to look at. In Canada, the Prius Prime starts at $37,990 before the $5,000 federal incentive and whatever provincial incentive you can get. We can only hope that Toyota can keep up with the demand.