The all-new 2023 Honda Civic Type R is a beast. More refined and more mature than the previous one, for sure, but still a beast. With 315 horsepower, it's also the most potent production vehicle Honda has ever offered in Canada.
On March 24, the automaker took it to the iconic 20.8-kilometre Nürburgring Nordschleife in Germany—widely considered the most challenging road circuit ever devised—for testing and performance evaluation. Similar to its predecessor, the new Type R set a track record for production front-wheel drive cars, this time beating the Renault Mégane R.S. Trophy-R.
The mark is now 7 minutes and 44.881 seconds, which is technically a second slower than the time posted in 2017, but here's the thing: the Nürburgring added some 225 metres to the official distance for a record attempt in 2019, so all the previous records no longer stand.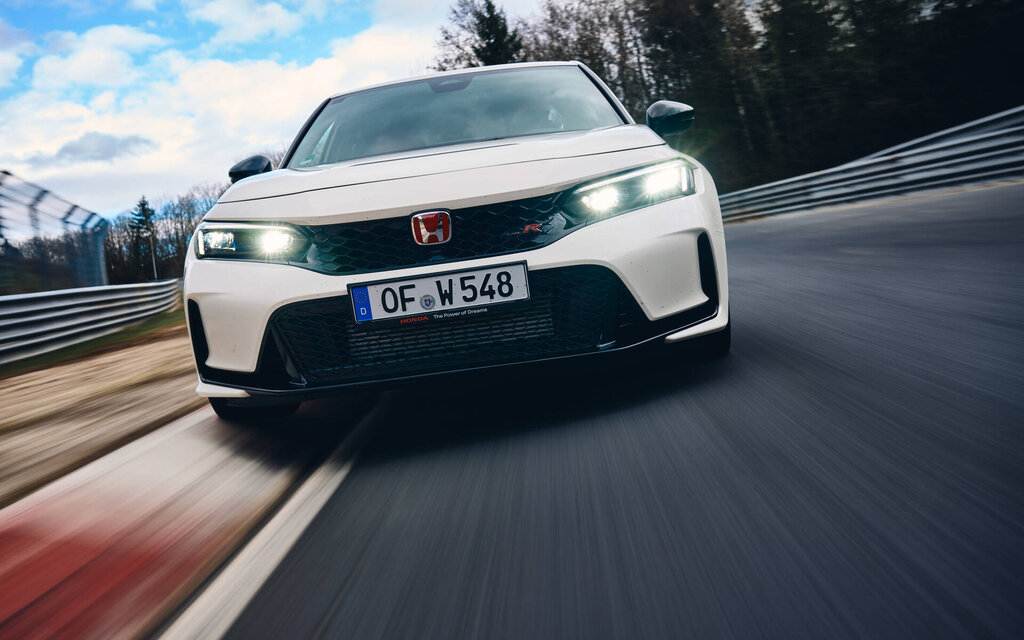 Another important detail to mention is that the 2023 Civic Type R was fitted with optional Michelin Pilot Sport Cup 2 tires, which are available through Honda dealers, instead of the factory-installed Michelin Pilot Sport 4S tires. The following video shows the record-breaking feat from inside the car:
"We developed the all-new Civic Type R with the spirit of 'going beyond our past achievements' and strived for the ultimate FWD sports car by refining the 'essential value' and 'emotional appeal' unique only to our Type R models," said Hideki Kakinuma, Civic Type R Development Leader. "Six years after the lap record was set by the previous-generation Civic Type R (FK8), we reached this new dimension as a result of all the passions we poured into and all the advancements we made for this Type R model."
The new Type R also owns the track record for production FWD cars at the Suzuka Circuit, home of the Japanese F1 Grand Prix. It accelerates from 0-100 km/h in 5.4 seconds, by the way.
Watch: 2023 Honda Civic Type R Makes Official Debut